By MOSES NOSIKE
Evelyn Okere is a woman of many colours. She is the Managing Director/CEO of  St. Eve Concepts and St. Eve Magazine. In this interview , she reveals her passion in seeing people look healthy, beautiful and fashionable. She is also of the opinion that if the society could be kind enough to support women, they would do more than expected. Excerpts:
My background
My name is Evelyn Okere, Managing Director, St. Eve Concepts, a health management outfit. We're weight loss experts. We make people lose 3 – 5 KG  within 7 days. It's more like nutritional  microscopy where we  investigate how your body is able to break down the food that you eat and nourish yourself. We believe that malnourished cell will definitely malfunction and the gradual processes of that malnourishing degenerates to diseases and then medical doctors will give it a name.
I'm also a publisher, I have a magazine called St Eve Magazine. It's  a health, beauty and fashion magazine.We touch beauty and fashion because if you are happy, the next thing you want to be  is beautiful, and from beauty, you want to be fashionable. These three key things at the end of the day is what makes the human personality.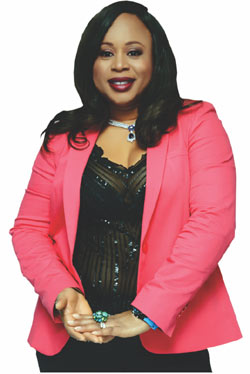 Therefore, we pick those three topics because they are  very controversial, volatile and unique.  So, we have been able to bind it to the level where we can tap ourselves and say we have done well. Then, we have the Rose Di Omimi which was born out of St Eve Magazine. It's like a clothing neighbour where we make very simple pieces where  people come to buy and wear to the streets.
Before now, you worked in the bank. How did you become a therapist/weight loss expert?
Banking  was a way of getting busy in a sense. It was when my school was on strike that I had the opportunity to work there. Again, I found out that I had no passion for banking . I left that to work with another company, Econet, now called Airtel and I did that for a couple of years and still discovered it was not my calling before I started running my own company.
I have always been passionate about what is happening in the human body, how we can look better and live better in everything we do. It was born out of  passion and we  found that a very good arm of  what we wanted to do which is making people live healthier is through the use of enzyme supplement. Enzymes are already in your body and we are only adding more into your body to help digest your meal properly.
Most of the diseases that are wrecking the human body are due to lack of digesting your meal properly for your body to take the nutrients from these meals and feed the cells, organs and in turn, the cells can feed the organs. You must take the food to the most simplest complex monopole that the body can observe. For instance, yam doesn't go into the body as yam. It has its own formula that transforms all the way to the glucose.
That is really our passion and we now carved a niche for ourselves and we have been propagating the use of enzymes supplement to live healthy and to prevent diseases. Reason is that if you nourish your body, your white blood cells will work effectively to fight any form of bacteria, viruses etc. It also will give that maintenance you need to survive  everyday.
How do you manage your career and home front?
Amazingly, you work at particular hours of the day and you have to dedicate some hours to the home. So I have been able to share my time, running all the businesses, having to work with other people that I work with and then go home and stay with the kids and attend to everyone in the home. Somehow, we Africans are strong people, strong women for that matter.
That is why I keep clapping for Nigerian women. We are  strong emotionally, you can see that in the Afro-American people, you can't hide a gene. We have a way of just managing everything no matter the psychological problem or challenges we might have. We still have a away to forge on. So, I have been able to get all these working together and we have developed to a particular level.
What challenges do you encounter running your company and your home front ?
To be honest with you, I will tell you. In all I have done, I have not really had much challenges because if you have a very supportive husband and friends, it makes the job lighter and easier. I  have been blessed with people who are very supportive. I have a wonderful partner and staff. I have wonderful people around me who understood what we are trying to do.
Challenges are there to make you stronger and determined in what you want to do. If you have people supporting you in what you want to do, it makes it easier. Most times, most of the women are not supported, either in politics and in others. But those who are dedicated overcome that barrier and at the end of the day, get  respect and approval from the opposite sex who saw that they were able to face challenges and overcome it. That is it. If you are determined, you overcome those challenges.
The role of women in the society…
I think everyone knows that the female gender has so much to contribute to the society and the world at large. You can see what is happening today, women taking mantles and positions and delivering beyond expectations.  The jobs that people think are not a woman's job, the women are proving points now and are being appreciated. So, it is important that women come into certain position.
If they have the capacity, the wherewithal to function in a job, they should be given the opportunity to do so. We would thank the president because a lot of women have been made ministers and put in different positions of authority. The truth remains that if you still look at the records, you would find out that there were some reasons why they could not meet up. Yet, there must be a support from the society to encourage the women in politics to any level  they can go. They should be given that support.
There are few women in government, is it because there are no support for them or what?
The truth is that this present government has given women a lot of opportunity compared to the past. They have been given more opportunities and responsibilities and most of them are delivering. The government is doing well in the sense that the president is giving women the opportunity and that is why I'm answering this question.
We have some of our women that earn respect nationally and internationally, like our dear Dr Okonjo Iweala who is known internationally because of her intellectual performance on the economic ladder. The way she is encouraged will encourage a lot of women who have that capacity and personality to be anxious to develop whatever responsibility given to them and turn it to something better. The society should not look down on us, but give us the necessary support so that our contribution would help build and make Nigeria a better place.
What point do you want to prove with your upcoming fashion show?
St Eve Magazine stands for three major things in the lifestyle world, which are health, beauty and fashion. So, our brand-building will evolve around these three issues. We succeeded with the Rick Ross event last year, that is bringing for the first time health entertainment. This time, to carve a niche in the fashion world, we are bringing the first of its kind: an outdoor fashion show because at St Eve Magazine, we stand for creativity and uniqueness.
Nigerians are very fashion conscious people and the industry is booming. So, why not expose talents and bring their skill to the world. We have our own line that we wish to show the world. The name of our label is  ROSE DI OMIMI. It is a beautiful world and St Eve Magazine wants this world to be healthy, beautiful and fashionable. Our brand speaks to the people just as our magazine.We touch areas where people don't dare and succeed. So God is on our side.Nothing can stop us on December 8, except Him.
Subscribe for latest Videos