By Onochie Anibeze
Last week I pleaded with Stephen Keshi to have a rethink about the conditions he announced before any member of the Golden Eaglets can be invited to the Super Eagles.
Keshi had said that he would like them to graduate to the Under 20 and possibly the Olympic team before they can have a taste of the senior team.
I saw with Keshi but also I cited many players who became stars at 17 and advised that any player in that crack team that we saw win the world U 17 cup in style who had the heart to play at top level should be given a chance to at least develop.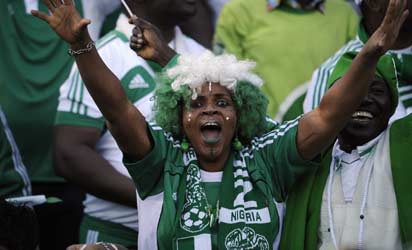 Those world champions already have the skills from what we saw. What they need is the big heart to play at top level and that's why I felt that some of them could be given a chance which could begin with CHAN early next year. On Wednesday, Keshi changed his position and said that he would invite some of them for the camping for CHAN. Keshi, it appears respects superior argument. I respect him for that.
I also pleaded with him to have a rethink on captain Joseph Yobo and he has also said that he would not only invite Yobo but would also give him the chance to make the World Cup team if he merits it. My position was strongly influenced by one ardent Eagles supporter called Lydia who called several times from Benin to plead on behalf of Yobo on the grounds that Yobo was now doing well and deserved to be recalled. Keshi yielded. Yobo will be back to Eagles.
I thank the Big Boss for these reconsiderations. A good leader and manager must not be rigid about his decisions.
And now that we have qualified for the World Cup I want to believe that Keshi knows what it takes for an African nation to do well at the World Cup.
I popped up champaign after the 2-1 victory in Ethiopia. A reader reacted and said it was not yet time to do so. My position was that the Ethiopia we saw in the Nations Cup and the first leg in Addis Ababa lacked the scoring prowess that could stop us from the World Cup. They can pass the ball but they don't know how to score. The day they develop strikers they will rule the continent.
I have always said that African football is different and sometimes difficult for Africans who have mastered and adopted the European styles. And that's why it's not all players who shine in Europe find their feet in African football. After struggling against Ethiopia Eagles went to London to put up what Tony Ubani called a five star performance in a 2-2 draw.
Well coached and prepared African teams can stun big football nations. Senegal beat world defending champions, France in 2002 World Cup and it a painful penalty shoot out for England to beat Cameroun after the Africans shocked Argentina in Italia '90. Cameroon were knocked out in the first round of Algiers 90 which was my first Nations Cup coverage.
Few months later they mesmerized the world and reached the World Cup quarter finals in the 1990 World Cup. Senegal and Ghana have all achieved same feat. Nigeria can even do better if we do the right thing. It has to do with selection without sentiments.
It has to do with proper training, the type that will see weak players drop out or be sent out of camp. Fitness must be 100 percent. I was there when Clemence Westerhof drilled the players and they trained three times a day. They did road work, country race, mountain climbing, drills and drills that after USA '94 World Cup, fifa had to write Nigeria to inquire about our training and the kind of food we served the players. Fifa's letter was sent to the Dr. Akin Amao, the team doctor through the NFA.
Dr. Amao is still around today. Eagles were the fittest team of USA '94 and but for the crisis that erupted in our camp the Eagles would have gotten to the semi-final or final of that competition. Stephen Keshi was part of that team. They camped in Holland, toured Spain and Italy before going to USA. I toured with them. I saw Bonfrere Jo doing the drills. I saw Westerhof plan the training techniques and executed them. I saw Gerry Van Iyke train the goal keepers.
Westerhof engaged all of them to achieve results. The training was absolutely professional. The selection was superb. It was a continuation of the work they did to win the Nations Cup in Tunisia in 1994. That USA '94 squad remains our strongest and best as far as football is concerned. And the good thing is that Keshi was part of that team. He should know that sentiments should be out of his plans.
He should know that players must not be allowed room to call the shots and that the bulk stops on his desk. He should know that no player should be given preferential treatment. He should know that he needs the courage to change Mikel Obi, for example, if he is not fighting and doing his job well.
He should know a lot of things some of which I intend to put down here as part of my little contribution to our march to Brazil. For now, I want to congratulate our team again and say strongly that if the right things are done and the players get to Brazil very hungry, fit and well coached, they will do well and make us proud. More coming.