By Victor Gotevbe
To many people in many cultures, music is an important part of their way of life. Common sayings such as "the harmony of the spheres" and "it is music to my ears" point to the notion that music is often ordered and pleasant to listen to. Chidiebele, a legal practitioner a.k.a. Dusky with a strong passion for music shares the uniqueness of his love for music and how he doesn't only intend to bring a message of hope through this medium but also be the message of hope.  Excerpt.
TURNING POINT I'm in my early thirties. I come from a Christian and well educated family, and while growing up, my parents did their best to teach me about God and morality. I have three sisters and all of us are musically inclined, encouraged by our mother we sang together in many family events and weddings just for the fun… .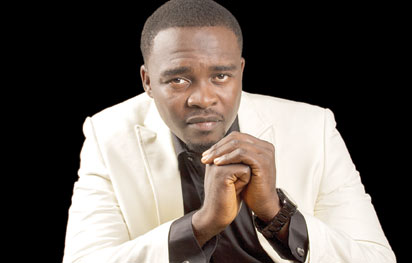 However amidst my mum's support for my musical dreams and my religious inclination, I derailed morally in my teen years, influenced by morally-bankrupt peers and abused by a trusted adult. I delved into a life of debauchery that  carried on to my university days. Girls, smoked, hot-tempered and an alcoholic;all these vices ruled me.
That's how the name Dusky as a nickname came about and became more meaningful after I had a unique turn around in May, 2003, when I gave my life to the service of God and humanity, I turned it into an acronym that means, D– Daily serving, U-Under the Holy Spirit,S-Speaking His words in songs, K-Kindling souls and, Y-Yoking them to Christ. I studied Law in the Enugu State University of Science and Technology and graduated in October 2003, and I was called to the Nigerian Bar in 2007.I am also a writer and a trained public Speaker.
MOTIVATION FOR MUSIC
Music has always been my passion from my early years,I could remember one day I was watching Paul Wilbur's SHALOM JERUSALEM video and I told my mum that I wish one day, I will minister in songs in like manner to such a crowd. I want my music to bring hope to the world that we have a God, loving and merciful  to set people free from bondages…and make them stars they were created to be and ultimately bring men and women to God's presence.
CHOICE OF MUSIC
Basically, my kind of music is Gospel and I chose it because it is a sure avenue to communicate my message of hope to the world. My music always has an African touch that  makes it unique.
THE RELATIONSHIP BETWEEN MY COURSE OF STUDY AND MY PASSION
Literally there is no relationship between law and music in that sense unless you want to talk about the legal prognosis of music and entertainment. However,by the grace of God I try to balance these two. My passion is to evangelize through the Word and Music, so as an evangelist  I give the necessary attention to both departments of my life the same way clerics  who are either lawyers or doctors go about the different aspects of their callings.
MAKING A COME BACK
Yes, that's right after doing "I Don Die" in Resonance first album—Chinwe Ike, I dropped  an album Dusk 2 Dawn with the then popular Nnam Idi Ike track in 2006 and later in 2008 Dusky Reloaded with the still popular track,Odinobim, I went off the radar to bond with my family and consolidated my law firm with my wife, Ebele who is also a legal practitioner and a strong supporter of my vision.
We have four sizzling singles to herald my forth coming album, Made To Worship. They are "Onyedika", "Odinobim Reloaded", "Nnam Idi Ike Remix" Feat. Eben and "How Great You Are", we are bringing out some videos with state of the art production under 3neetee Music and we are partnering with CMN (Crusaders Media Network) Africa. You better watch out for Dusky.
MY DESIRE FOR YOUNG PEOPLE
One of my prayers to God is to help me succeed. One of my major motivations is to be a good role model especially to the younger generation. I believe that as I succeed in pushing my talents and my dreams as a godly young man, younger people will observe and see that one can really be something beautiful without corrupting their souls or soiling their hands.
If young people will to God genuinely and also work their talents to excellence, then I will be satisfied and joyful that I and all those who share my passion have succeeded. My advice to young Nigerians is to do first things first, set their priorities right, depart from crime and immorality, harness their gifts, work hard, put their trust in God and sincerely involve HIM in their quest to fulfill destiny and it shall be well with them.
YOUNG NIGERIANS MAKING THE DIFFERENCE
Project Friendship donated materials to an Orphanage Home during its recent Youth Adventure with a campaign to end modern day violence. Pastor Emmanuel Alao, the president of Project Friendship initiative expressed great delight in the successful outing this year. "We are happy that we are changing lives."
Pictures
Materials included exercise books, clothings and many more. This year's outing was tagged: "EDUCATION FOR PEACE"
Subscribe for latest Videos