By IFEYINWA OBI
THE Federal Operations Unit (FOU), Nigeria Customs Service (NCS) Zone 'C' Owerri, Imo State, has made a total of 31 seizures of contraband.
The seizures which include 2 by 20 ft containers filled with printed textile materials totalling 566 bales have a duty paid value (DPV) of N264, 745 million.
Customs Area Controller (CAC), FOU, Zone C, Mr. Victor Dimka, disclosed this at Abia /Imo Command premises, while briefing newsmen on the achievements recorded by the command between September and middle of October this year.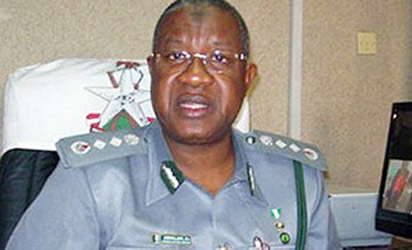 Within the period under review, Dimka, who is a Deputy Comptroller (DC), said a total of 2,811 cartons of refined vegetable oil and 117 bales of second-hand clothing, in addition to 45 pieces of used tyres, were confiscated by the eagle-eyed men and officers of the unit.
According to Dimka, a breakdown of other seizures made by the command include 22 vehicles, which comprise Lexus jeep, Volkswagen Jet, Nissan Primera, Golf Station Wagon, Toyota Highlander, Mazda 323 Saloon car among others. Others, he said, are 882 bags of foreign rice, one hundred and forty-seven (147) cartons of furniture comprising cabinet wardrobes and beds.
Displaying the seized items to the journalists, Dimka stated that the items in question were variously impounded on the Aba/Eleme Road, 9th Mile Enugu State, Ngor Okpala Imo State, as well as Benin-Edo and Port-Harcourt Rivers States axis.
His words: "No smuggling activity will elude the eagle eyes of Customs Officers because the Comptroller General of Customs (CGC), Alhaji Inde Abdullahi and his management have ably empowered us and provided the platform for achievements through his various capacity building programmes aimed at equipping officers with the necessary skills for improved performance in tracking down smuggling activities".
While pledging the commitment of his officers and men to contain the menace of smuggling of contraband goods in the country, the Customs Chief pleaded with members of the public to always supply his men with useful information that can lead to the arrest of smugglers in the country, assuring them that such useful information would be treated with the necessary confidentiality they deserve.