Super Eagles coach, Stephen Keshi has said that beating Ethiopia and qualifying for the World Cup 2014 in Brazil was all he thinks about and not making the list of nominees for the 2013 FIFA Coach of the Year award.
Against all odds, Keshi won the 2013 Nations Cup in South Africa and he is one match away from qualifying Nigeria for the World Cup and football analysts believe that he deserves a mention for his effort at reviving a Super Eagles on the slope of decline.
"Honestly I don't want to bother myself with such because it is no big deal. I don't know how they agreed on who qualifies to be nominated or what criteria were used in the process of nomination. That's why I say it is no big deal not being nominated.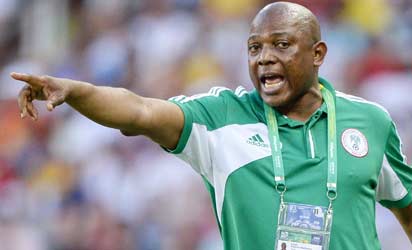 "The 2014 Fifa World Cup qualifying game against Ethiopia comes first for me. It is very important for me, the players, the FA and the country. We won the first leg in Addis Ababa which was good for us but there's still the second leg to play for. So the job is just only halfway done.
"At the same time, I'm also thinking of next year's Nations Cup for players based in the league. Honestly we have a lot of work to do on the team between now and when that competition starts. But for now let's concentrate on the game against Ethiopia," said the coach.
Meanwhile Ethiopians are keeping their dream of making the World Cup alive. The country's foreign affairs minister Tedros Adhanom said they hope to create an upset in Calabar on November 16.