By Vincent Ujumadu, Tony Edike, Charles Kumolu and Enyim Enyim
Voting in the Anambra State gubernatorial election drew to an end yesterday evening amid allegations of sloppiness on the part of the Independent National Electoral Commission, INEC, in the delivery and presentation of critical voting materials in many areas.
The height of the chaos that characterized an otherwise peaceful election was the failure of the candidate of the Peoples Democratic Party, PDP, Comrade Tony Nwoye, to vote, because he, like several others, could not find his name in the voters register.
Senator Chris Ngige, the All Progressive Congress, APC, candidate, half way into the time earmarked for voting, alleged that his strongholds in Anambra Central were deliberately deprived of voting materials, a development that was also shadowed by the strike action embarked upon by INEC ad-hoc staff in the area.
In several areas, voters seeking to stop manipulation of their votes took the law into their hands as they barred INEC staff who refused to display clean copies of unmarked result sheets from commencing accreditation or voting.
The voting exercise was nevertheless peaceful throughout the state as heavily armed security men made a strong show of enforcing the restriction of movements ordered by the police throughout the state.
The 349 collation and returning officers for the election were brought from Cross River State.
The team is headed by Prof James Ekpke, the Vice Chancellor of the University of Calabar, who is the returning officer.
15 Resident Electoral Commissioners were to come and join six national commissioners to supervise each of the local government areas, but only a few came.
As voting progressed in many areas, the APC, in a statement, said it would not accept the results unless voting was conducted in parts of the state where voting was yet to be done by mid-afternoon. At press time, the authorities had rectified some of the errors as voting was ongoing in some areas in Anambra Central where voting materials arrived belatedly.
There was a huge turn-out of voters even though a significant number of those who came out could not vote on account of slips in the voters register.
By yesterday evening, as results from across the state started trickling in, the ruling All Progressive Grand Alliance, APGA, candidate, Chief Willie Obiano and the APC candidate, Ngige, were running neck and neck in many areas declared, with the PDP candidate, Nwoye, tagging along the two frontrunners.
As preliminary results emerged, especially in Njikoka and parts of the state capital, Awka, supporters of the APGA candidate went into celebration, singing songs of victory and thronging drinking joints to celebrate.
Besides Nwoye, his father, Chief Okafor Nwoye, and mother could not find their names in the voters register in their Nsugbe Ward 1 in Anambra East local government area when they came to vote and were therefore excluded from voting.
Several other people in the ward, who had their voter cards, could also not find their names in the register and were therefore denied voting too.
The PDP candidate had come into the polling unit located in his village square and left shortly after he was told that there were problems in many wards in his stronghold. By 2.30 pm when he returned, all the people accredited in the ward had voted and he went straight to check his name in the register only to discover that his name was not there.
His parents, who were at the polling center all day, could not vote along with hundreds of other people who had cards but could not find their names in the register,
Ploy to rig
Nwoye told reporters that it was a ploy by INEC to rig him out, adding that in his polling station where 400 voters were supposed to vote, only 89 people found their names in the register.
He said that he made several efforts to reach the INEC chairman, Professor Attahiru Jega, to complain about the development, but the chairman did not pick his call.
Ngige voted at 1.30 pm at his Alor Ward 1 polling unit in Idemili South local government area, following which he complained of irregularities in the exercise, especially in his strong holds in Anambra Central senatorial zone.
According to him, many places in Awka South, Awka North, Dunukofia and Idemili North did not receive materials for the voting. There were also reports that materials did not arrive early at Nkpor in Idemili North LGA and there was so much anxiety there.
Commotion
In many places visited, only APC, PDP and APGA had agents, especially around the Anambra Central and North senatorial zones.
At Igboukwu in Aguata, INEC's attempt to stop those who came late after accreditation to vote almost caused commotion, forcing officials of the electoral body commission to reverse themselves.
Many places in Nkpor and Obosi in Idemili North complained that materials were not brought by INEC and it was gathered last night that officials of the commission assigned duties in the affected areas were arrested by security operatives.
el Rufai confined
The troubles for the APC were worsened by the confinement of its Deputy National Secretary, Malam Nasir el Rufai, who was barred from leaving his hotel room early in the morning yesterday. el Rufai had arrived Awka on Friday and checked into Finotel Hotel in the outskirts of the town.
Ngige alleged that the restriction of the movement of el Rufai was part of the rigging plan by INEC," the APC candidate said.
"el Rufai is a communication specialist and he is supposed to be manning my monitoring room. So I am surprised to hear that he has been restricted.
"I went to see him in his hotel room and saw many security operatives.  They removed the key to his room and were following him about. Even when he went to eat, they still followed him and claimed that they were protecting him even when he did not solicit their protection. "
Continuing, he said: "From the reports reaching me directly, we discovered that there is a deliberate attempt to disenfranchise Awka South, Idenmili North, Idemili South, Dunukofia among others. Idemili North alone has 180,000 voters and it was a place that I scored the highest votes. Idemili South is also my base. Part of Anaocha including Adazi Enu is also my stronghold. In all these places, there was shortage of electoral materials. As I speak to you some of the voting centres have not got voting materials, while majority of them do not have result sheets. Some got their accreditation materials at 1:00 pm.
"With this we can say that there is a deliberate attempt to suppress the wishes of Anambra Central people. Why is it that it is in my strongholds that the NYSC ad-hoc staff would go on strike?"
The turnout at other polling units in Idemili was very impressive and voters queued and were casting their votes up to 5pm.
APGA candidate, Obiano, voted around 1pm at his Aguleri polling station and voting was still going on when Sunday Vanguard visited area.
The candidate of PPA, Mr Godwin Ezeemo, was accredited at 11.30am. He complained to reporters that he was informed that some people were busy thumb printing in a house in Umuchu Ward 2 in Aguata local government area.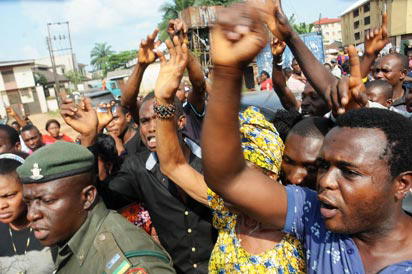 Governor Obi restricted
Meanwhile, Governor Peter Obi was prevented from moving freely around the state.
At the Governor's Lodge, Obi told reporters that security men asked him not to move about as a result of the restrictions imposed on the state for the election.
The governor, however, left the Lodge at 11:50 a.m. for accreditation at Agulu after police clearance. None of his security aides followed him as policemen on election duty escorted him to the place and back to the Lodge.
Obi said he had no problem with the arrangement made for a successful election, adding that he would always support any measure taken to guarantee free and fair election at all times.
Though he wondered why the restriction should affect him being the Chief Security Officer of the state, he added that he accepted it as part of the sacrifice for the sanctity of the electoral process.
The governor also dismissed the complaint by the APC on the confinement of el Rufai asking why the former minister should leave his base in Kaduna to partake in an election in Anambra State.
As results came in last night, the APGA candidate was making a good show in many areas of Nawgu in Dunukofia, Nimo in Njikoka, Aguata and Orumba South local government areas.
The APC led in Ward 7 in Awka South followed by APGA. Final collation was taking place at the INEC headquaters in Awka
Tilting election
In a statement issued in Lagos yesterday by its Interim National Publicity Secretary, Alhaji Lai Mohammed, the APC said the logistic problems that bedeviled the election were contrived as it demanded the immediate removal of the Resident Electoral Commissioner, Prof. Chukwuemeka Onukogu, who it accused of incompetence and collusion with APGA to tilt the election.
APC said it was totally astonished to learn that INEC confirmed that materials meant for Idemili Nort local  government area, which has 180,000 voters, had been hijacked, without saying who hijacked the ballot papers and why, and without explaining why the materials meant for APGA and PDP strongholds were not hijacked.
"Before the election, political parties were given voters registers that largely contained the names of most voters.
However, about four days to the election, Prof Jega said at an interactive stakeholders forum that there were problems with the registers, which would be rectified before the election," it said.
"However, when the supposedly-corrected registers were brought back, most of the authentic names in them have disappeared, without explanation."
APC said it also complained about the fact that the Resident Electoral Commissioner for Anambra, Prof Onukogu, was very partial and unprofessional when he conducted the 2011 election,
"In 2011, when Prof. Onukogu conducted the general elections in the state, he was very partial. During the Onitsha South 2 House of Assembly constituency and Idemili South House of Assembly polls, he declared the results of both inconclusive, only for him to announce the results at 12 midnight. After we challenged the results in court and a rerun was ordered, we won both constituencies.
"We subsequently petitioned INEC and the Commission assured us that the same person will not be allowed to conduct subsequent election. Alas, he was left in place to do another damage to INEC as an institution through his glaring incompetence and partiality, which have seriously affected the credibility of this governorship election."
Also speaking at his Nnewi home, Labour Party candidate, Chief Ifeanyi Ubah, lamented that most eligible voters in his Nnewi Ichi Ward 2 polling unit could not vote.
"There are a lot of inconsistencies especially on the voters register. For instance in a ward that has about 700 voters, you will discover that only seventeen names will be found in the register. This situation does not speak well and does not signal that we will have a free and fair exercise," Ubah added.
Poll cancelled
In a related development, yesterday's election was cancelled in about 65 polling units in Anambra Central. Sources  said the election in the polling units is rescheduled for today.
Poll cancelled
In a related development, yesterday's election was cancelled in about 65 polling units in Anambra Central. Sources  said the election in the polling units is rescheduled for today.
As at the time of going to press, the APC issued a statement signed by Mohammed demanding fresh election in the following LGAs of the state: Idemili North, Idemili South, Awka South and Ihiala.
The party said the combined registered voters in these LGAs where election did not take place or where wholesale disenfranchisement occured is about 380,000.  The party has already sent its petition to INEC.