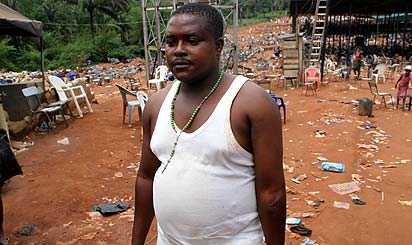 *Mr. Osmond Okoli… Escaped death by whiskers. INSET: Governor Peter Obi with Rev Fr. Emmanuel Obinma before the tragic stampede
By VINCENT UJUMADU, Awka
THOSE who witnessed the tragedy at the Holy Ghost Ministry Adoration ground at Uke in Idemili North Local Government Area of Anambra State seem to have found their voices at last and are now narrating their harrowing experience. It would be recalled that 25 persons lost their lives following a stampede that took place when the worshippers were going home after the service.
Among those who spoke to Vanguard Metro, VM, on the ugly incident is the national chairman of the All Progressives Grand Alliance, APGA, Chief Victor Umeh. Umeh was part of the 10-member team that accompanied Governor Peter Obi to the Adoration Ground following invitation by the spiritual director, Rev Fr. Emmanuel Obinma, as part of the ceremonies to mark the feast of All Saints.
The monthly religious exercise is very popular in the area, especially among Catholics who believe that God could answer prayers faster during such crusades. On the fateful Saturday, no fewer than 100,000 persons had gathered at the Adoration centre organised by Fr. Obinma popularly known as 'Ebube Muonso' (the glorious spirit). When the Governor's team left at about 3 a.m after participating in the Holy Mass and the vigil, a voice from the crowd called the name of Chief Umeh and knowing that it was not just an ordinary admirer, he looked back and discovered that it was a woman from his community.
Umeh said: "When we were leaving the Adoration ground at 3 a.m that Saturday, I heard a woman who called my traditional name of Ohamadike from the crowd. From the way she called, I knew it was somebody who knows me well and when I turned,  behold it was a woman from my community. We greeted and I dipped hand in my pocket and gave her N3000. Do you believe that the woman was among the 25 persons that lost their lives during the stampede. It is so painful that people who want to seek the face of God to enrich their spiritual lives could perish that way. "
For Miss Ijeoma Chikelu, her experience was simply amazing. She was among those already deposited at the Immaculate Heart Hospital, Nkpor mortuary and considered dead. Her friend, Miss Cynthia Okoli, who came to the Adoration Ground with her, was crying her hearts out when suddenly, Ijeoma started sweating, indicating that she was still alive.
Her friend began to call for help and she was immediately brought outside the morgue to a place where she had air. With time, she opened her eyes and began to ask where she was. She was later admitted to the hospital and treated and discharged. Back home where her relations were told what happened, it was celebration all the way.
Another victim, Mr. Abuchi Muoma who was treated at Crown Cross Hospital, Nkpor and was leaving for home with his father when VM met him said that after the vigil, he was happy and as he was walking out of the place, there was a shout of fire! fire!! and the next thing was that people started running.
Abuchi said he ran for some distance and then fell, adding that many people fell on top of him and he was unable to get up. He said that it was in the hospital that he regained consciousness and was treated before the doctor declared that he was fit to go home. "It was God that saved me. What happened taught me that one should always be prepared for death because nobody knows when it will come to him," he said.
At the various hospitals where the victims were rushed after the incident, the tension was very high as youths tried to use it to denigrate politicians. As usual, stories of various kinds were circulating both in the internet and in various communities, blaming perceived masterminds of the unfortunate incident. Mr. Osmond Okoli, another survivor, said he went with his family for spiritual enrichment. On getting to the adoration ground, members of his family went in different directions.
On this occasion, he said he was almost in front of the altar and did not even know where members of his family were sitting. He said: "At the end of the vigil, I was walking away when I noticed that people were running. I stood out of the way for them to pass only for the surging crowd to push me down. I felt the weight of people, but I was conscious enough to hear what people were saying.
"I knew when they took me to the hospital for treatment and after the first aid, I told the nurse that I was fit to go home and I was discharged. My apprehension was my family and I was lucky that they all got home safely. I thank God that I am alive to tell the story. I am, however, sad that some people lost their lives while seeking the face of God and I pray that He grants their souls eternal repose."