By AYO ONIKOYI & FLORENCE  AMAGIYA
Becky Madojemu is a seasoned broadcaster with Nigerian Television Authority(NTA). She has been a broadcaster for over a decade and still counting. She anchors the network news-line on Sunday from 9-10:30pm.  Her story is that broadcasting discovered her rather than the other way round. In  this interview, she talks about how she landed the job as a broadcaster without actually preparing for it; her style and other things that make her tick.
How would you describe yourself?
I am a nice person, but I am nobody's fool. I am the girl next door.  I can be complicated just as I can be down-to-earth. I can be an introvert or an extrovert. It depends  on my mood, time and place.
What do you do for a living?
I am a broadcaster. I have been a broadcaster since 1997, after my Youth Service.  I started with ITV, Benin, where I worked for five years  before I relocated to Lagos in 2002. I am an Assistant Manager, News, with Lagos Network centre of Nigerian Television Authority.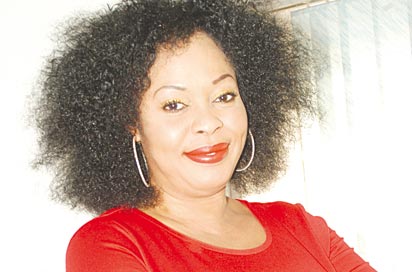 How did you get into broadcasting?
It can be said that broadcasting discovered me because I read Economics in the university. And most times, it's out of place to come across someone who read Economics and ends up pursuing a career in broadcasting.  I walked into a television house in Benin, Edo State after my Youth Service in 1997, to attend an interview for a position of a marketing officer but I found myself being shortlisted for a broadcasting job. While I was waiting to be summoned for the marketing interview it turned out that it was the broadcasting interview I was called for. I was just instructed to read a script and that was all. That was how I ended up with a broadcasting job.
But how did that happen?
I do not know what happened. Perhaps, I must have impressed them. Of course, I used to mimic newscasters while I was growing up as a child. Maybe, I subconsciously worked on myself without even knowing it.  I also used to read things to my mother and siblings while we were growing up.
So, you got the job on a platter of gold?
I got the job two months after I graduated from the university and after my Youth Service. I was very young and I was in dire need of a job. Perhaps, that was what made me to hold on to the job instead of sticking to what I have always wanted to do, which was marketing or  working in the banking sector.  I  always felt like a fraudster among  my colleagues because majority of them read either English language or Mass Communications. I was the only person that read Economics. But today, I cannot see myself doing something else other than what I am doing presently. I feel fulfilled.
What was it like learning the art of broadcasting and blending it with what you already knew?
You know in our kind of work; you learn on the job. We were all so young in the newsroom.  So, we learnt on the job. They don't teach you everything in school. Ironically, I observed that those of us who didn't major in English language or Mass Communications were far better than those who studied these courses. There's nothing  wrong in studying these courses. though they were better than us literally. In practical terms, we were doing better. We learnt the ropes while on the job and that helped us.
Were  there moments you regretted why you didn't study Mass Communications or any other related course?
I never had moments like that. I learnt on the job. I guess, it was like that because I had good mentors on the job. I learnt very fast. I had a boss, Abidjan Ejayekre of blessed memory and  other tested hands. I am sure that helped me.
At what point,  did you resolve not to dump broadcasting anymore?
I think that point was when I was doing CNN Live reports. I was seeing myself in CNN promotions and all that. I knew right then that l didn't belong anywhere else.
What does it take to become a broadcaster?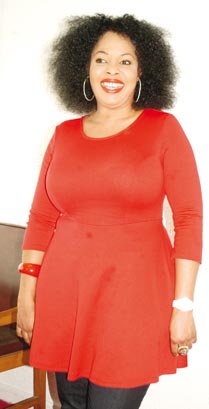 First and foremost; you have to be very intelligent. You cannot afford to make any mistake because if you do then it's already on air. It is easier to make a mistake when you are behind the pen. But if you are broadcasting,  you may be done with your job for the slightest of mistakes. Secondly, you must have the flair, you must have that charisma to captivate your audience. There are many Television stations out there and the viewers have three seconds with a remote control;  so if  there's nothing catchy about you they tune to the next channel within the twinkling of an eye.  It takes more than a pretty face to be a broadcaster. You must know what you are doing; you must be intelligent, you must know a little about everything because the viewers are informed.
The television is all about glamour and you are not missing in action. Don't you think that was part of the reason you were considered for the job in the first place?
I don't think so; as there were many beautiful ladies that came for the interview on that day. I do not think looking glamorous was part of the reason I got the job. I think what played a major role for me on that day was fate and destiny, not glamour at all. Perhaps, my interviewers liked the way I sounded.
Do you think your looks played a role too?
I don't know, perhaps in some other stations, but not in Nigerian Television Authority. They have seasoned professionals behind the cameras. So, if you sound somehow; no matter how pretty you are, they send you out permanently.
Have you ever goofed on air?
Wow! Several times. The worst one was when I was in Benin. Usually, when I am about going on air, I asked the camera man to connect the camera to the monitor; so I can see myself and fix myself up.  So this fateful day; I saw myself on the monitor as usual, about five minutes before going on air,  and I whispered 'thank you' to him, but he was staring at me.  So, I started adjusting myself; my hair, my face and did all that. I did my make-up, coughed, but all the while, I didn't know that people were watching me at home, right on air! Later, my mum told me she saw me on air adjusting my hair. In fact, the whole town went mad and my mum screamed. It was horrible, I do not wish it on my enemy. There are awkward moments as a broadcaster, but if you are smart and good, you would smile your way through.
What has been your most fascinating moment as a  broadcaster?
There are many,but I do not want to discuss any here.
You are a very beautiful woman. Are you married?
I am not married. Is that shocking?
Why aren't you married?
I am waiting for him to find me.
If there is a man wanting to find you. What would you be looking for?
I want a credible man, an ambitious person. Not one who builds castles in the air.  I need godliness; we have enough godliness around us.
Can you share any romantic experience with us?
Someone came to my house on St. Valentine's day and brought a present for me. I thought that was romantic.  It was romantic because I wasn't expecting anything from anyone that Valentine's day and it came so early.
Are you a stylish person?
I dress for comfort; not style. Something could be beautiful, but if I am not going to be comfortable in it; then I won't wear it. As for perfumes, I love designers' perfumes. I know my clothes when I see them; my friends also know my clothes when they see it.
You are mentoring younger people now, what else do you wish to do after this?
I  have a lot of younger colleagues looking up to me like I looked up to my mentors. But I haven't gotten to that stage of doing something different from what I am doing today. At the moment, I am climbing the Civil Service's ladder, but if I am ever chanced I wish to go into politics. I may not go into the campaign and stuff like that, but if I am voted for, I will gladly grab the opportunity.