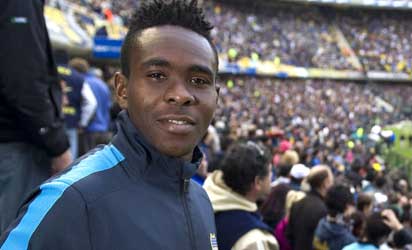 Bayan Mahmud
BUENOS AIRES  (AFP) – Ghanaian orphan Bayan Mahmud dreamt of making a better life for himself away from the brutal tribal conflict ravaging his homeland when he stowed away on a boat he thought was heading for Europe.
He ended up in Argentina and just three years later the 18-year-old is now dreaming of a glittering football career with Boca Juniors — the former team of his childhood idol Diego Maradona.
"I didn't even know how to ask for water," explains Mahmud of his arrival as a penniless stowaway in a country he knew nothing of.
"Before arriving in Argentina, all I knew was Maradona, (Lionel) Messi and (Carlos) Tevez."
Mahmud has come a long way from an orphaned street kid to a teenage footballing sensation plying his trade with the Boca Juniors B team.
His journey started aged 10 when he fled the town of Bukaw, in north eastern Ghana, after his parents were killed in a conflict opposing ethnic Kusasi, to which his family belongs, and Mamprusi tribes.
"I went out one day with my brother," explained Mahmud, "and when we came home our parents were dead."
The two boys found themselves in an orphanage, and when ethnic tensions broke out again a few years later, he and his brother got separated in the chaos and he had to fend for himself.
Memories of this time remain hazy.
"Everything was mixed up in my head, I had to get away. So I ran, I ran. Then I got to a port. Someone helped me get into a boat and told me it was going to Europe."
On board, he was discovered by a crew member, who gave him food on the journey across the Atlantic.
The teenager arrived in Argentina on October 7, 2010, not knowing a word of Spanish, or even where he was.
Senegalese people helped him at the port of Buenos Aires and he found himself in a refugee centre.
Mahmud admitted that he hadn't even dreamt of becoming a footballer, but he soon caught the eye of scouts while playing in the streets.
"One day, I was in a park, I saw people playing. A player from the losing team asked me to play. I came onto the pitch and we won," he recalls with a big smile.
He earned some pocket money for his performance and was asked to come back every Saturday.
Just three months later, he was on Boca Juniors' books.
Now playing for Boca's B team his dream is to play for the first team, coached by Carlos Bianchi, where Maradona played before moving to Barcelona in 1982.
He now lives in the Casa Amarilla, the training centre which houses young players from the club, close to the club's La Bombonera stadium.
Former Boca star Hugo Perotti, who played for the club in the 1970s and 1980s, has taken him under his wing.
"Time will tell if destiny leads him to the first team. But after what he has endured in life, thank God, he has found football and Boca," said Perotti.
A devout Muslim, Mahmud prays five times a day, despite teasing by his teammates.
"With everything that has happened to me until now, I think God has helped me. Religion is very important for me."
Despite already being a household name in Argentina, this left back or defensive midfielder has yet to achieve his real dream — to play alongside Roman Riquelme and Fernando Gago in front of 40,000-plus fans at La Bombonera.
"The first time I entered the Bombonera, my head was reeling," he added.