BY GABRIEL ENOGHOLASE, BENIN
SENATOR Domingo Alaba Obende represents Edo North in the Senate. In this interview, he speaks on the National Conference proposed by President Goodluck Jonathan, insisting that nothing good will come out of it as it is meant to keep Nigerians busy. He also speaks on ' jumbo salaries' for legislators, among other national issues.
Excerpts:
How do you view the proposed National Conference by  President Goodluck Jonathan?
Sometimes, a lot of things that happen come with an agenda. I have always said that the people that sit down to draft the agenda of a meeting know exactly why the meeting is being held. As far as I am concerned, I don't see anything tangible that is going to come out of the National Conference. If we want to have a Sovereign National Conference, let us have it, but if it is a National Conference that we are going to nominate people or government will select people to go and debate the situation of Nigeria, obviously we can't get   result that is going to be people-friendly. It can never be people- friendly   because   they have an agenda and it is that agenda that will be driven into the mind of the committee. It is like writing a report before the sitting of a committee. I also look at it as a way of keeping Nigerians busy in the sense that they will set up committees. Very soon, you will see people struggling to be members of these committees and that alone will destabilize a couple of things such that the real issue of governance will be avoided until it is time for election. I don't think Nigerians should be treated in this manner. If we want to hit the nail on the head, let Nigerians sit down and discuss the future. We have always believed that Nigeria cannot break; yes if there are skirmishes here and there or issues that are not going on well with; if we are talking about federalism in the real sense of it, it is not only in the physical structure, it has to do with everything. If we must sit down to negotiate, I don't think a National Conference is what we need. If it is a Sovereign National Conference, for instance, you can find people who could not even speak English but know what they want, they will come there. So, to me, it is like an agenda that is clearly known to those that are setting up the committee.
What is your reaction to the fear that National Assembly members are trying to bring in sentiments into the review of the 1999 Constitution contrary to what the people wanted during the various constituency meetings?
We had public hearings. The House of Representatives members went into federal constituencies and the senators into senatorial districts. What the House of Representatives did is like a Sovereign National Conference where everybody in the local governments was involved. They aired their feelings but, sometimes, what we perceive there is that the right thing might not be the right thing after all. For instance, when we look at the issue of immunity where the House of Representatives came up that immunity clause should be removed; that is what the people said because some of these people have been governed by people who have no idea of what governance is all about;   people who believe that to be in government is to steal government money and, of course, the villager, the city man, the sub-urban person look at it that it is because this man has immunity, that is why he is stealing our money, let us remove the immunity so that we can jail him even while he is still governor. That is part of the vexations that were ventilated in the course of this constitution review from different public fora. Then talk about the local government, I have never been in support that local governments should have financial autonomy; we have two federating units: the Federal Government and the state. The Federal Government has the ministries and   ministers, states don't have control over them and they collect almost 50 per cent of the nation's budget ; the states have about twenty percent of the budget and local government is part of the state as a federating unit. I cannot imagine where the Federal Government would be conducting elections in councils for instance where they can rig and create tension for the state and where the council chairmen will not be answerable to the state governors, I do not see any sense in it. Administratively, yes they can have it but, financial autonomy, I disagree. For how many years now, we have seen council chairmen mismanage council funds.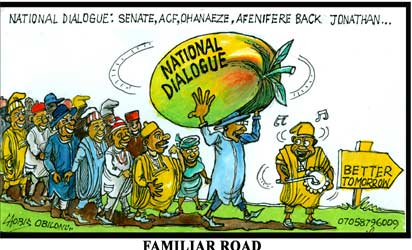 What is your position on the alleged jumbo pay for lawmakers? Many people believe they get so much and give so little.
The Senate has dealt with this over and over again. When you use the term, jumbo pay, I don't know in which context, but I know what my salary is. I don't earn up to one million naira a month. It is glaring, the banks are there, and the money is paid directly to the banks. Like the Senate spokesman said recently, let this debate be for the three arms of government, let us organize a debate, we want to know how much they are spending in the Villa. Even CBN that is just an organization, its budget is more than N350 billion a year. How many people do they have as employees and you come to the National Assembly where we have well over 5, 000 management staff, and paying our salaries and over head and we are using less than three per cent of the annual budget while a ministry uses well over eight per cent of the country's annual budget. And what are many of these ministers doing? For how many years now, have you seen roads being constructed? So, we are saying that the money going to the Federal Government is too much, and that many of the things it does have to be decentralized.   Let's send this money to the states and local governments so that there will be nothing that will be attractive at the centre.
What are your expectations from the APC?
We call it a new party but you know it is an old wine in a new bottle. We all came from our different parties. What we are doing now is synergizing. This is a marriage of more than three political parties and we obviously have an internal cleansing to get done, an internal arrangement and that is why you find out that it has been quiet because we feel that when you are arranging your house, it should be a family business. It is PDP that cannot do their family business in quietness, they go on the pages of newspapers, they even bring their matter to the National Assembly, but we are doing our own to be different. So APC is going to significantly clear some states come 2015.
Are you going to re-contest in 2015?
I did say that to whom much is given, much is also expected. My people gave me votes and I have not disappointed them. I can point out projects that I have done and that I am doing that for the past twelve years in a way that has never been done before. We have realized that the people voted for us and we must do exactly what the people want us to do for.
As much as I am still in the good books of my people and for as much as the leadership of my party is aware that I am doing the right thing by way of making sure that we make laws for the good governance of our country and for the betterment of environment and community, I am coming back and I believe that God will create that enabling environment and my coming back will not create any controversy.