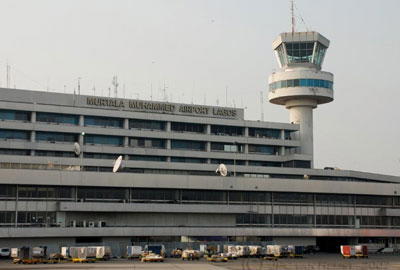 By Daniel Eteghe
Operatives of the National Drug Law Enforcement Agency NDLEA, Thursday arrested a 29-year old plumber, Mr. Ogu Talent Okechukwu for unlawful importation of 945 grammes of cocaine at the Murtala Muhammed International Airport, MMIA, Lagos.
The suspect, Mr. Okechukwu was apprehended during the inward screening of passengers on an Etihad flight from Abu Dhabi upon arrival at the Murtala Muhammed International Airport , from Brazil with  57 wraps of cocaine.
Speaking on the arrest, NDLEA Airport Commander, Hamza Umar said that the suspect ingested 57 wraps of cocaine hidden in male condoms.
"The suspect, Ogu Talent Okechukwu excreted 57 wraps of powdery cocaine packed inside male condoms and sealed with cello-tape. It is a dangerous practice because many drug traffickers have died as a result of leakage in such wraps of narcotics" Hamza stated.
He further noted that the case was under investigation.
Narrating his ordeal, the suspect, Mr. Okechukwu said that he was lured into drug trafficking over his inability to pay his rent of 150,000 naira.
According to him, "I am a plumber. I am married with two children and my wife just delivered our second baby. My problem was how to pay my rent of 150,000 naira. While looking for money I was introduced to drug trafficking. They promised me 300,000 naira if only I will bring the drug from Brazil. My travel expenses were sponsored. While in Brazil, I was given 100 wraps of drugs to swallow but I could only take 57 because it was my first time and it was not easy to ingest. I feel very bad now" Ogu who hails from Imo State told investigators"