By VERA SAMUEL-ANYAGAFU
With a committed ambition to reorient teenagers, 29-year-old transformational coach and Publisher of 9ineteen Magazine, Chichi Umeseaka, in this interview, leads us through her vision of ensuring that Nigerian teenagers are rightly positioned for a brighter future. Enjoy!
What stirred the establishment of 9nineteen as a magazine and motivational platform?
Things have become so difficult in this country that young people are no longer sanguine about the future. Hence, you see them run abroad at the slightest opportunity! They no longer think any chance for survival exists here! This situation spurred me into researches and from there, I realised I needed to contribute my own quota towards restoring and transform young minds and letting them understand they do not necessarily need a godfather to survive in Nigeria. That was how the 9nineteen dialogue platform was conceived. Nigeria is a goldmine for those who believe and the earlier this is understood, the better.
A teaming number of teenagers are getting enrolled in sex work, but is this a shrewd approach to economic difficulty?
Economic hardship is no justification for prostitution, drug peddling or any other social vices! God has given to us all equal opportunities. I am not from a wealthy family and I am still struggling to survive, but I've told myself that I must work extremely hard and use the gifts and talents I possess to become a success in life and also leave a legacy! I think it's about choices.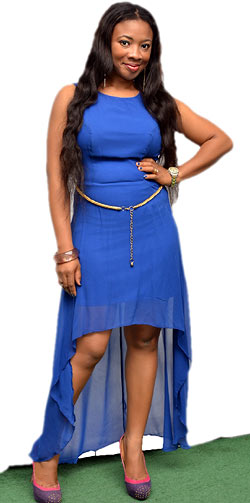 A lot of our youths are lazy and lousy; they do not want to work but want to live flamboyant lifestyles! I however blame our leaders and fathers for the growing trend in sex work because they introduce most of these girls to it through monetary enticements. Though, I believe we have the ability to decide whether we want to make legitimate money or not.
Do you see education as necessary anymore since jobs are becoming scarce by the day?
I believe strongly in education and self-development. 9ineteen works in partnership with Lagos and Abia states Ministries of Education, and we often visit schools to motivate our teenagers. We strongly encourage them to pursue education, no matter what career path they are nursing, because knowledge is never a waste whether there is a job or not.
I advise young ones to pursue education and be optimistic that when they graduate, they will find good jobs. But if eventually this does not happen, they could start-up their own business and employ others. The truth is that education gives an edge and enhances creativity when venturing into entrepreneurship.
What qualities should young people seek to achieve their goals in life?
One quality to imbibe is passion. You must be extremely passionate and enthusiastic about your dream. In desiring to be an achiever, you have to be focus and devote all your energy to what you desire, ensuring that you are disciplined enough to train yourself daily to become that picture you have in mind. You must also be teachable and open to current developments. Also, be ready to accept responsibilities; believe in your country and seek ways to help portray it positively.
What would it cost a woman who intends to toe your line of service?
Irrespective of your gender, you can achieve your desired goal in life, as long as you remain focus and committed because like Henry Ford said, whether you think you can or you can't, you are right! First, believe in yourself but do not be arrogant about it. Believe that you can achieve whatever your mind can conceive, and be firm about what you stand for. Above all, be passionate.
Could you let us into your background?
I hold a degree in Mass Communication from the Abia State University and a certificate in Entrepreneurial Management from the Pan-Atlantic University. I've over the years worked in communication outfits until I ventured into 9ineteen, a magazine that focuses on growing the minds of teenagers. I'm in late twenties and I'm happily married with three sons. As a mother, I understand the importance of growing the minds of teenagers who happen to be the power engine for growth in any nation. Hence, I'm committed in my efforts through the publication of 9nineteen. I also organise inspirational forums to ensure teenagers remain within gatherings that promote positive values.