By OLA AJAYI & DAUD  OLATUNJI
IBADAN — THE National Chairman of Alliance for Democracy, Senator Mojisoluwa Akinfenwa has criticised the National Leader of the All Progressives Congress, Asiwaju Ahmed Tinubu for faulting President Goodluck Jonathan's approval of National Conference.
While giving the President a pat on the back for listening to Nigerians on the need to discuss the myriad of problems confronting the country.
He said it was unfair for Asiwaju Tinubu to turn his back on the President over the commendable step he took.
He described  President's move as the first step to address the nation's problems.
To Senator Akinfenwa, who spoke in Ibadan, yesterday, the unstable nature of Tinubu over the issue leaves much to be desired.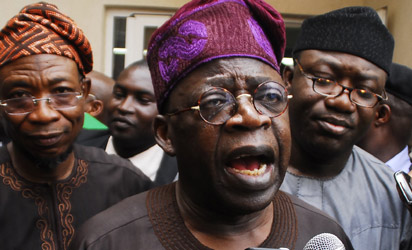 He said: "My belief and that of the entire AD and by extension that of  all patriotic Nigerians is that we  must support the confab. It is the first step to the conference we have for long been agitating for."
Speaking jovially, he said: "I think why Tinubu did not support it is because his crony was not made the Chairman of the confab. With that he would have given it his 100 per cent support."
The AD leader cautioned all politicians to face reality and set aside all ego-centric interests for the country to move forward.
President has no hidden agenda on confab —PDP scribe
Meantime, the National Secretary of the  ruling Peoples Democratic Party, PDP, Prof. Wale Oladipo has said that President Goodluck Jonathan has no hidden agenda  on  the proposed National Conference, saying it is a  machinery  to enable Nigerians hold  a national dialogue.
According to him,   the president had demonstrated sincerity by taking the  decision to organise a national dialogue without being pressurised by  Nigerians to do so.
Oladipo spoke  during the Eid-el Kabir party organised, yesterday evening, by  the Chairman of the South West PDP Organisation  and Mobilisation Committee, Prince Buruji Kashamu for party leaders in the zone in his Ijebu Igbo country home.
Oladipo spoke in the presence of prominent leaders of the PDP in the South West, including  acting Chairman of the party in the zone, Chief Deji Doherty; former Senate Leader, Senator Teslim Folarin; former Oyo State  deputy governor, Hashim Gbolarumi; Ogun State PDP Chairman, Chief Adebayo Dayo; Chief Remi Adiukwu-Bakare and Senator Hosea Agboola.
The party scribe  said President Goodluck Jonathan administration organised  the confab because he believed  in the indivisibility of the Nigerian nation.