Abuja – The World Bank on Monday said that mono product economies, especially those dependent on oil, would remained vulnerable due to volatility of oil prices.
Punam Chuhan–Pole, World Bank Lead Economist, made the observation while briefing African newsmen on African Economic outlook via video conference.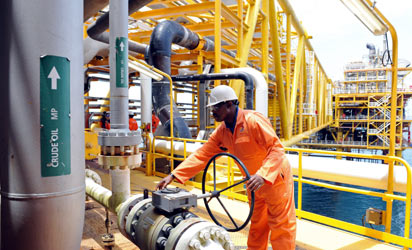 She said that Nigeria and many other African countries fell among this category, but commended Federal Government's efforts in trying to diversify the economy to ensure steady growth.
"With respect to Nigeria being dependent on one commodity, it's the export that is dependent on one commodity and I think it's about 85 per cent of the goods exported which is made up of oil.
"But the Nigerian economy has been quite diversified that the service sector and the non-resource sector has grown.
"I think that countries that diversify their economy are likely better to accommodate the commodity price movement.''
According to her, export will be affected unless efforts are made to improve production in other sectors.
Chuhan-Pole said that African economy had continued to grow strongly, but poverty and inequality remained persistently high.
"Economic growth in sub-Saharan Africa remains strong with growth forecast to be 4.9 per cent in 2013. Almost a third of countries in the region are growing at six per cent and more.
"African countries are now routinely among the fastest growing countries in the world.''
She attributed the growth to rising private sector investment in the region and remittances which had hit about 33 billion dollars a year.
Chuhan-Pole said that household income Gross Domestic Product (GDP) growth would continue to rise and pick up to 5.3 per cent in 2014 and 5.5 per cent in 2015.
"Strong government investment and higher production in the mineral resources, agriculture and service sector are supporting the bulk of the economic growth.''
Quoting the African Pulse, a b-iannual analysis of the issues shaping Africa's economic prospects, released on Monday, she said poverty and inequality remained unacceptably high and the pace of reduction unacceptably slow.
She said that the report observed that one out of every two Africans lived in extreme poverty today, adding that the rate would fall to between 16 per cent and 30 per cent by 2030.
Chuhan-Pole said that the report suggested that most of the world's poor people by 2030 would live in Africa.
Also, commenting on the Africa's pulse report, Makhtar Diop, World Bank Group Vice President for Africa, said that African strong growth in long-term would help to reduce poverty significantly.
He said that strengthening people's resilience to adversity might prove difficult because of many internal and external uncertainties African countries faced.
Diop said that following the global financial crisis and recurring climatic volatility on the continent, a growing number of African countries had set up social safety nets to protect the poor and vulnerable people during the period of adversity.
"Africa's pulse notes that safety nets can protect families from worse effects of crisis and also contribute to growth as well by allowing people to raise their incomes.''
Diop said that the gross fixed capital formation in the region had steadily increased from about 16.4 per cent of GDP in 2000 to about 20.4 per cent in 2011.
He said that the pick up in investment had directly contributed to economic growth and had also helped boost the productive capacity of the region's economy. (NAN)