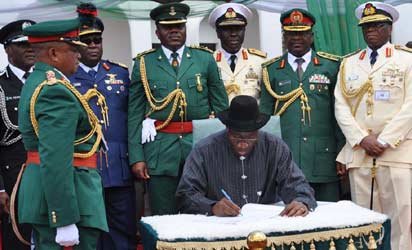 INDEPENDENCE—President Goodluck Jonathan (6th right) flanked by Vice-President Namadi Sambo (7th right); former Head of State, General Yakubu Gowon (5th right); Senate President David Mark (9th right); former Head of Interim National Government, Chief Ernest Shonekan (8th right) and service chiefs, cutting the 53rd Independence Anniversary Cake at the Presidential Villa, Abuja
By Bisi Lawrence
Happy Independence Anniversary. Maybe I should have said that last week, but then there were many things I should have said last week that I didn't.
And perhaps there were a few things that I shouldn't have said, but did. We are now celebrating our main annual occasion as a nation but virtually behind closed doors. You are probably not old enough to know how it was at Independence and several years thereafter. Fifty-three years is not yesterday.
I was a broadcaster in those days. I worked in the Outside Broadcasts Department of the Nigerian Broadcasting Corporation, enjoying myself. It was the section responsible for sports and "ceremonials", which meant where you had all the thrills.
As a broadcaster, you were already endowed with a sharp descriptive ability, but you still underwent special training especially for the appropriate terms of description in the various branches of sports, or ceremonial occasions which included religious services, or military parades which is my main focus right here.
Our bosses in those days were expatriates imported from the BBC, the British Broadcasting Corporation. Of course, they were very good at their business in the area of elocution and voice modulation and projection, and that sort of thing. But when it came to military parades, they quickly yielded to the experts — the men in khaki.
They actually took us to the parade grounds during rehearsals, and handed us over to the men in charge, who were also expatriates and insisted on passing on the required information, without holding back a generous measure of the discipline that made it what it has always been —military.
You were proud to imbibe it all and you openly displayed it to your less favoured colleagues who were for ever stuck in front of a microphone in the studio, or behind a panel in the control room. You could not wait for a military ceremonial occasion to come around, and it did not come around enough, but it was there on October 1— ­every October 1, rain or shine.
They hold that parade in a courtyard these days. They go through all the motions, but it is not the same as holding it on an open parade ground, with the various columns, and formations; with the stirring sound of the bugles and the drum; the crack of the parade commander's voice and the sharp response of the soldiers to the orders which came rolling out like thunder.
I remember them all, and I miss them all. All that colour, all that pomp and pageantry, and the atmosphere of flamboyance with which we marked it all for our very own was by itself no mean assertion that we had a nation whose merits we were determined to uphold, and whose pride we were sworn to defend. That might be why President Goodluck Jonathan, as did his civilian predecessors, indulged in appearing in military uniforms. The parade calls for the cuddling of total identification.
It is said that the decision was to hold a "low-key" observance this year, as it was done last year. It was understandable, to some extent, last year although it was hardly acceptable. The reason was said to be in relation to the "security situation" in the country.
That, of course, was not unconnected with the Boko Haram scourge. It had aspects that we were not prepared for at that time, that is, two years go. Nigeria was not prepared for that scale of insurgency and we might have been hard put to devise a ready answer to the ruthless attacks. It was a fairly strange experience, we can appreciate. But after two years, we ought to be able to come out of hiding, as it were.
Some backyard in the Aso Rock simply does not fill the bill for the expression of our appreciation of ourselves. We simply have to be able to secure Eagle Square to show off the confidence we display in our march past on these occasions. And it is not only the inspiring turnout of the military and Para-military company, but also the moving step-out of the schoolchildren in their uniforms.
And I daresay the youthful ones love that parade too, It is their first taste of participation in a national activity. But this year, it is said that the "low-key" affair  was to create a desirable pause before the "jamboree" of next year's "Centenary Anniversary".
Should that really have robbed us of this year's festivities?
You see, a host of Nigerians, the preponderant majority of us really do love this country. It is not merely because we have none other to call our own— because some of us really could — but because of what it means to us as human beings. We therefore deserve to commemorate all the important moments of our nation as nationals. It is not that we enjoy unstable supply of electricity; we do not.
We do not condone such hefty amounts being stolen from our wealth every day by several arch-criminals. We rue the pall of insecurity which has fallen on our lives and those of our relations throughout the length and breadth of this country today. We cry out against the 'incompetent style of governance that we are committed to suffer in almost every sphere of administration, and we declare our repudiation of it by demonstrations and industrial disputes in various industries. We do not enjoy the sight of our nation sprawled before the rising tide of such massive resentment without any decisive measure of relief.
Notable citizens have thus thrown back the offer of national honours into the face of officialdom for all these reasons of political mismanagement; not because they do not love their fatherland but they are constrained to do so in rejection of the deplorable manner in which it is being run.
The military took us over and used us as a doormat on which to wipe the iron heel of their jackboot. But we endured it for some two-thirds of our national life, waiting for the sunshiny days when we would enjoy our right to the good life, with our destiny in our own hands. But look at us now. *We are prisoners in the grip of a system of diversionary shackles in the ordering of events in our lives. We are constantly sold the dummy. Do you realize that it is now over a year since we declared total war on those we accused to stealing the payments on the oil subsidies? Those who were brought to trial are still on trial.
We have even almost forgotten the case of the great knight who got his shining armour bespattered by the mud of proven corruption to the tune of thousands of naira — beg your pardon, dollars. A careful look into each case will reveal the intrusion of an event which diverted attention to other issues, allowing the matter at hand to cool down, if not cool off.
A case in point is the "Centenary" celebrations. We are supposed to accept that they account for the low-key celebration of our fifty-third Independence. As we have observed above, that is merely a red-herring ploy. But, in any case, Nigeria did not become a nation in 1914, and we all know it. The counterfeit celebrations are a means of diverting our attention from screaming issues of national importance, mostly connected with the disruption within the polity, abutting on the projected fortunes of the 1915 presidential election. Believe it.
And then you will have no reason to doubt that the sudden romance with a "National Dialogue" or "National Conference" is another dummy. It means nothing, and will achieve nothing except to distract the attention from the real issues of the moment. It is also disingenuous in an almost offensive manner since it is well known that if it is not "sovereign", it cannot solve anything.
It might only lead to a towering disagreement at the end, since the indications are that there are areas of disagreement on which some particular participators are unlikely to shift grounds. Thus it might only succeed in exacerbating extant resentments and awaken old conflicts. Those who have been appointed to serve on the panel to organize the jamboree are the lucky ones.
I too have often wondered when it would be my turn to "chop" from the national cake with the support of headlines exculpating me from any wrong-doing. Let us pray fervently, that, like its two predecessors, nothing comes out of it since it cannot produce anything good.
All the same, "I love my country, 1 no go lie; na inside am, 1 go live and die … "
Echoes (OBF. 08051478438): Reading your piece of Sept 28 turned out to be rewarding. The comment by Dr. Ngozi Okonjo-Nwaela that the nation is suffering from financial asphyxia is both a political talk and a huge joke. It is intended to get the states to support the return ticket of GEJ. We are too docile in this nation We need to rescue our nation.
From now on, everything begins and ends with the effort to bring Goodluck back, or kick Jonathan out. It is the only game on the board— the only politics in town. Happy Independence Day celebrations. Carry go!
Time out.