*Says,'Genetic ailments stirred me'
H er firm resolve to end a long family history of hereditary ailments landed her in the world of natural health science. UK-trained Information Technologist turned natural health advocate, Liome Engele, is the Director of Business Development at Laserderm Clinic, a dermatology and cosmetology clinic set up by British medical consultants in Lagos. In this interview, Liome takes us through her journey into the vast world of natural health science and also passes her judgement on Nigerians' attitude towards skincare among other issues.
BY JOSEPHINE IGBINOVIA
Could you tell us more about Liome Engele?
My father is from the Democratic Republic of Congo while my mother is partly Lebanese and Nigerian. I was born in the United Kingdom but was brought to Nigeria at the age of three to be with my maternal grandma. I had my primary and secondary school education and then worked briefly with a Lebanese oil firm in Lagos, Nigeria, before relocating to the UK at age 21. There, I attended the Guildhall University where I studied Information Technology. After that, I worked for a while and then decided to follow my passion. So, I went to the College of Naturopathic Medicine to study the production of natural skincare products and then to the London School of Natural Health Science to study Homeopathy and Aromatherapy.
But why did you suddenly switch to natural medicine after studying Information Technology?
I've always been passionate about healthy living because there's no shop on earth where body parts are replaced. Your body is like an investment; what you put into it when you're young is what you see when you're old. I've always wanted to take good care of myself and because I'm not a doctor, I had to do a lot of research and courses. My background in Information Technology actually gave me an edge.
Was there someone or something that inspired you in that line?
A lot of families have ailments they inherit. In my family, on my mother's side, it is arthritis, while on my father's side, there's high blood pressure and diabetes. I always said at the back of my mind that I did not want to inherit any of these. So, I started looking for ways of avoiding being cut in the net. I therefore had to do a drastic overhaul of what I eat, know at what age I should eat less or more of certain food items, incorporate exercise, etc. I think my family history was the main push because my grandma had to undergo knee replacements at the age of 68 because of arthritis.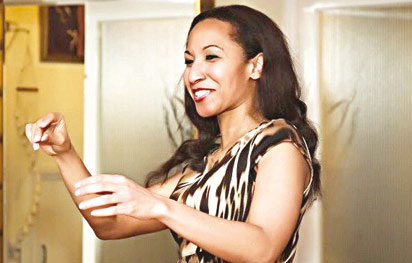 As a natural health advocate, what's your opinion on Nigerians' approach to skin health and care?
It's painful! The amount of chemicals some women put on their skin simply because they want to be light-skinned is outrageous! In the course of my duty at Laserderm, I meet women with extreme skin damages; most of which are irreversible! A lot of people don't realise that whatever is put on the skin goes into the bloodstream in 20 minutes because the skin is the biggest organ of the body. All they know is that they want to be light-skinned! Then when they get to age 50 or thereabout and are diagnosed with critical organ conditions, they begin to wonder what happened! That's what they've invested in and so, the body reaps the defect!
Could you therefore teach us how best to care for our skin?
Use sunscreen and drink a lot of water so you don't get dehydrated. As a matter of fact, dehydration comes with a whole lot of ailments. Unless you have issues with water retention, when you drink water, you pee it out. So, drink a lot of water because it helps your body regulate! Most importantly, gravitate towards natural things. Any product that uses a lot of natural ingredient is best for your skin; I use only black soap because it contains sheer butter, Vitamin E and lemon for cleansing!
Your paternal lineage has a history of high blood sugar; what remedy have you discovered from your research over the years?
Bitter leaf water is the cheapest, reliable remedy! I taught my sister this and she suggested it to a friend's mum who came to the UK for her medicals. The woman tried it out and the next time she came for her medicals, the doctors were amazed and were all asking her what she did! As a homeopathy specialist, I want to let you know something: you use something that is opposite to counter another; if something is very sweet, you use something that is extremely bitter to balance it. Because your body can heal itself, once you balance it, your body activates and starts healing itself.
Africa is rich in medicinal herbs, but do you think we're harnessing these resources?
Not at all! I believe that if we invest in research and harness the natural gifts we have been given by nature, we won't need to go abroad for treatment. Belgian Chocolate is the best all over the world, but do you know they get their cocoa from Africa? Yes! They take them from Nigeria, process them and we go there to buy! So, you could see we're not investing in what we have.
Finally, what's your advice?
Invest in your body! You don't have to join a gym; I run outside! If you can't run, walk, and if you can't walk, skip. Your body is a machine that you can't get any spare for from anywhere. So, what you put into it in your youth is what you reap in your old age.