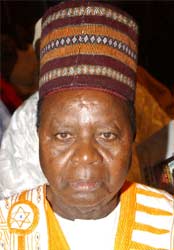 Solomon Lar
New York – Prof. Ade Adefuye, Nigeria's Ambassador to the U. S., says the body of the late Chief Solomon Lar, will leave the U.S. on Friday and arrive in Nigeria on Saturday.
Adefuye on Wednesday in New York said that a senior Embassy staff would also accompany the body.
The late Lar, a former governor of Plateau and a former national chairman of PDP, died on Oct. 9 at the Inova Fairfax Hospital in Northern Virginia.
A service of songs in honour of the deceased, who died at the age of 80, was held at the Embassy of Nigeria in Washington D.C. on Oct. 13.
In his tribute at the occasion, Adefuye had described the late Lar as a visionary leader who gave his all in the service of his fatherland.
"Truly, we have lost a visionary leader and statesman and there may be no greater tribute to him than the fact that he was an inspirer, and fought for the rights of the minority," he said.
Chief Emmanuel Iwuanyanwu, a politician, said the late Lar played a major role in shaping the political dynasty of Nigeria.
Iwuanyanwu described the death as "a tragic loss to Nigeria'', and said Lar was a man "who believed strongly in the unity of Nigeria''.
He said the late Lar also believed in justice and equity to all Nigerians, irrespective of tribe or creed.
Nigeria's Ambassador to Canada, Chief Ojo Maduekwe, described the late Lar as "a great emancipator, peace maker and a great Nigerian''.
"His template is a template of peace and unity, his template is a template of one Nigeria. Lar brought decency to politics in Nigeria.
"He is hard to replicate, he understands Nigeria and Nigeria understands him. He will surely be missed by many," Maduekwe said. (NAN)