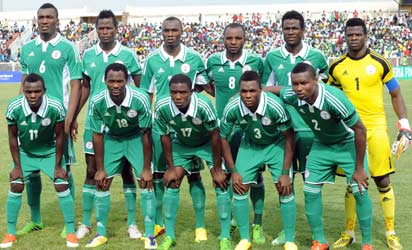 The Nigerian football team's starting lineup is pictured before the 2014 CH AN qualification match between Nigeria and Ivory Coast in Kaduna
Nosa Igiebor has declared that he and his teammates are ready to plunder Ethiopia when they clash with Nigeria in the first-leg of the World Cup qualifying play-off at Addis Ababa this weekend.
The Real Betis midfielder told Brila FM that Nigeria hold the mental and psychological advantage going into the game against Ethiopia.
"For us we are prepared mentally, (and) psychologically too because we know what it will take to be in Brazil 2014," Igiebor said.
After making an impressive start to the season, the 22-year-old is hoping to ease his way into the starting line-up, where he expects to partner the duo of Mikel Obi and Ogenyi Onazi, with whom he believes he has forged an understanding.
"The understanding between me, Mike and Onazi is good because we flow a lot but I think that we can still get better and we'll keep working towards it."
Ogu wary but confident
Academica de Coimbra of Portugal and Nigeria midfielder John Ogu is optimistic of a good results in Addid Ababa when the Super Eagles square up against the Walia Antelopes of Ethiopia in a crunch first leg of the final round of the Africa zone of the 2014 FIFA World Cup qualifiers.
Ogu, who has arrived the country for the game sure of a decent result in Ethiopia and says nothing will stop the World Cup dreams of millions of Nigerians.
"We ( the players) have resolved to give it our all to make sure the country's flag flies in Brazil come 2014.
"It's something we've been discussing among ourselves since the draws came out and we know what is at stake.
"We didn't come this fat to turn back, it's now or never. All our hard work over the past ten months will only count if we beat Ethiopia, and that is what we are aiming for."Ogu said.
The former FlyingSportAcademy player, also affirmed that he is fit and rearing to go, while also hoping Nigerians give them their support as usual.
"It's true I haven't been getting enough games at my club, that itself is a combination of a lot of factors, but I can assure Nigerians that I'm fit and rearing to go.
"I've done some special training as regards the altitude in Addis Ababa, and we have also spoken about it. Nigerians can be rest assured that we'll give it our all to make the nation proud.
"Ethiopia are no push overs, so we won't treat them with kids gloves, for us this is a cup final. It's make or mar, and we cannot afford to fail Nigerians." the 25 year old stated.
The Super Eagles are currently camped at the Bolton White Hotels in Abuja, as they prepare for the game, and will have their first practice session on Tuesday evening at the main-bowl of the National Stadium Abuja.
Nigeria are billed to face Ethiopia in a first leg of a two leg playoff for a slot to represent Africa at the FIFA 2014 World Cup to be hosted by Brazil.