Abuja – The Federal Government on Wednesday ordered investigation into the reported killing of three Nigerians and the attack on the Nigerian Embassy in Guinea-Bissau.
Dr Reuben Abati, the Special Adviser on Media and Publicity to President Goodluck Jonathan, told State House correspondents in Abuja that the incident was discussed during the Federal Executive Council (FEC) meeting, presided over by President Goodluck Jonathan.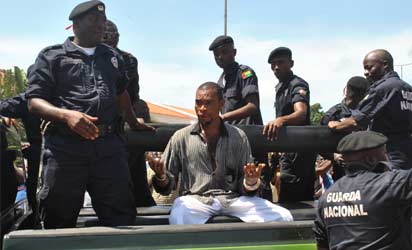 The affected Nigerians, who were alleged to have kidnapped a child, were lynched by rioters in Bissau.
"Indeed, during the FEC meeting today, the Minister of State for Foreign Affairs II, who is in-charge of Africa, briefed council about development in Guinea Bissau involving an attack on the Embassy, resulting in the death of at least one Nigerian.
"And immediately the Ministry of Foreign Affairs waded into the matter and protested to Guinea Bissau authorities and made it clear that this was not acceptable.
"The Nigerian Ambassador in Guinea Bissau was directed immediately to take up the matter with the Minister of Foreign Affairs in Guinea Bissau and the matter is being investigated."
Abati assured that the Federal Government would continue to protect the lives and property of all Nigerians across the world.
He stated that the country would also continue to maintain cordial relations with all its neighbours.
"You can be assured that this government responds proactively wherever any Nigerian has an issue in any part of the world.
"You know of course that we have very good relationships with our neighbours and other West African countries and the rest of the international community," he added. (NAN)