Musa: We showed we're champions
Two-goal hero Emmanuel Emenike says he had confidence he would get a goal despite the tight attentions of Ethiopian defenders in the Super Eagles' 2-1 win over the Walyas.
Ethiopia took an innocuous lead 10 minutes into the second half, but Emenike held off three defenders to rip in a ferocious equaliser soon after
"I was not worried at all even though they were marking me very tight," Emenike told KickOffNigeria.com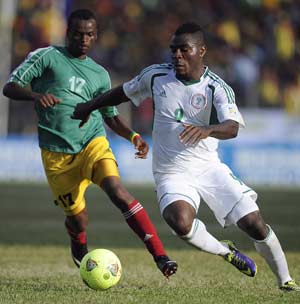 "I knew I could score with a shot because my shots are very strong, I just wanted to get the right moment."
The Nigerians were under the cosh for majority of the first half, but turned things around in the second, and Emenike says there was no pressure.
"We were not worried. We knew that they would come at us, and we had to save our energy for the second half."
And with the result secured, Emenike says Brazil is not far off.
"It is not over yet, we still have to play the remaining 90 minutes at home. After that, we can celebrate."
Musa: We showed we're champions
Ahmed Musa has said that the Super Eagles showed champions stuff to win a Brazil 2014 World Cup playoff in Ethiopia on Sunday.
The African champions fought back from a goal down to beat a determined Ethiopia 2-1 with the return leg clash fixed for November 16 in Calabar.
A delighted Musa  said the game was tough, but they showed the character of true Africa champion to win.
"The game was a very tough and hard one. The Ethiopia played well, but we are more exposed and experienced than them, that won the match for us. We showed them that we are the Africa champions," Musa said.
Musa came close to getting on the scoresheet in the 77th minute, but his powerful shot from inside the box crashed against the right post.
"I really thought the ball had gone in, but it hit the post. All the same, the eventual victory made me to forget the miss and I am sure we are in Brazil already because we can't lose to them in Calabar, but we will still take them seriously," he vowed.
Sporting Braga defender Elderson Echiejile tweeted his appreciation to Nigerians for their support, saying there is still another match to be played next month.