BY ESTHER ONYEGBULA & RACHEAL OLAYIWOLA
A Lagos driver, Kehinde Tijani, and his wife Grace, were recently blessed with a set of quadruplets at Lagos University Teaching Hospital, LUTH, Idi-Araba, Lagos, on October 1. They already have three sons before the new additions.
Ironically, what should bring joy is gradually becoming a source of worry for this couple, as Kehinde, a driver and Grace, a small-time caterer, were already living from hand to mouth before the four extra mouths put them at crossroads.
The family presently resides in a tiny, rented one-room apartment at Ajangbandi in Okokomaiko, Lagos.
They expressed gratitude to God for the gift of children, but are saddened and fearful of an uncertain future occasioned by poverty and hardship.
Kehinde, who hails from OyoState, said they need financial assistance to take care of his wife and children.
'I need help'
He said: "I need help. I am a driver. I started driving someone last year and my monthly salary is so meager I can hardly feed three children not to talk of seven.
"I need help please. I want the government and other people, who can, to come to my aid. I don't have money, I don't have a house. I need about N1 million to take care of the medical bills of the children and their mother.
"My wife had two Caesarian Sections and since the birth of the babies last week they have been in an incubator. Also, with the arrival of the quadruplets, we need better accommodation for the children."
I was told I had fibroid— Mother
Grace said: "When I discovered that I wasn't feeling too well, I went to a private hospital, where they asked me to undergo scan.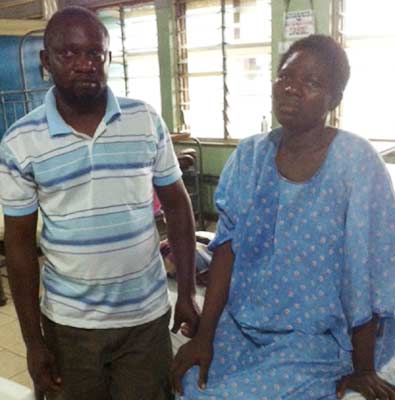 "After the scan, they told me that I had fibroid. Then I came to LUTH and after several tests and a scan, it was revealed that I was pregnant with five babies.
"On hearing the news, I got really scared and depressed because of our hard condition. Later, I had a partial miscarriage of one of the fetus because of the fear and depression.
"I have been in the hospital since July. That was three months before I delivered, because of my health conditions. All through this period, my husband had to struggle to make ends meet.
"Things have been difficult as he only earns N30,000 monthly, and we had three children before the arrival of these four."
Grace from Delta state, said she has no history of multiple birth in her family.
She said: "I have been married for 10 years now. It is only my husband who is a twin. How can I take care of four babies at the same time?
"Please help us. The babies, three girls and a boy, have been placed in the incubator.
"The first baby girl weighed about 1.65kg, the second girl, 1.50kg, third girl 1.6Kg. The only boy tipped the scales at 1.45kg."
At press time, the doctor that took the delivery was unavailable to speak on the babies chances of survival, but the spokesperson for LUTH, Mrs Hope Nwawolo, noted that the babies are in good health and medically stable.