By Emman Ovuakporie
Hon Nkeuruka Onyeojocha is the House of Representatives' Committee Chairperson on Aviation. In this chat, she speaks on the investigative hearing on the alleged purchase of bullet proof cars by the Minister of Aviation, Princess Stella Oduah, and other aviation-related issues.
Nigerians generally believe that your Committee actually approved the purchase of the BMW armoured cars?
The record speak for itself. I can give you  copies of the budget. They asked for two BMW armoured cars in their proposal.  All members of the Committee rejected it outrightly without amendment. We knew that nobody needs armoured cars as far as NCAA and the law establishing NCAA is concerned.  There was no way we would have allowed it in the budget. So we asked them to take their proposal back and remove it entirely. So the budget that we approved did not have armoured cars .  We wonder how they got the approval to buy the cars.  And for God's sake, if N240 million was approved for 25 vehicles for the 22 airports across the federation, we did so because we didn't want them to blackmail us that they needed cars, they were renovating airports and doing a lot of things and we didn't  give them money to buy vehicles to ensure movement of persons. The vehicles we approved were clearly spelt out and, on the last two vehicles, they said they wanted them for the inspection of perimeter fencing.
Would anybody use armoured cars to inspect perimeter fencing?
I don't want to join issues here because we are still investigating?
Many people think the decision by the President Goodluck Jonathan to constitute a three-man Committee to probe the procurement of the armoured cars could jeopardize your own investigations. Do you agree?
The point is that Nigerians forget too soon; even on the DANA  plane crash, we stood our grounds because a regulator cannot be an operator.  In this case, if an accounting officer has done something that is not correct, we would pinpoint it and  make the person   pay for it. One thing that is very clear is that we have three arms of government. There are rules, there are procedures and because we are investigating, I don't think it is wrong for the executive to investigate themselves. We should commend the President for setting up the Committee because we need to get to the bottom of the matter. The most important thing is to let the international community see us as serious and credible people. My view is that we are working for one Nigeria and we want to move the aviation sector to the next level. So if setting up of 20 Committees would take our aviation sector to the next level, it is a welcome idea. I don't like this idea of people saying the president wants to shield somebody and so that is why he set up the ad-hoc Committee. And then, two heads are better than one. Maybe in the course of our investigations, we may not even discover any serious thing; maybe they would be the one that would discover something worthwhile. So, the bottom-line is that, let Nigeria get the best.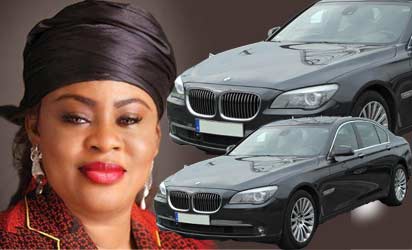 Stakeholders say misapplication of funds would impact negatively on the aviation sector. Are they right?
Misapplication of funds is an issue entirely on its own.
It's a problem everywhere but we do exercise our oversight functions over the ministry to correct the anomaly. But I appreciate the fact that we are in a new phase under the transformation agenda and so it would take time for people to adjust, but it has little or nothing to do with safety issues because NCAA acknowledged that their responsibility revolves around safety of our planes. Taking money to buy cars might not be the issue because equipment were provided for NAMA, NIMET and other agencies in the aviation sector. So I don't want Nigerians to lose hope that, due to one case of misapplication of funds, it is going to affect the sector.
Is there remarkable improvement in the aviation sector?
Of course, that we are investigating the Aviation Ministry does not mean that all is not well with the sector. The aviation sector has improved tremendously even from where it was one week ago to where we are now. What is happening is a healthy development. It would put us in check. People would know that it is not just coming to meet us at the National Assembly for us to appropriate, but we need to scrutinize the budget that we approve. It is getting better and so the future is bright for the aviation sector and for all the other sectors. Before now, somebody would see this kind of thing and gloss over it.  The controversy over the procurement of the BMW armored cars is a healthy one. It would help us to get our acts right.
The issue is about people knowing that this country belongs to all of us; it does not matter whether I am involved or somebody else is involved. Under the transformation agenda, we would experience challenges. When you fight corruption, corruption would fight back. For the Aviation Minister, I pity her. When she came with the transformation agenda in the aviation sector, she should have known that there would be all sorts of challenges. When she started, I said for the fact that she was changing the roofs, to superior electric bulbs, those benefiting  from the bulbs by going to buy them in Wuse market would not have any reason going to buy them on daily basis. So they would get angry. The same applies to the person making money by supplying diesel to provide electricity in the airports. You don't expect him to be happy if the minister ensures the repair of all the cables that paved the way for uninterrupted power supply in the airports.So for stepping into a place and even doing  certain things, anything you do that is out of place, you are in trouble.
How do you assess the performance of this year's budget in the aviation sector?
This year, we have not done that yet. We wanted to go on oversight when the House adjourned. When
we contacted the ministry at that point, they said they were going to Canada for ICAO conference and so we postponed it till the time they would return, and when they came back, there was the Associated Airlines plane crash and then came the Sallah break and, as we were resuming, we were inundated with the issue of the BMW armoured cars.
But the NCAA is arguing that the armoured cars were desirable in view of the security challenges in the polity?
You brought a proposal, because, as far as I'm concerned, the budget of the executive is from the National Assembly; and, in our wisdom because we are all Nigerians, northerners are in our Committee, people from Niger Delta etcetera, we said, yes, we have peculiarities but not for armoured cars. Put the security of lives and property in place. How many people will two armoured cars carry?  Some international best practice does not suit us. I am from one village in Nigeria and there are certain things you would come and introduce to my people that would be a total mess.
The most important thing is that the NCAA has so many other things they could have been talking about. We are talking about a sector that most of its workforce is ageing. It needs to intensify its training and retraining.
What is your take on the persistent call on the Aviation Minister to resign?
She is entitled to fair hearing and, until we finish our investigations; until you indict somebody, you don't go into that.
This is why I refused to talk before these investigations are completed. I chose to speak based on what we heard yesterday. You allow fair hearing and, of course, you have to get to a bridge before you cross it. It is too early to call for somebody's resignation because one of the questions that we asked was, were the cars appropriated for under any law? When the investigations are concluded, then we know who should be asked to resign.  It is too early to say Oduah should resign.