The Mile 12 to CMS Bus Rapid Transit, BRT, operation is set to transform with the addition of 50 new buses to its fleet, an increase expected to improve commuting and service delivery along the corridor.
The operator of the BRT system, First BRT Cooperative had ordered 50 new buses, 40 of which had arrived and deployed into operation, as part of a holistic plan at returning the BRT operations and experience to its once efficient and effective state at launch in 2008.
The remaining 10 buses are expected to be delivered before the end of the year.
Besides the addition of the new buses, the operator has commenced refurbishment of 100 serviceable buses, 22 of which are already deployed for commuting services.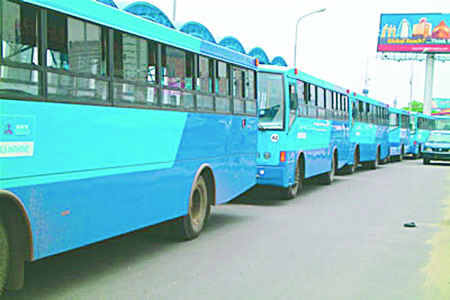 Announcing the arrival of the buses, Managing Director of Lagos Metropolitan Area Transport Authority, LAMATA, Dr. Dayo Mobereola, said the acquisition of the buses was in fulfilment of the agreement reached between government and the operator with a view to improving the BRT operations and return bus services along the Mile 12 to CMS corridor to the vision of a world class transport system for Lagos.
He said: "Government would continue to support initiatives that would give succor to the commuting public by alleviating their transport needs."
He said government was working on other transport projects, especially the Blue Line (Okokomaiko to Marina) rail project, the first phase of which is expected to be completed soon, the Red line rail line (Agbado to Marina) and extension of the BRT to Ikorodu Town.
He said in order to guarantee the longevity of the buses, the Authority is currently rehabilitating the Mile 12 to CMS BRT corridor, informing that the BRT lanes would eventually be turned to rigid (concrete) pavement to withstand the weight of the BRT buses.
Dr. Mobereola assured that with the reforms already put in place, the BRT operation would soon return to what commuters used to experience at the launch of the Mile 12 to CMS BRT.