By Onozure Dania
Three would-be stowaway teenage boys, arrested on September 24 and 25, were, yesterday, handed over to their parents by the Murtala Muhammed International Airport, Lagos, Police Command.
The Commissioner in charge of the command, Waheed Salau, handed over the teenagers, Joshua Amadi, 14, from Ebonyi State; Onyedikachi Ukpabio 14, Abia, and Lateef Popoola 13, Ogun, to their relatives.
One of the teenagers, Onyedicachi Ukpabio, an SS1 student, said they had not decided where to travel to before they were arrested.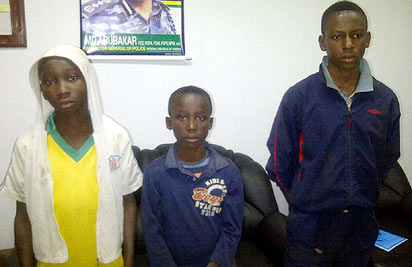 He added that they were just at the departure hall when they saw a man, who approached them and asked them if they had a BlackBerry charger to enable him charge his phone.
Ukpabio said they told the man that they didn't have one, before his friend, Amadi, asked the man if he knew the plane going to Malaysia.
He said the question made the man to alert the airport police and got them arrested.
Popoola, a primary three pupil from Ogun State, was caught on Wednesday, a day after Ukpabio and Amadi were arrested.