By Victor Gotevbe
Chinemenma (Chichi) is a young woman married with to a man that understands and supports  her vision and passion to help teenagers. This desire was borne out of what she calls teens' vulnerability and delicacy in dealing with issues of life. In this interview, Chichi talks about how she started her work with young people in that age bracket and how she is  able to impact them.  Excerpts.
My Background
I grew up in a very strict Christian family. I grew up in Aba, Abia state. I am a Mass Communication graduate from Abia state University. I am the 2nd child of 5 children. I had a very close knitted family and my parents struggled so hard to give us at least the basic things of life. I also have certificate in Entrepreneurial Management from EDC, Lbs Pan African University.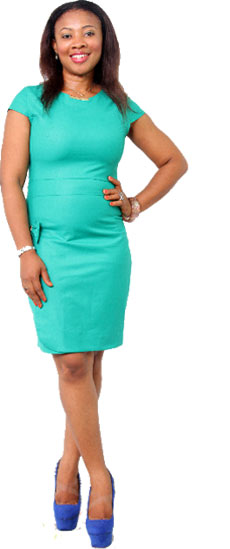 My Motivation for volunteering
When I was a teenager I had very serious low self esteem. I felt I was ugly, a bit fat, from a poor home, not meeting up with fashion and latest trends, and too fair in complexion (because people preferred to call me 'Oyibo' instead of my name. And a lot of other things and somehow I vowed to someday help young people who are dealing with personal/ emotional issues come out of it. Teens are vulnerable and delicate and need their zeal properly channeled.
My work and my family
I am a family orientated person. I love and cherish the man God has given to me and the children He has blessed me with. I give them my maximum attention. I can abandon everything just for them. However, I've realized that my fulfillment also comes from maximising the potential God has given to me. I must say that my husband even believes in me more than I do believe in myself. Severally I thought of quitting but he would encourage and then remind me that it's too late to quit. So, for me, my family and my voluntary work are my life. Both must be adequately taken care of.
My initiative
My initiative is called "9INETEEN". 9INETEEN is a movement, will soon evolve into a global brand. 9INETEEN runs through a tripod strategic approach. 9INETEEN Magazine, a quarterly motivational magazine for teens, parents and all who need motivation. 9INETEEN "Rise to Dare school programme". This is a face to face motivational/empowerment programme with teenagers in secondary schools. We are in partnership with the Lagos State and Abia State Ministries of Education respectively. Also, in the pipeline is 9INETEEN TV talk show.
Okay, apart from having passion for teens and youths generally, I realized that every magazine out there is talking to other age brackets, except for the teens. It was a huge need I saw and I decided to help.
Our event today
We have a free inspirational event coming up today, saturday 7th of September. At Muson Centre, Onikan Lagos. It is tagged "TEENSPIRED". Teenspired is a motivational get together of teens/ youths to connect with their favourite celebrities and role models. We hope that the celebrities would inspire us with their stories of how they started and have persevered. It will be an unforgettable experience.
What makes me thick
I am a young lady in my late 20's and I am baffled, though always grateful to God for the little I've achieved in my life. I started from nothing and I knew no man, but I had strong DETERMINATION and BELIEVE and I had a total mind make over. So, my core is to encourage young people to 'Change their thinking from negative to positive, and automatically they would change their lives'.
My words to Nigerian youths
Sincerely, I am a strong believer that anybody can become successful anywhere in the world. I tell people 'create your own realities'. I don't really care about our government and what's not working. We young people should work hard and smart. Stop complaining about what's not working or who's not helping you and become the answer and solution to Nigeria's problems. Search yourself, there is greatness in you. All you need is to discover your potential, develop and maximize it. There is hope for us all, we are the future and we need to get it right, and it starts right from within ourselves.
Take control of your life and destiny. Time waits for no body, cherish your time more than money. Be the best in anything you are doing. Stay clear from mediocrity. A good name is better than fame. Be careful, whatever you sow that you shall reap. Do unto others as you would like them do unto. Work extremely hard, you can become wealthy and successful without any form of illegalities or prostitution. Think outside the box, be creative. Give generously. Forgive. Be patient, everyone has their moment. Love God and love your fellow human.
YOUNG NIGERIANS MAKING THE DIFFERENCE
Lagos Area Youth Association (Laya) holds  camp meeting
LAYA operating under the auspices of Mount Zion Lighthouse Full Gospel Church Inc at the headquarters of the church in Olodi Apapa, held its  camp, with the theme "On the wings of double honour". The camp drew youths from various denominations within and outside Lagos. It equally featured many interesting and educating programmes during the course of the camp.
The Lagos Area Bishop and Coordinator of Mount Zion Lighthouse Full Gospel Church Inc, Dr. A.I.R Umondia took out time to  admonished youths  to imbibe godly and good principles that would bring about the change needed in the country, stressing the vital role the youth have to play in the development of the country.
Similarly, the LAYA Coordinator, Pastor Daniel Ekanem advised the participants to be good ambassadors of the country in conduct and other aspect of their lives, shuning evil vices and becoming change agents in furtherance of the country's advancement.
The youth members had an interactive session with a dynamic Youth development coach, Mr. Abiodun Odunuga who counseled the youth on career advancement, stressing that "there is a place for all". He made the participants to understand that there is urgent need for individuals to locate their place of relevance and stay focus to achieve optimal success in a bid to moving the country forward.
The camp played host to other prominent voices in youth's development and talented youth Gospel artistes including El-Levite.