By Prisca Sam-Duru
Prof. Eno-Abasi Urua is a Professor of Linguistics and Director, International Programmes at the University of Uyo. The widely travelled author was among the three academia who  were recently inducted into the Nigerian Academy of Letters (NAL). In this interview, she shares her views on the standard of education as well as other sundry issues. Excerpt.
Congratulations on your investiture as a Fellow of the Nigerian Academy of Letters, how  do you feel about  this honour?
I feel very humbled and happy because my investiture means that all my years of toiling and hard work have paid off. Being a Fellow of the Academy is not something you can buy from the market. Investiture of an individual is an honour given for the recognition of the work such a person has done in terms of research, publications and papers  and every other work the individual has done in his/her area. In other words, you are honoured because of the impact you have made to humanity. I will also add here that it is strictly on merit and it is just three of us this year. I really thank God that the body counted me worthy of becoming a fellow.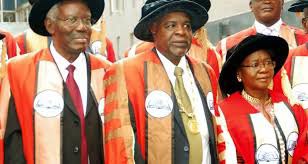 What exactly is expected from you now that you are a Fellow of NAL?
I will continue to do my research and mentor people especially young scholars so that they can also get to the point where I have gotten. I mentor them academically. For instance, if I know about a conference, workshop, seminar, scholarship or fellowship that will be useful to them, I direct them. I make sure that those involved enjoy the privilege of being part of any academic exercise that would be beneficial to them. Also if the programme relates to some skills that I can impact on them, I tutor them or direct them on how to acquire such skills.
For these young scholars, my usual message to them is work hard, be descent and trust in God so that  God would order your step so as to be able to do what you couldn't do ordinarily.
Any platform?
Yes! The major platform here is the Federation of Akwa Ibom Women Association. Through this organisation, women are lent a voice, and are availed the opportunity of acquiring skills as well as given a sense of belonging.
Your training as a linguist?
My training as a linguist began at Nigeria's premier university, the University of Ibadan. I eventually graduated with a PhD in Linguistics (with concentration in Phonology) from the University of Ibadan. I have learned the business of linguistics from wonderful mentors  like Professor Munzali Jibril, Professor Ben Elugbe, Professor Dr. Dafydd Gibbon, Professor Akin Akinlabi, Professor Bruce Connell, Dr. Geoff Lindsay, Professor Bob Ladd, Professor John Harris, and Professor Kay Williamson of blessed memory.
What's the relevance?
Being a linguist has provided me with innumerable  opportunities to travel extensively to various parts of the world and places I never imagined I'd ever get to. These opportunities have been even more rewarding when I get to meet with famous linguists I previously had met on the pages of their books and articles – linguists like Larry Hyman, Helen Aristar–Dry, Anthony Aristar, Fiona McLaughlin, James Essegbey, Felix Ameka, Firmin Ahoua, Bob Ladd, Steven Bird, Mark Liebermann, and many others.  More  importantly, the researches I have conducted have helped students and also, impacted the society positively
Your view on standard of education in Nigeria
Well, academic institution could be better. In our own time, it was much better because there was discipline and focus on the need for individuals to do their very best but now as you heard  from the various speeches made earlier concerning the decay in public moral, decayed system etc, a lot of things have changed and sadly, not for the better. We are hopeful that the academia as regulator of standard will rise up and  help salvage the institution. Do not forget that we are in the Nigeria system where a lot of things have gone wrong but we look forward to a change for the better
Subscribe for latest Videos