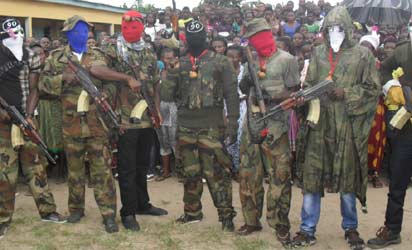 Kelvin's LIMUP gang…waiting for amnesty
*The myth, the exploits, the flattering lifestyle
By Emma Amaize, Regional Editor, South-South
UNTIL he was seized, four days ago, at about3.00 am, at an undisclosed hotel, in Port-Harcourt, Rivers State, many people, including security officials, only mentioned his name in whispers. He was simply known as Kelvin, the most wanted kidnapper/armed robbery kingpin in Delta State, who hails from Kokori in Ethiope-East Local Government Area.
It was as if the dreaded suspect, described by the state Commissioner of Police, Mr. Ikechukwu Aduba, as insane and a drug addict, would spiritually manifest if his name was mentioned.   Police officers never liked being deployed in search of him, despite his alleged naked exploits  because he was believed to possess very powerful charms and also sadistic.
Even soldiers, who had mounted siege for him for months over the alleged killing of some military men, last year, by his gang, before he was finally arrested in Port-Harcourt by a combined team of army Department of State Security, and DSS, operatives, have their own tales.
In fact, his hour of arrest has been given an impervious undertone. A villager told Sunday Vanguard in Warri, "I was told by doctors and nurses that 3:00 am is the time of night when the body is at its lowest ebb, and it seems to be the time that a large percentage of people in hospitals die"
A spiritualist, Mr. Johnson Nege, asserted, "In European mythology, 3.00 am is regarded as the witching hour – that is the time when supernatural creatures such as witches, demons and ghosts are thought to be at their most powerful, and black magic at its most effective. This hour is typically midnight, and the term may now be used to refer to midnight, or any late hour."
Unmasking the masquerade
Undeniably, it was only after Kelvin was arrested, September 25, that his full names, Kelvin Prosper Oniarah, came to light from the DSS in Abuja.
For the avoidance of doubt, Police Commissioner Aduba, in an interview exclusively published by Vanguard same day the suspect was arrested in Port Harcourt, officially gave his name for the first time as Kelvin Oniarah.
The police had, shortly after the suspect, who had been on the wanted list,  breached security by appearing "live" in Kokori, September 17, and melted into the thin air after issuing a 60-day ultimatum to government, identified him as Kelvin Obruvbe. But Aduba told Sunday Vanguard the suspect's name is Kelvin Oniarah.
The façade
Unknown to his kinsmen, who he gave the impression that he was a freedom fighter and Robinhood of sort, Kelvin, confirmed by Governor Emmanuel Uduaghan, who provided logistics for security agencies in the manhunt for him to have cells in no fewer than six states, is alleged to be the most deadly kidnap kingpin in the South-south.
But in Kokori, not many recognized that the diminutive youth, understandably less than 40 years, as such a cold-hearted killer, ferocious armed robber, poisonous kidnapper and terrorist. That is not to say that the elders, women and youths, who shared from his alleged loot whenever he came to his Irevwurie Street abode, did not suspect he is a criminal.
A knowledgeable indigene of the community told Sunday Vanguard in Warri, "Honestly, Kokori is a big community and Kelvin is not known there until less than two years ago when his name became associated with high-profile kidnap and armed robbery cases.
"Like I said, it is a big town, nobody really cared about him, he is a small boy until all of a sudden we started hearing about him, particularly about his criminal activities. People do not even know his father's name, but his grandfather's name is Oniarah. He (Kelvin) is not a popular person as such because he has not done anything big for the people.
"Let me say it was just last year when he was declared wanted that he really came to be noted by people in Kokori. The search for him was on when he attacked some warders, conveying suspects, among them members of his gang, to court, killed some warders and rescued his men,  some months ago, in Warri. He managed to escape and security agents flooded Kokori, the police razed his family house.
Sporadic visit
"He ran out of town, but he, nevertheless, comes to town irregularly. There was a time it actually looked that he had made so much money from his operations, which nobody had full idea of, and he would come to town and share money to people."
Blood money
The source went on, "His willingness to splash his loot, sometimes  N1,000, N2,000 and N5,000, to children, youth and women, endeared him to the 'hungry' villagers. This was in Kokori until penultimate Tuesday when he came in military fatigue with eight of his boys to declare that he had founded a group, Liberation Movement of the Urhobo People, LIMUP, to liberate them.
Ignorance
"They ignorantly believed him. You see, anytime he came to town before, it was in plain clothes, but on that day, he came in military fatigue, indicating that he was ready to fight for the emancipation of the people.
"Anytime Kelvin came to Kokori, he would stay about two days, not more than that. Within the period, he would see the people he wanted to see and, before you know it, he was gone. You see him in Kokori when people were not expecting him and when he told the people this time that he was going to fight government and oil companies that were allegedly oppressing them; they believed a messiah had come."
"He told them Kokori has not been developed by government and that the same thing went with Urhobo land, it was the truth and they saw with him. However, I must tell you that it is not true that elderly persons here were supporting Kelvin. It is just that nobody wanted to be dragged into a situation with him and his boys.
Why elders could not speak out
"His infamous activities obviously threatened the peace of the community with the incursion of security agents at different times. Even our king, who just received his staff of office and barely three months on the throne, found himself in a quagmire.
"Should he hand over one of his subjects to security agencies and face the backlash at home from his chiefs and people, who will accuse him as a betrayer or damn the consequences. If he supported Kelvin, he was in trouble, if he didn't support him, he was in trouble, that was his dilemma."
With so much money he allegedly made from kidnapping, and he reportedly held sway in not less than six states, Delta, Edo, Rivers, Abia, Benue and Oyo, Kelvin turned Kokori to the axis of death for his victims and security agents.
Lifestyle
He was said to have lived a deceitful and lavish lifestyle and hibernated frequently in hotels. Money was not essentially his problem, as he was audacious and bold in his operations. It was said that he never collected small ransom and when he negotiated ransom, the negotiator on the other side was left with no other impression than the guy was mean, and the best thing to do was to raise the ransom at all costs.
When Lagos lawyer, Chief Mike Ozekhome, SAN, was allegedly abducted by Kelvin and his boys, last month, they told him plainly that they were graduates, who were pushed to the deadly business, condemned by the Almighty God, and that was why Ozekhome, when he came out, said those who kidnapped were unemployed graduates and asked for amnesty for them.
Security agents consider coming to Kokori on any assignment as a deadly mission. Commissioner Aduba alleged, at a time, that most of the motor-cyclists operating in Kokori were on the payroll of Kelvin, who bought the motorcycles for them. He said they normally passed information to him whenever they see security agents or were asked probing questions about the suspected gangster.
It was the intelligence report that led to the banning of commercial motorcycle transportation in Kokori and other parts of Ethiope East, but the bandit was not deterred.
Training school
Aduba alleged that the kingpin had a school where he trained kidnappers, both graduates and, undergraduates,   and according to a security report,  he once boasted  to a top security chief on phone that even if he was arrested and killed,  his boys would continue with the kidnapping business.
Kelvin's family home in Kokori, which was destroyed by the police, this year, was said to have served as a recruitment and training centre for kidnappers. His second-in-command was said to be a mechanical engineering graduate from the South-east, while Kelvin himself is also a graduate.
In an interview before Kelvin was reined in, Aduba revealed, "Kelvin recruits undergraduates, graduates, Okada riders, and he buys motorcycles for them and tutors them. He has so many gangs in the state working for him. There is a network; this is what I have discovered and we have been finding it difficult to get at him because, in that axis, the moment they see any stranger, they will blow the whistle.
"However, we have been able to bulldoze to some extent; it was in Kelvin's house that we picked up the personal assistant to a commissioner in the Delta State Oil Producing Areas Development Commission, DESOPADEC, who was kidnapped. His (Kelvin) parents were there, but you know this arrest by proxy, we do not want to be involved in it."
The Commission went on: "Kelvin is a dare-devil criminal and is not friendly with anybody – he is a drug addict, insane and cannot be relied upon by anybody. Kelvin and his gang even tried to kidnap his traditional ruler- the Ovie of Agbon clan and the Special Adviser to a civil commissioner, who is from Kokori."
Kingpin's parents flee community
Kelvin's parents escaped from the town when the bombardment by security agents, who were looking for their son, became suffocating. Their whereabouts and what advice they gave to their son could not be ascertained.
Military operation
Given the suspect's very strong network in the South-south, South-east, South-west and North, it would be a costly error to assume that his boast that his boys would continue to be in operation even if he was arrested was empty.
Governor Uduaghan, who found it strange at leaders from Kokori community could not boldly give him information on how to nail Kelvin, even in secret, when he invited them, understands what it means to allow the suspect's boys to reorganize after the arrest of their master.
He told reporters, Thursday evening, in Warri, after a security meeting, that the army had commenced a full-scale operation to flush out associates of Kelvin and other criminals from Kokori.
Intelligence revealed that his boys still holed up in the area may carry out a reprisal attack over his arrest and so, the army were said to be in an "internal operation" to checkmate possible action by the elements loyal to the suspect.
After Kelvin's arrest, on Wednesday, more soldiers, policemen and other security personnel were deployed in Kokori.
Operational bases
A reliable source, however, told Sunday Vanguard, "Kelvin's operational base is not in Kokori. I do not know where it is, but this is somebody I can tell you hardly stayed in Kokori more than two days and he was off,  he, no doubt, had sophisticated gangs, but I think they were scattered over the country. He was only coming to Kokori to show off as a big boy."
The DSS, in a statement in Abuja through its Deputy Director, Press and Public Relations, Marilyn Ogar, said Kelvin "maintained operational bases and detention camps in Warri and Kokori community in Delta State, Ugbokolo community in Benue State, Benin City in Edo State, and Aba in Abia State."