By Ishola Balogun & Aderonke Adeyeri
When the sun goes down is when things really heat up at Motor parks in most parts of the country. The mixture of music coming from different stalls where cassettes, CDs DVD of different artistes are sold, the intermittent noise from loudspeakers calling passengers to board buses to different parts of the country, the blaring of horns by luxurious buses and articulated vehicles around including shouts and arguments in the area are enough cacophony of hoots and cackles that define night life in most part of the country.
From Iddo, Jibowu, Maza-maza in Lagos to Sagamu, in Ogun, Iyaro in Benin, EdoState, Umunede in Delta, Upper Iweka in Onitsha, Sabon Gari in Kano are parks where night life thrives with a lot of bubbles.
Apart from the transportation of people and goods to other parts of the country, some travelers use motor parks as stop over, laze off the stress of long hours on the road, eat, drink and hang out with female partners while it also provides shelter for motor park workers and miscreants who do not have homes.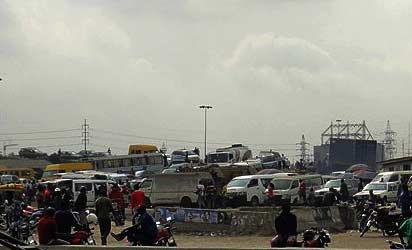 Saturday Vanguard investigation showed that many of the inhabitants of motor parks across these areas are young men who find shelter in abandoned vehicles, thatched stalls where they lay their heads at night. Most of these people according to investigation are not bus conductors at the park but young lads who do menial jobs such as cart-pushing during the day and find a resting place at motor parks.
Although, some of them refused to talk to us,  a few of them were seen hanging out in some abandoned vehicles while others laid on benches,  with their wheel-barrows for a night rest. Others are miscreants who rather than offer assistance to distressed people at nights,  find pleasure in extorting money from individuals and adding more to the anguish of an individual spending a night in the park.
There were a number of distressed people waiting to get a lift to their destinations while others choose to stay through the night fixing their broken down vehicles.
It is not difficult to find food vendors around with  sizeable patronage at every point in time especially before the wee hours. It was also gathered that different parks are famous for different delicacies. For instance, Umunede was famous for bush-meat delicacy.
A lorry driver, Aremu Oluaye shared his experience in Umunede, saying: "When I was driving a tanker, my route mostly was the Eastern part of the country: Onitsha, Enugu and Aba sometimes. Umunuede was a must stop for me for bush meat. I enjoyed spending some resting hours like two or three hours there before proceeding on the journey. I stop only at Ore if I want pounded yam and dog meat delicacy."
When asked about hanging out with girlfriend, Oluaye said: "It is possible as you always see men clutching to their women and at that odd hour of the night, what would you expect. But don't forget they are all mature."
In most of the parks visited, there are make shift bathrooms and places of conveniences. Every darkened and obscure corner becomes the bathrooms and places of convenience for the inhabitants who are not hindered by the stench that oozes out from such areas.
Oyingbo/Iddo
The motor park meters away from the train terminus is full of local bars, even if only a few of them had patrons. What particularly draws attention of liveliness in the area is the assemblage of luxurious buses blaring their horns for passengers traveling to different parts of the country.
Fairly lit with a few bus lamps and other rays from stalls, kiosks within the environment, a few of the popular local gin, paraga joints were noticed, but food vendors outshone, attending to customers. Officials of the park could not speak with Saturday Vanguard on what goes on in the park at nights, saying they were at their peak when we visited at about 9pm. Not until an hour later when the reporter left the area, it was a beehive of activities ready to offer all services as it may be required in the day.
Ojota
Even as popular as it is for the volume of travelers that throng the park in the day, night activities is somewhat sleepy. Passengers desirous of boarding vehicle to other parts of the country will be disappointed even before 7pm. Reasons adduced for this by nearby dwellers are that the areas is notorious for miscreants with regular reports of assaults and extortion, passengers were discouraged from boarding vehicles there at nights. Others noted that other wing of the park operate till 8pm only with commercial mini buses as different with other known areas like Mazamaza, Iddo and Mile 2 area of the state.
Umunede, Delta State
Umunede is a great spot for particularly drivers of lorries and articulated vehicles en route the Eastern part of the country. The cluster of lorries at most time of the night would revealed 'welcome to Umunede' as it is a must stop for drivers of these vehicles.
Here, you will find bars that attract both drivers and passengers on transit and fairly local crowd that find enjoyment in motor parks at nights. The area though not well illuminated, serves as advantage to those who clutch to their partners in the milieu of the dark. It is known for bush-meat delicacy. One of the best places to have some drinks according to a lorry driver who is acquainted with the place is Umunede. "For me, I get satisfaction with whatever I need there, both food and drink and at the time I visited, the security of your vehicles and people was guaranteed." People who really stop there are lorry drivers and it was  representative of typical lorries' park.