By Emeka Mamah, with agency report
Jalingo— Alhaji Garba Umar, the Acting Governor of Taraba, has reaffirmed his complete loyalty to ailing Gov. Danbaba Suntai.
Umar made the declaration during his meeting with traditional rulers and local government chairmen in Jalingo, Tuesday.
He spoke as the former Military Governor of the state, Dr Amen Oyakhire, blamed the political quagmire in Taraba on indiscipline among the political gladiators in the state.
According to Oyakhire, it was wrong for Suntai to have flown the plane that crashed in Adamawa State, resulting in the injuries he sustained in the accident.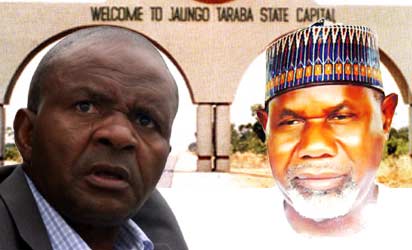 "Currently, what is happening in Taraba is disheartening. There is indiscipline in the polity. It is wrong for a governor to be seen flying an aero plane. It is against protocol. We must learn to obey laws, rules, regulations and guidelines.
"It is also wrong for the House of Assembly to say that he must not govern. He is still the governor of the state, his poor health notwithstanding. Sections 188 and 189 of the 1999 Constitution are very clear as to how a Governor is produced and how he can be removed from office.
"In the circumstance, only a Medical Panel of five distinguished medical practitioners in Nigeria, one of which must be his personal physician can sit down and analyse his health condition before he can be stopped from performing his duties.
"However, it is also wrong to force the governor to govern with his ill-health. Candidly, he still needs continuous medication. The acting Governor is his deputy. There is the need for understanding of the peculiarity of the situation and there should be no need to quarrel. He should in the circumstance be consulted, since he is at home; when major decisions are to be taken in public interest.
"Right now, the citizens in Taraba State are suffering because of the quagmire. This situation is not pleasant for the public. It must be quickly and sensibly resolved," he told Vanguard in an interview in Benin City.
Meanwhile, the Acting Governor stressed that there was no division in the structure of government in the state. "Let me restate the fact that there is no division in the structure of government in the state.
"This government remains the Suntai-administration and we are all aware of the circumstances that necessitated my being designated as acting governor.
"I am happy to note that the medical condition of Gov. Suntai is improving by the day," he said.
Umar urged the people of the state to support the good programmes of the Suntai-administration, which he was carrying on with to ensure the rapid development of the state.
Mr Abershi Musa, the Chairman of Ussa Local Government Council, noted that the meeting provided an opportunity for stakeholders to look into how to move Taraba forward after the political crisis which engulfed the state over Suntai's health condition.