Benin –  Mrs Evelyn Ohikhena, the mother of Daniel Ohikhena, the teenager who stowed away on an Arik flight from Benin to Lagos, has confirmed the return of her son to Benin.
Ohikhena told newsmen in Benin that she got a call from an MTN line Tuesday morning inviting her to the state Ministry of Women of Affairs.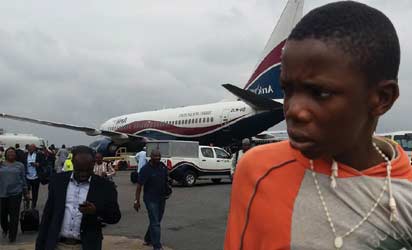 "I went to the office and was told that my child has been taken to the Directorate of State Services (SSS). I went there and saw Daniel.
"But they (SSS) did not allow me to touch or greet him, but he was looking good.
Ohikhena said that after a short session with the SSS, she was asked her to go and wait at the Ministry of Women Affairs.
NAN recalled that on Aug. 24, Daniel stowaway on a Lagos bound Arik aircraft from Benin. (NAN)