By KINGSLEY OMONOBI, Abuja
Aftermath of revelations that the current gale of retirement sweeping across the Armed Forces with 17 Generals already slated to go by December this year and scores of Brigadier Generals, Air Commodores and Navy Commodores slated for retirement, there are indications that President Jonathan has waded into the exercise.
Presidency sources told Saturday Vanguard that the Commander in Chief is wading into the exercise, not to stop the retirements since they are governed  by the Harmonized Terms and Conditions of Service of the Armed Forces, but to ensure that the nation is not denied the expertise of such trained and tested officers.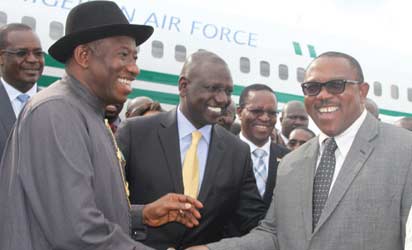 President Jonathan is said to have reasoned that following the outbreak of current security challenges especially terrorism, kidnapping, sophisticated hijacking of ships at sea, illegal bunkering and bombing attacks, retiring these officers and throwing them to the unemployment market with their expertise in the art of security will be a disservice to the nation.
According to sources, the presidency instituted a committee to look into the matter of retiring such highly trained and productive officers and it was discovered that it costs a minimum of N30million to train an officer to the rank of a Brigadier General and above.
It was therefore decided a situation where such colossal amount of funds was used to train an officer and such officer was discarded with at his prime when he will still be useful to the nation is a wasteful exercise.
It would be recalled that during the week the Army authorities retired ten Generals. Amongst them are Major General Lawrence Ngubane, formerly CTOP at Defence Headquaters; Major General NC Maduegbunam, Commander, Corp of Electrical Engineers; Major General BM Monguno, Commander TRADOC; Major General OAC Ariahu; Major General AK Kwaskebe, Commander Corp of Artillery and Major General CO Ugwu.
Others include Brigadier General ED Amah, Brigadier General MM Dan-Ali and Brigadier General MA Hassan.
The Army headquarters clarified that Major Generals E. E. Bassey, Chief of Policy and Plans at Army headquarters and Major General Emeka Onwuamaegbu have until 2014 to serve in the military before issues of retirement concerning them would be considered.
On the part of other services, there were indications yesterday that seven Air force and Navy Air Vice Marshals and Rear Admirals have been given letters to proceed on terminal leave preparatory to disengaging from service.
Saturday Vanguard gathered that among the senior officers that have received their terminal leave letters, are two Air Vice Marshals, one from the Defence HQ and one from the Air force HQ, (names with-held).
The two senior officers have already gone on retirement and their positions taken over by newly posted officers while the other would go by the end of December this year.
On the part of the Nigerian Navy, a former Chief of Accounts and Budget has gone on retirement even though Saturday Vanguard gathered that he tried to influence the powers that be to stop his retirement, but to no avail.
Other senior naval officers said to be serving at the Defence headquarters and a Tri-service institution is expected to proceed on retirement by the end of December this year and in February 2014.
The retirement of the senior officers Saturday Vanguard further gathered, is based on the fact that they have either served 35 years in service or have attained the mandatory retirement age of 55 years.
Though many Naval Commodores and Air Commodores are said to be on the list of those shortlisted for retirement, it was gathered that age on rank, non promotability and lack of vacancies are some of the reasons for their going on retirement.
The Nigerian Army also released the posting of senior officers saying that Major General FM Airende is the new Commander, Corps of Electrical and Mechanical Engineers, Major General Harry Ayoola, formerly the STF Commander in Jos is now Chief of Research and Development Defence Headquarters.
Major General JAH Ewansiha, formerly the JTF Commander, Operation Restore Order in Maiduguri is now Chief of Standards and Evaluations Army Headquarters, Major General DD Enetie is the new Commander Special Task Force (Operations Safe Heaven) in Jos.
Major General Obida Ethan is General Officer Commanding 7 Division, Maiduguri, Major General HA Saliu is the new Corps Commander Artillery, Major General AO Adekanye is Coordinator Nigerian Army Special Vehicle Plant.
Major General TI Dibi, formerly the Director of Administration at Army headquarters is the new Commander Army Headquarters Garrison. He takes over from Major General Etnan, Major General SU Abdul-Kadir is Commander Training and Doctrine Command, Major General PJ Isang, Chief of Training and Operations Defence Headquarters,
Also affected in the redeployment are Brigadier General ML Raji, Acting Director Peacekeeping Operations Defence Headquarters, Brigadier General BY Bukar, Acting Director of Transformation Defence Headquarters.
It said Brigadier General AO Odidi is Acting Commandant Nigerian Army School of Electrical and Mechanical Engineers and Brigadier General RO Bamigboye is Deputy Director of Operations Defence