BY JOSEPHINE IGBINOVIA
Ms.Oby Nwankwo is one woman who knows her onion. She knew where her passion lies and therefore wasted no time at retiring voluntarily from her flourishing law career despite being a Chief Magistrate, to venture into social development. Now the Executive Director, Civil Resource Development & Documentation Centre, Enugu, and one of the 23 elected international experts monitoring the implementation of the Convention on the Elimination of all forms of Discrimination against Women- CEDAW in 187 countries around the world, Oby is loving her bold decision. She's also Nigeria's representative on the CEDAW committee. In this interview, she speaks on issues hindering the domestication of CEDAW in Nigeria and representation of women in governance amongst sundry issues.
Apart from women getting political seats, of what national significance is the acclaimed CEDAW affirmative action?
Like we largely know, the affirmative action requires state parties to CEDAW to put in place temporary positive measures that will help close the gap which has been created by past marginalisation and discrimination. As you know, in the past, women were socialised to see themselves as people who were supposed to be seen and not heard. We all grew up with that mentality, but as time went on, we found out men could not cope, even within the home. In the past,  they would ask their wives to stay at home and take care of children, but the economic situation has made them realise they need two incomes to be able to sustain their families.
The same things have changed in governance! You find out that men alone cannot keep the system going and development is becoming slow! The United Nations observed years ago that development was slow because women were being excluded from the entire process. Now that women have been brought on board, because of past marginalisation, they find it difficult to compete favourably with men who have had it all their lives and are conversant with the ropes.  This is why we're saying something has to give. We must make some special provisions for women temporarily, to close that gap. Note the word 'temporary' because once that gap is closed, we could withdraw the affirmative action. We're not asking to be spoon-fed; all we're emphasising is that a wide gap has been created from a long history of marginalisation.
What are your recommendations as an expert?
Quota system is one of the affirmative action's principles. In the north for example, Nigeria has realised there is a wide educational gap between them and the South. So, mechanisms have been put in place to ensure the cut-off marks for students taking external examinations from the north are lower than that of the south. So, once that gap is properly closed, the policy can be withdrawn. In Uganda for instance, seats were specially reserved for women and only women contested for those sits.
If you read the Justice Uwais report, you will see that something like that was recommended; that's proportional representation! That was unfortunately thrown into the wind. In Cross River State however, twinning system has been implemented to ensure that if for example the governorship candidate is a male, the deputy is a female. That way, more women would be brought on board. It's sad to hear that out of 360 seats at the lower house in the National Assembly, we have only 24 women! Out of a Senate House of 109, we also have only four women! That is totally unacceptable! Meanwhile, the UN Economic and Social Council-ECOSOC had recommended a long time ago that every state party should reserve at least 30 per cents of seats in appointive and elective positions. So, if the president is appointing 30 ministers, as a state party to the United Nations, we ought to have at least ten women. But the National Gender Policy which government approved in 2006 actually moved it up to 35% which we still do not have!   I mean, we have less than seven per cent in the National Assembly! We're not just talking about increasing the number of women but also about having solid women that will make contributions not just on women issues but also on economic, trade, etc.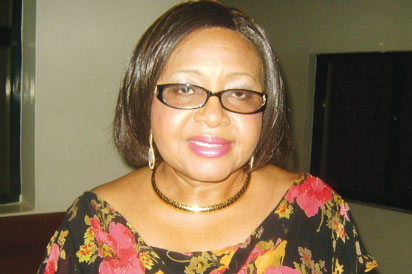 But in your own assessment, how would you score the current female parliamentarians vis-à-vis their male counterparts?
You know, many of them are new. One of our problems in this country is actually high-turnover of female legislators. Not many of them make it back to the house for a second-term! So, most of the current parliamentarians are new and could be said to be in the learning process. Sadly, by the time four years is over and they want to continue because they've learnt the ropes, they are already out of the house! So, for me, to the extent of their capacity, they are doing very well.
As a National Representative for CEDAW, what exactly would you say is responsible for the dilly-dallying in its domestication?
One of the handicaps we have is Article 12 of our constitution which states that even when a government has ratified an international treaty, such treaty cannot be enforceable unless it has been domesticated. The truth however is that Nigeria is notorious for going to international bodies, ratifying treaties and coming home without bothering about domestication. By that ratification process however, Nigeria is under obligation to domesticate so that it will become applicable.
CEDAW was ratified in 1985 and this is 2013! Some male legislators also have issues with some of the articles on the basis of religion and culture.  These are all misconceptions; though we're working to make sure these biases give way. The main limitation is really the fact that it is a male-dominated parliament.
Because female legislators are very few, their voices are always drowned! That's why we're appealing to gender-responsive male legislators to please domesticate CEDAW.