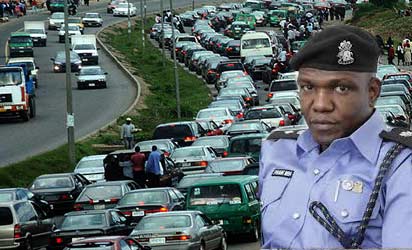 CSP Frank Mba.
BY OLAYINKA  AJAYI
Following the introduction of the Biometrics Central Motor Registration BCMR by the Nigeria  Police Force recently, Nigerian motorists had within the week been faced with another burden as motorists have been enforced to go through it in order to cub crimes and terrorism.
However, motorists are presently undergoing biometric capturing in order to get the new driver's licenses as stipulated by  the Federal Roads Safety Corps' (FRSC) commands across the country.
The Nigeria Police, Public Relations Officer Frank Mba, recently announced at a press conference in Abuja that it was mandatory  for vehicle owners to carry along the BCMR document as part of documents that they need to drive on Nigerian roads for security reasons.
However, security experts who spoke with Saturday Vanguard opined that the move will amount to another rounds of burden on motorists, while expert believes the data needed would ordinarily be at the disposal of any government agency.
Dr.Ona Ekhomu the President of the association of industrial security and safety operators of Nigeria, in a chat with Saturday Vanguard bares his mind on the issue as he tagged such move by the Nigeria Police Force as unnecessary and superfluous registration.
His words: "The Nigeria Police force is not a motor vehicle licensing authority such as the State governments or the Federal Road Safety Commission FRSC. It is a criminal investigative agency charged with detecting perpetrators of crime and prevention of crime from being committed. The Police BCMR scheme is an unnecessary and superfluous registration programme that may not contribute significantly to detecting terrorists, kidnappers and armed robbers, or other violent criminals that the scheme aims at.
The Police have the powers to search the databases of any federal or state agency in the course of carrying out criminal investigations or incident investigations. Without doubt, the biometric data that the Police aim to capture already exists and is under the control of some government agency and is quite accessible to the police agency.
Given that biometrics are based on individual characteristics of the subject, biometric data is usually irrefutable.  There are no two persons with the same set of finger prints, palm prints, retina in the world. Biometrics are as individual as DNA.
Therefore, any biometric data capture will help with identifying the perpetrators of violent crimes.  However, for biometrics to be useful, biometric data must exist in a reference file or data base (such as the one envisaged by the NPF) and the biometric evidence must be collected scientifically in the field and developed according to the rules of science and evidence. So, just creating a data base does not mean that terrorists, kidnappers and armed robbers will desist from such act" he stated.
He further argued   that biometrics duplication my NPF will not serve as a means of protection of lives and property: "It is obvious and unfortunate that duplication of biometric data bases will not enhance crime detection in Nigeria, but place more financial burden on citizens and also compromise or jeopardize personal information.  At present, the telecoms companies collect biometric data that is not adequately protected.
The recent Population census had biometric capture.  The voter registration by INEC is biometric based.  The Nigerian passport is based on biometric capture.
 The motor vehicle registration by state agencies and driver licensing of FRSC are also based on biometrics.  The biometric capture in the country is quite extensive and excessive, but its use in crime detection.   Biometrics are personal and constitute an invasion of privacy" said Ekhomu.
The security guru however urged the Nigeria Police to engage in key strategic initiative  in order to curb crime and terrorism in Nigeria; "If the NPF is considering biometric capture, then it is probably considering evidence-led policing as against the current confession-led standard.
However, NPF should consider Key strategic initiatives that would enable it control crime in Nigeria relying on forensic science. First, the NPF must reinvent itself and act professionally in order to effectively combat crimes.
The cross over to forensic standard must be well thought through, deliberate and technological. We must create an atmosphere of forensic acceptance.
Forensics must become the theory in use as far as policing is concerned. We must see a lot of training and development in this area  whereby crime scene can be processed for forensic evidence, marking of the evidence, collection and lab analysis of the evidence. Another important strategic option is to develop reliable crime statistics.
This would enable objective measurement of Police effectiveness and consequently restore confidence in their abilities to control crime and keep Nigerians safe. The poor perception of police effectiveness is what informs frequent resort to other agencies for solutions to the crime problem.  Respect cannot be legislated.  It must be earned" he stated.