By SIMON EBEGBULEM,BENIN CITY
Hon Charles Ekhoetomwen Idahosa is the  son of Akasiaka (strong and untouchable) of blessed memory. He is a political juggernaut as long as the politics of Edo State and Nigeria is concerned. Today Charle T, as he is fondly called by friends and political associates, clocked the sexagenarian age of 60 and its celebration is at Benin today.
In this chat with  Vanguard,the chieftain of the All Progressive Congress (APC) and Political Adviser to Governor Adams Oshiomhole made some shocking revelations about his life, disclosing he could have died on his 14th birthday if  not for providence.
As one of the political heavy weights in Edo state, he unleashed his political pressure group, Edo Solidarity Movement (ESM) on the political space of the State on June 26, 2013 and as expected, it was an earthquake. The Movement is geared towards solidifying the political structure of his boss, Comrade Governor Oshiomhole ahead the 2015 and 2016 governorship election  in the State.
In this interview with Saturday Vanguard, the journalist turned politician spoke about his life, Edo state Politics and other national issues.
Excerpts:
How do you f eel at 60 ?
I feel very good and I thank God for getting to the Diamond age. Physically, I still feel I am 19 or 20. I thank God for his mercies. You said I don't look it, (smiles), I think it is in the gene. I don't do things that will make me look older. I try to relax myself, enjoy myself and do things that make me feel happy. I have only three children and by the grace of God, they have made  me  a  grandfather.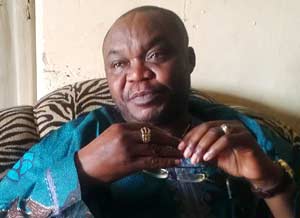 I like  playing table tennis and I exercise to keep fit. I am not doing anything special. It  is God's doing. I don't bother myself like some people. I take things easy the way they come and I move on. It 's only when you want to acquire wealth that you suddenly become old.
Life as a journalist
It was a beautiful experience. I attended the College of Journalism in London and when I came back, I joined the NTA as a sub editor. I worked in different departments.
Sometimes, I handled sports and current Affairs. I was employed the same day with Nosa Igiebor, the  Editor-In-Chief of Tell Magazine. We worked together, put programmes together and it was fun. I participated actively in the politics of NUJ, and I was more interested in getting exclusive stories but we were very poor.
Thank God journalists today are making  it unlike those days and I thank God for that because they deserve it. Again, journalists command more respect now than during our time. That time, they call us press boys, but today people know the worth of a journalist. But the NUJ should professionalize and ensure that some of us who are trained as journalists are into politics and can still vote in NUJ elections.
The  opposition PDP always mention your n ame when they talk about those that destroyed the Igbinedion's administration,what is your take on it?
Yes, I was an active player in the politics of the PDP from 1999 and like I keep saying, Lucky Igbinedion was in government for eight years but very few people remember that I was in that government . And people have not asked how come Charles Idahosa, a  friend to Lucky Igbinedion became the first person to be fired in that government. We took over on  May 29, 1999 and  by April 2000, I was fired while  attending a seminar in the University of London.
Once you have an independent mind, you become a problem in the PDP. Once the leaders have spoken, it is final and Lucky was not in a  position to take any decision. It is either his father is telling him what to do, or that Chief Anenih is telling him or Ogbemudia  is giving him directives. And somebody like me was not ready to be told what to do or what to say and I kept having running battles with them. I was in the PDP and today, I am in this government.
Are you saying PDP cannot bounce back in Edo come 2015 and 2016?
(Laughter) Does PDP exist here? You journalists know the truth. In 2015, they will not have a single member in the Edo state House of Assembly. They were lucky to have four members today. They don't exist in Edo but you see, they must make noise so that they can get crumbs from Abuja.
Don't you thing getting Oshiomhole's successor will break up the APC?
That is what people said during the deputy governorship crisis but it never happened. When the time comes for us to sit down and pick Oshiomhole's successor, it will be very smooth. The leaders will sit down, Oshiomhole will consult with the stakeholders and we will decide.
It is not going to be a decision of one person, so people should not have any fear. There will be no problem over Oshiomhole's successor I can assure you that. Oshiomhole is an intelligent man and he knows what is good for the people of the state.
People  know you as a hot tempered politician and your boss Oshiomhole, a stubborn Comrade, what is the experience like working with him?
I understand what you are saying. The Governor is somebody like me, he is stubborn I am stubborn too. He is hot tempered I am hot tempered too. He is a radical just like me. But the thing is that when two people are working what is needed is the ability to listen to one another.
So what has happened is that we listen to superior arguments from each other, that is why we have gone this far together. We have had cause to disagree on issues but what people don't know about Oshiomhole is that he is a very good listener and he bows to superior argument.
He is not a dictator. When there are issues we need to talk about, I will go to him but if I cannot due to his busy schedule, I will send him a text message.
And he will reply me and we schedule a meeting. And when I meet him for the meeting, he will listen to my position and if what I am saying makes more sense to him, he will say I think I agree with you. But a lot of people don't know this about Oshiomhole.
They see him from afar and they will assume the man will not listen to them. Again one thing a lot of people don't know about Oshiomhole is that he is a very humble person. Even with his position as a governor, he has had cause to come to my house to meet me to discuss some issues.
He will personally drive into my house and we will sit down and trash out an issue and this is what many governors cannot do. And the truth is that on a number of occasions he has been able to convince me on issues.  Shocking moments
I ought to have died at 14, that is something I remember and I thank God for it. It happened in St Peters Vicarage , God apparently has a mission for me if not I would have died that day. September 21st 1967 was my 14th birthday and that was the day the Federal troops liberated Benin City from Biafra.
We did not know what it was to see war because we have never experienced it, my late cousin when he heard that the Federal troops have moved into Benin, he started running to our house in Lagos Street to come and call me with three of our friends to go and meet the federal soldiers.
So when he came he told us to go and I quickly ran into my room, wore my cloths and rushed out while they were running ahead of me. As I was rushing out, our mum called me, my uncle's wife shouted at me to stop and go and get  her water.
I was so angry because others have left me, she said I should shut up and with that annoyance I pulled the fridge with anger and with that force all the bottles in the fridge fell out, broke into pieces and in the process  of trying t remove my leg, the broken bottles tore my leg and there was blood everywhere.  When I screamed she now ran out and there was shooting everywhere.
She tried to stop the bleeding, I wept. So my cousins left me to see the soldiers but less than 20 minutes later, we heard the four of them were shot dead. Maybe ,they ran into the Biafran troops.
The four were the ones I know but we heard that they gathered many people and asked them to face the wall by John Holt , which is just like five minutes from my house, they killed all of them.
I would have been among them, but for that intervention by our mother to get water for her and my anger in opening the fridge that made me cut my leg, I would have been dead. That was  on my 14th birthday, September 21st, 1967.
Happiest moment
I have so many happy memories. But I think what I can say is my happiest day was when I had my first grandchild, when my daughter Ihiese had her daughter Princess Esieme Akenzua in the United States.
They called me to inform me I was very happy. Words cannot translate how you feel when you become a grand father. Apart from the fact that I became a grandfather, I now made my mum a great grand mother, it was very fulfilling. And when I had my grandson as well, that was last year. And coincidentally they were all born in the same period with me.
My grandson narrowly missed my birthday with two days, he was born September 19, while I am 21st. My daughter is September 23rd,  and another of my grandson was born exactly the same day with me, 21st.  So when I am doing my birthday, Divine will be doing his own birthday with me. These are periods I am happy about.