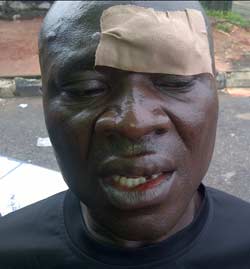 BATTERED… Durunna
Soccer hooliganism reared its ugly head in Ilorin at the weekend. An Assistant Referee in the Kwara United/Warri Wolves league match, CID Duruna was so battered that he ended up in the hospital and would be a guest of the medics for more days if not weeks.
At the close of the first half which ended goalless home fans descended on the assistant referee and pumelled badly. He was accused of bad calls and he got the beating of his life.
Minister of Youth and Sports, Bolaji Abdullahi who was visiting his home state was at the stadium to watch the game. He had initiated the reformation going on now in the Nigerian league and his aides say he watches league matches any time it is possible for him to do so. What happened was, therefore, a huge disappointment to him.
We gathered that his presence at the stadium in Ilorin, however, saved the life of Duruna. The minister intervened and was said to have rescued the referee from further ordeal. Alex Chukwuemeka, the Secretary of the Club Owners Association was also said to have assisted in rescuing the referee who was wounded in the head, lip and a tooth smashed. "He may not be able to eat meet for a long time," a league official joked.
The centre referee was said to have taken to his heels and refused to start the second half when he saw what was happening to his assistant referee. And Duruna was already in the hospital.
"We must join hands to put a stop to soccer hooliganism in Nigeria," Delta State FA Chairman, Amaju Pinnick said, adding "Kwara defeated Lobi, Sharks and Heartland all in away matches and hell was not let loose. This is a minus to what the minister has been doing on the league."
Julius Ogunro, the Personal Assistant to the minister tersely said that "the minister is not happy about what happened in Ilorin."
"We want the League Management Company to take action. They will be encouraging hooliganism if they don't take drastic measures against the incident," Etu Moses, the spokesman of Warri Wolves said.
Surprisingly, Wolves were asked yesterday to report to Ilorin to replay the match. Amaju reacted this way: ''The rules must be applied to the letter. We will not replay that match. We are ready to take this case to CAF and FIFA. If that will be our contribution to the development of our league it will feel good.
This cannot happen in decent climes and football countries. We should be awarded the match. Our football cannot develop this way. It is not about Warri Wolves. It is about Nigerian football. And it is on this basis that we are ready to go to any length for justice to reign.''