Chief Olisa Metuh, the national publicity secretary of the Bamanga Tukur led Peoples Democratic Party, PDP spoke to newsmen at the weekend on the unfolding crisis in the PDP and efforts being made to resolve it. Frank, forceful and almost always forthright, Metuh who has had a large role in reinvigorating the publicity machinery of the PDP affirmed that the party needs a formidable chairman in the like of Alhaji Bamanga Tukur even as he was unapologetic on the party's support for the Jonathan administration. Excerpts:
By Emmanuel Aziken, Political Editor
What is the state of affairs of things in your party?
The present crisis rocking the PDP has shown clearly that we do not have credible opposition party in the country. There's no viable opposition in Nigeria politics. Definitely we have issues and few challenges. The issues have been PDP and about PDP (and) so long as we are able to resolve our differences we will still fight our interest on a common front.
Whatever opposition (that is there) is minimal and insignificant and ineffective whatsoever. What the crises has shown is that there is no viable opposition in Nigeria politics. They have no effect on the political setting at the national level except in some local government areas and states.
We as a party because we're big, we had challenges in terms of interpretation of the constitution, procedure to run the party, ideas like people believing this is what we should be doing. We appreciate that some colleagues, governors want internal democracy.
The National Chairman is committed and the NWC are totally committed to internal democracy in the party. But it depends on description of internal democracy. Internal democracy and entrenching free and fair mechanism does not mean complete opposition to the party.
Don't you think that it is a matter of honour for the president to abide by the alleged one term agreement he reached with governors?
Let us be honest. Is there any tape, any recording anywhere where the president of Nigeria, Dr. Goodluck Jonathan while he was campaigning ever said that he would run for one term.
But he never denied it when Obasanjo said it?
Are you aware that the issue of whether he can run or not is in court? There is a judicial interpretation being awaited. It will go to Court of Appeal and Supreme Court.
Truncation of policies
So, why don't you wait for the courts of our land to give their interpretation? So for now, the issue is not on the cards. For me assuming the president was not even going to run, it would have been completely impolitic for him to have said so last year, this year or two years ago. He would have been a lame-duck president, nobody would have obeyed him and his policies would be truncated.
So, there is no way you come on board and you start from your first day and say you are not going to run. So, let us leave Mr. President to make up his mind, come up with his decision before the issue of the interpretation of his own decision can be given.
Why was Col. Oyinlola not reinstated along with others at the national convention?
Oyinlola's matter is subjudice and the party merely stated that it would await the decision of the Court of Appeal. Oyinlola appealed and because he is in court there was no way we could take a decision.
But others…
The truth is that Oyinlola is my friend and I am one of those that believe that Oyinlola should have been the national secretary. He is a competent man and he did very well as national secretary and administratively. I sympathise with him about the fact that his own brothers, his own people went to court against him and it had nothing to do with the national secretariat. We hope it is resolved but now that he is saying that he belongs to a faction it is another thing.
Before we resigned we held a meeting and we were told that because of the INEC problem that we should resign and come for election at the national convention and that they will encourage all of us to run and that the people who do not make it because of one thing or the other that they will try and compensate them with appointments.
It has been claimed that your national chairman, Alhaji Bamanga Tukur is not a member of the party as he was not formally readmitted after he was expelled in 2002?
Excuse me! You cannot just come out and say Bamanga Tukur should go like that. There are mechanisms for achieving that. You cannot say a national chairman of a ruling party should go like that. If you have anything against his person, you need to wait for mid-term convention and you give the man a vote of no confidence by voting him out.
Those calling for his removal are being unfair. They should tell us what they want and not that Tukur should go because he is supporting the president in the administration of the country. Every president in the history of this country worked with his party's national chairman. Why should Tukur's own be an exception?
Former presidents in this country have worked with their party's chairmen and the National Working Committee of the party and the governors at the state level are being supported by the State Chairmen and the state executive committees of the party.
Resolving problems
Why is it now that there is a condition that Tukur should go? Is it because of his support for President Jonathan's administration? It is undemocratic; it is unfair and un-political for anybody to give that as a condition.We should try and resolve our problems with things that are tenable, practicable and things that we can achieve.
On Tukur's membership, let us not go into details whether Tukur is expelled as a member or not. Any member of our party, if he is very much aware, would remember that in 2006 and 2007, we had the Ekwueme Reconciliatory Panel that gave blanket amnesty to all members of this great party.
Whatever happened in this party pre-2006 and 2007, the Ekwueme's Panel pardoned everybody and restored them to their original positions prior to that crisis. Anybody that is knowledgeable about history of our party and is truthful will stop talking about whether Tukur was expelled in the past or not. I am not aware of it and it is immaterial to me because all that happened in the p arty before setting up Ekwueme's Panel had been overtaken by the recommendations of that panel.
Is  Alhaji Umaru Dikko a member of the PDP and if yes, when did he join the party?
Alhaji Umaru Dikko is not from my zone, I could not say much about him for now. But, for him to be appointed to be the Chairman of the party's Disciplinary Committee, he must be a member.
It was alleged that those of you that were brought back into the party's NEC were brought back with an agreement to work for the president's alleged ambition in 2015. Is it true?
I am working for the success of his administration. I have nothing to be ashamed of this. I am working in support of the president to achieve the mandate we have given him.  If and when he decides to run, my job as an elected official of the party would be to ensure enabling environment for competitors and whoever the party brings up we'll support him. Whoever wins the primaries, we'll support him for election.
What amazes me is that some people are playing it up that the president is not having opposition at the national level of the party. The fact is that some governors and some other people are opposing what he is doing. Even at state level, the governors also have some people within the party that are also opposing them. We are not playing it up.
The fact that you are part of the opposition at the national level does not mean some people are not against them in their states. So people should be careful about how this issue is handled otherwise, we'll continue to have opposition down to the local government level, and to the family level too. It should not be played up.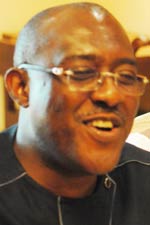 Suspension of Amaechi
I will not want to comment because the matter is still subjudice. Yes, our constitution says that if you are suspended that after 30 days if the NEC does not give a ruling that automatically, it lapses. But our constitution does not make any pronouncement if the matter is in court after those 30 days.
On PDP governors
It is a fact that as governors of PDP they have done very well in their states. The party is proud of their performance in their states and their people are happy with them. Now, our grouse is that the same amount of commitment that they have given to developments in their states that they should transfer it and be loyal to the constitution of the party and to the organs of the party.
That is the only difference that we have. If they can use the same energy in terms of obeying party organs and being committed to the progress of this party and to the growth of this party, we will not have any problem. That is the challenge that we have for them.
If you look at it, these are some of the best governors in Nigeria and everyday you tell me about Fashola. Fashola is not the best governor. As far as I am concerned, when one look at the popularity being enjoyed by Governor Babatunde Fashola here in Lagos and the whole country, one will want to believe that he is the best governor in the present dispensation whereas he cannot be compared to some PDP governors.
With the high IGR being generated in Lagos and the publicity enjoyed by Lagos government, I don't see the effect when I arrive Lagos. It is almost 10 years that I left Lagos but I have not seen much difference here. For those of us that travelled far and wide across this country, we have seen a lot of development in many PDP controlled states like Akwa-Ibom, Jigawa, Kano State and others but people there are not making noise.
On the demand for Tukur's removal
They have not told us anything that he has done to warrant his removal from office. There are ways to remove him constitutionally. For now, he is in office, he is in charge, he is working well and we in the working committee are happy with him and we are happy with the direction and the way he is going. At this critical moment, we need a strong and firm chairman to pilot the affairs of this party so that we do not sink. The captain must be firm, must be strong and Tukur has shown strength and he is firm on the issues.
On APC
The APC as presently constituted has no capacity, no power to have any influence whatsoever in the challenges in the party and they have no consequences whatsoever and we do not pay any attention to them. They have no power, no influence, no position, no capacity to influence anything that is happening in the party. What is happening is purely an internal party dispute that we are trying to resolve and the APC is insignificant and unimportant in this matter and what we are focused on
The APC is insignificant and they are unimportant in the scheme of things. What is important to us as a party is to resolve with our brothers and to have a final resolution of this matter, to be in one accord and have unity with our brothers so that the PDP can continue to rule. We do not pay attention to the APC as a body and the individuals therein. They are of no consequence whatsoever.