BY GABRIEL   ENOGHOLASE & BY EMMA  ARUBI
AUCHI—CLOSE to two weeks after Chief Mike Ozekhome, SAN, was kidnapped on the Benin–Auchi highway, his people in Iviukwe community, Agenebode, in Wepa Wano clan of Etsako  East Local Government Area of Edo State, are still fasting and praying to God to touch those still holding him in captivity to release him unhurt.
Chairman of Etsako East council, Mr. Suleiman Afegbua, who was in Ivieukwe to commiserate with the community on the abduction of their illustrious son, said: "We have been praying and to give words of encouragement and advice to the family, that is why we are here.
"We also paid a courtesy call on the Okumagbe of Wepa Wano with his chiefs, urging them to pray for the quick release of our illustrious son. We had gone to mosques and churches before then and on Sunday, we were in two or three churches for prayers, so, also on Friday in the two mosques in Okpella and Agenebode.
"We are still calling on God, at this time, to touch the hearts of the kidnappers to release our son untouched because we are really worried as it is taking too long and we are urging the security agents to beef up security and expedite whatever strategies they have to secure his release."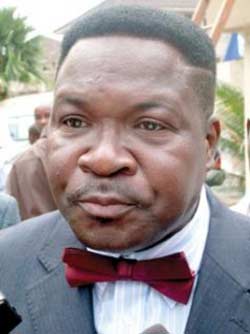 On the situation in Iviukwe community, he said: "We are in a sober mood because he is known to all of us and because if this had happened to any eminent personality in that community, we know the role he would have played. He is a man who, by now, would have gone to the streets to protest the kidnap. So, that is the same thing we are doing for him because we are all worried."
Meanwhile, the Edo North traditional rulers have also called on the kidnappers to release him unconditionally.
Chairman of Edo North Traditional Rulers Forum, HRM, Aliru Momoh, Ikelebe III, who spoke to Vanguard, yesterday in his Palace, said : "The traditional rulers in Edo North are pleading with the kidnappers to release him immediately. This should not have happened. They should release as it is the best thing to do.
"Nigerians and indeed the Nigeria Bar Association  should rise up to this call to ensure that he is not harmed in any way and that he is released even without demanding for money because if you intend to do an evil thing or you are in the process of carrying it out and you change your mind, you have done a good thing as far as God is concerned. He will give you credit for that."
He commended the Edo State governor, Mr Adams Oshiomhole for what he has done so far to improve security in the state, just as he appealed to security operatives to change their strategies to ensure that they are equal to the task of protecting the citizenry.
Also speaking, a Communication expert and Senior Lecturer in the Department of Mass Commuication, Auchi Polytechnic, Auchi, Dr. John Edemode, described as very unfortunate and a contradiction that a man, who had spent the better part of his life defending human rights abuses and staking his life to defend others could be kidnapped.
…as kinsmen bemoan abduction
WARRI—KINSMEN of abducted lawyer and human rights activist, Chief Mike Ozekhome, SAN, have said that his continued stay in captivity was giving them and other well meaning Nigerians, grave concern and depression and appealed for his unconditional release.
Appealing under the aegis of Iviukwe Community Development Association, ICDA, Warri branch, Delta State, in a statement by its Chairman, Mr. Iboamoh Amianoghena, yesterday, the people said Chief Ozekhome had fought doggedly against past military administrations and even in  the current democratic dispensation for the liberation and rights of the common man.