By Victor Gotevbe
Obigho Martins a.k.a Mc Recharge Card is a bundle of talents. He is an Edo State indigene but lives in Lagos. He is the 4th of  4 children, and a very active member of Assemblies of God Church, Nigeria.  Just two years ago, he found his passion in the comedy, and he is already making waves. He is now in high demand because of his sense of humour.
He has been featuring in so many concerts, programme etc within and outside the  country.  Recently he was in  Benin Republic. He has also been successful by being the C.E.O of    Recharge Card Entertainment and also the founder of a popular group known as the Eagle's Eye. He spoke to Youthful Vibes recently about his journey into comedy and how he is contributing to change the society for better. Excerpts:
You can turn painful situations around through laughter. If you can find humour in anything, even poverty, you can survive it.
—Bill Cosby
Journey into comedy
My journey into comedy has not really been easy because I believe nothing good comes easy, like a pastor do say: "The bigger your dreams, the bigger your challenges". so I believe only God, prayers and my hard-work can get me there.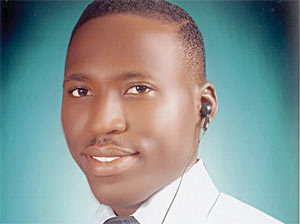 Vision and Mission of Eagle's Eye
I noticed that most of the programme that are organized by some of our youths are nothing more than birthday parties,  carnivals, club jamz, all night activities to satisfy youthful exuberance,  and oftentimes end up not giving glory to God.   I have burden  to organize a crew that is  unique, God fearing and dynamic that will help the lives of the youth and other individuals in converting their energies to positive ventures which will also glorify God. Hence our vision and mission respectively reads: Mission:  Seeing  Beyond  Human  Imagination(S.B.H.I) Vision:  Giving you a  Reason to  Live…(G.R.L)
Why the name Eagle's Eye?
The group was named eagle's eye because when you look at the word, "Eagle", we all know it is  greater than other birds and everything about an eagle is unique and special, and we also found it in the Bible.
Impacting lives
Eagle's Eye is set to positively affect young people by bringing them to the realization that God is the owner of our lives and we are working on helping them to actualize their purpose for living. The greatest tragedy is not to know the reason why you are alive. We are not products of accident or chance but products of creation. For instance, on September 30, we shall host the 2nd edition of our event titled: "Experiencing Power Of praise"(E.P.O.P). It is going to be a praise concert that will also enable the youth to have a unique experience of gratitude to God and worship to Him at the Assemblies of God Church, Maza Maza.
Preference for comedy
It is true one of the lucrative careers today is music. Yes, I do love music but I don't have the voice to sing so I decided to do that which I know I can do best and which gives me joy whenever I do it. I chose comedy because I do derive joy from it, when I see people that are not in a good mood and making them to smile again with my anointed mouth which I use in cracking ribs and jokes in the sense that I communicate easily with comedy than music.
I am into fashion designing, dancing and acting. Interestingly, one profession I would have loved to venture into is the Nigerian Armed Forces (Army) because I love the discipline and confidence they exude. Their uniform is something that blows my mind. Although, I have been involved with one of the  paramilitary groups known as Royal Rangers Nigeria.
My Role models
I have two people who are my role models. In the acting industry,  John Okafor a.k.a Mr Ibu while in the aspect of comedy I have my big boss who is one of the finest gospel comedians in Nigeria popularly known as Akpororo.
Driving force
I know what I am about to say will sound funny or surprising to some people. For me it is  Poverty that is my driving force. People do say that poverty is a disease but I believe that poverty is more than a disease. I consider it a sin because when your are poor you easily think about things that are evil. Nobody wants to be poor in this life but every man    should know that to be a man is not a day's job, so most times when I feel like giving up and I remember the big basket of poverty, I jump up immediately without being told.
Advice to Nigerian youths eyeing the Comedy industry
I know the challenges facing the youth are much. All that I have to say is that if everybody likes your dream or vision, then you have a problem. Therefore, if you have a vision, then get ready for challenges and trials as the higher your dream then the bigger your challenges. Above all, in everything you do, please put God first.
YOUNG NIGERIANS MAKING THE DIFFERENCE
Rotaract of Amuwo Main installs new president
On September 21, 2013, all roads led to the investiture ceremony of Rotaractor Chimezie Judemary Udechukwu as the First Class President of Rotaract Club of Amuwo Main. The event witnessed a large turn out of Rotarians, Rotaractors, guests and friends of Rotary.  Rotaractor Bayo Oduntan, the Chartered President handed over the baton of leadership to Chimezie after a great year of service.
Rotary Club of Amuwo, the sponsporing club of Rotaractor Chimezie's club stood solidly behind him and his team. Mr. Victor Gotevbe of Vanguard Media Limited was the guest speaker for the day. He shared on the theme: I am one and I am powerful. He also was given a leadership award  with other award recipients conducted by Rotaractor Timothy, the District Rotaract Representative and other Rotaractors.