By CALEB AYANSINA
ABUJA — The Christians Association of Nigeria, CAN, yesterday, gave former Minister of the Federal Capital Territory, FCT, Mallam Nasir El-Rufai, seven days within which to make public the identity of the person that donated a private jet to its president, Pastor Ayo Oritsejafor, or risk being exposed.
CAN, which described El-Rufai as a liability in the country's political system, said if  he was broke, he should beg Jonathan for a job, rather than engaging in blackmail.
El-Rufai, weekend, described Pastor Oritsejafor as the chief propagandist of the Peoples Democratic Party, PDP,  and one who lacked credibility.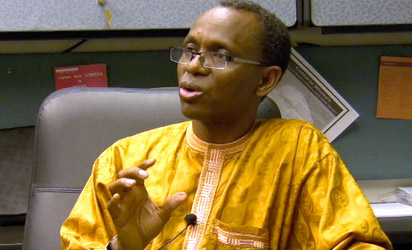 But CAN in a statement in Abuja by the Head of TEKAN/ECWA Block in CAN, Rev. Emmanuel Dziggau and National Director (Research, Planning & Strategy), Elder Sunday Oibe, who gave El-Rufai the ultimatum, admonished former Head of State, Gen. Muhammadu Buhari (rtd), to dissociate himself from people like El-Rufai, who would use him to gain political relevance.
The statement reads in part: "It is laughable for an individual like El-Rufai looking for relevance to be alluding to Ayo's credibility. If Pastor Ayo doesn't have credibility, who else have credibility in Nigeria of today? Is it El-Rufai?
"The fact that El-Rufai in his tweets abused our Lord and Saviour, Jesus Christ, and Christians ignored him doesn't give him the impetus to make unguarded comments about Pastor Ayo who is the leader of Christians in Nigeria."