By JOSEPHINE IGBINOVIA
The first of six children, stylish Bunmi Adeboye is a 1995 Microbiology graduate of the Obafemi Awolowo University, lle-Ife. She thereafter veered into the banking industry where she carved a niche for herself as a marketer with savvy until she voluntarily resigned 15 years later to channel her imaginative prowess into her first love- events decoration. This gave birth to Stylista, a flourishing events company already servicing the crème de la crème of the society in less than two years! A happily-married mother of two, Bunmi who turns forty on September this week had an encounter with Vista Woman in her office in Lagos. Enjoy!
Why did you have to abandon a highly rated profession such as banking for events decoration?
Over the years when I was in the bank, I realised my friends would always call me to help them organise parties. They probably had observed the manner in which I organised events even on impromptu basis. Later, I looked inward and realised this is something I have a flair for. So, I eventually decided to follow my passion. While in the bank however, I was known for my prolific deposit mobilisation; I was a goal-getter and passionate banker. Hence, I was identified as a banker with distinction.
How has the journey been?
It's been awesome! Coincidentally for me, there was a wedding fair about the time I left the bank. So, I got myself involved. In fact, referrals we get all the time are what build our customer base! We were one year old in February 2013 but you won't believe the quality of clientele we have already. Actually, Stylista is an events decoration company which actually started as an events supply company.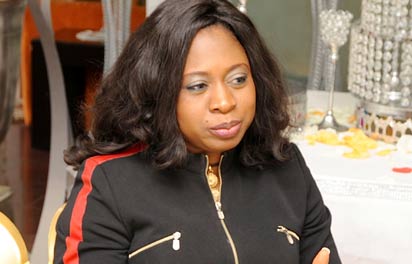 The reason was because we realised a huge gap in what we see here as décor materials and what we see in western media. Why we thereafter had to go also into decoration was because I noticed we always had to tutor customers on how to assemble and use the events materials we bring into the country. So, we felt the easy way to go about it was to take care of the decoration for them as well. So, we're both an events company where we do outright sale of items, rental and also do décor.
Apart from having the innate ability, what formal training did you undergo?
I've undergone no formal training and people hardly believe this! The way we structure ourselves and organise events makes everyone think I probably trained abroad! For me, it is more of innate ability than going for an acquired knowledge. What has helped me in the procurement aspect of the business is the fact that the Chairperson of Stylista is a certified procurement expert who has helped us integrate what we have as passion. So, at every point in time, we always have unique and rare items.
Then it means you must have acquired the skill somewhere, probably while growing up?
My mum is from Ijebu-Ode and you know the Ijebus love partying a lot. She always relied on me for every party she needed to put together. Even at friends' parties, I never saw myself as a guest. When I noticed their ushers were not doing well, I usually took up the role of supervising to ensure everyone was well taken care of. At a point, my friends nicknamed me 'loopholes fixer'! So, I think this is just a way of life for me.
You were in the bank for 15 years; is this business more rewarding?
Frankly, I get even much more than I got as a banker! We had this myth that banking was well-paying, but you see, with the quality of my time management and with doing what I enjoy doing by putting smiles on clients' faces, you can't quantify with cash.
Uncertainty deters many from venturing into new terrains, especially business; didn't you feel that way too while ditching your job as a banker?
I've had this tutor in my husband for a long time and he has remained my mentor in this business. He had always wanted me to use a third of that energy which I was using to work for the bank, for myself. He is Rotimi Adeboye, the Chairperson of my company which I spoke about; he's the Chairperson/CEO, RM Resources, a procurement company.
When I eventually decided to go into entrepreneurship, I saw sense in what he was saying, and I deconstructed my mind from being the typical banker who would always spend so much on suits and shoes to stoop low, so   I could conquer as an entrepreneur. So I frankly asked myself what the things that could mitigate me being successful were: I cut-off excessive spending, agreed on no salary for the start, embraced selfless service, brought on my marketing prowess, and within the space of one year, I got a huge customer base! I didn't start by having a structure and employing staff. I acquired people on requirement basis and that really helped me grow.
Subscribe for latest Videos