By LAJA THOMAS
Mr. Bassey James, is Chancellor of Akpabio Centre for Leadership Development (ACLD) through which he aims to project lessons from Governor Godswill Akpabio's legacies in Akwa Ibom State. He recently spoke to newsmen on sundry issues concerning Akwa Ibom and its leadership. Excerpts:
Some people have nicknamed you to be the mouthpiece of Governor Akpabio as you often sing his praises. What is the relationship between you and Governor Akpabio?
I am not the mouthpiece of Governor Akpabio but I am an interested person who is enjoying the dividend of democracy in Akwa Ibom State and I am one of the beneficiaries of good governance.
Millions of people in Akwa Ibom State are saying the same thing just that most of them don't have access to the media. Citizens and residents of the state are spreading the message of hope, faith and unity which is what our governor represents.
The story in Akwa Ibom has changed; the lifestyle of the people has changed, we now sing a new song, there are peace, joy and developments in the state. Our governor has done so much and that is why everyone in the state is singing his praises.
How is the ACLD sustained?
ACLD is a household name in Nigeria today especially in the South South region. We are also in diaspora and people are embracing the concept because of the personality of Governor Akpabio and his ideologies. He has demonstrated good governance in public service and so when you have a sellable material, you have no problem taking it across the world. Everywhere we go with the concept, people embrace it and indigenes of our state are already ambassadors of ACLD.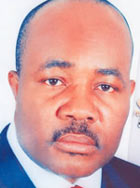 The lovers of good governance are promoting the concept and we are happy to be the one driving the ideology. So many people are interested in what we are doing and the movement of Nigeria today is great because we have someone who is governing with a very high sense of responsibility.
The concept is all about leadership which Governor Akpabio has given to Akwa Ibom State. I am using this medium to invite the world to Akwa Ibom State and they will feel a sense of belonging because our governor is a detribalized Nigerian.
What will become of ACLD after the expiration of the tenure of Governor Akpabio?
After 2015 ACLD will still strive just like the ideologies of other world great leaders. People are still talking about Awosim and they will continue to preach his ideologies as far as Yoruba nation still exist. We are talking about the ideologies of a governor who has performed exceptionally well and Africans all over the world are proud of him.
You can't question what will happen after 2015 in Akwa Ibom State because our governor has laid structures in ground and we will continue to talk about his ideologies even beyond 2015.
Come 2015 while in the senate, our governor will spend more time travelling around the world speaking on international projects and programmes.
He will be more useful in 2015 than he is now. He will be the most sought-after African in a couple of years. We have taken the bull by the horn by erecting an international conference center and in a couple of months; activities at the center will be almost on a daily basis. We have friends in and outside Nigeria working on the partnership and are ready to work with us. His personality will be wholesomely displayed in that center.
People don't need to worry about 2015 because we know our governor is going to the Senate and there we will see great demonstration of governor and outside the senate you will see a great wisdom.
We are reaching people through the mass media because we want to tell the whole world about the deeds of our governor. This is our contribution to promote good and responsible governance in Nigeria.