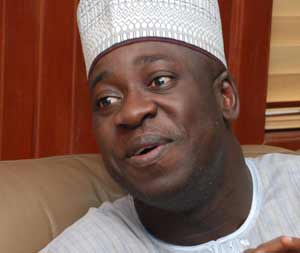 Abdullahi
The Honourable Minister of Sports and Chairman of the National Sports Commission, Mallam Bolaji Abdullahi has lauded the decision of the International Olympic Committee (IOC) to reinstate Wrestling as an Olympic sport.
The IOC had downgraded Wrestling from a sport that would feature in the 2020 Olympics to a candidate status in February 2013, meaning Wrestling had to compete for a space in the 2020 Olympics with sports such as Squash, Baseball and Softball.
The decision had irked many countries, including Nigeria, where Wrestling is popular. Nigeria thus became a leading member of the lobby to reinstate Wrestling, sending an official position to the IOC.
But in a meeting in Buenos Aires, Argentina at the weekend, IOC members voted to reinstate Wrestling as an Olympic Sport. Wrestling received 49 votes, while a combined baseball/softball bid got 24 and squash 22 respectively.
Mallam Abdullahi described the news of the reinstatement as gladdening. "This is very good news, and I commend the IOC members who voted for the reinstatement. Wrestling is one of the sports, which I believe we have the potential to do very well.
It is a traditional sport for us and excluding it from the Olympics would have killed the enthusiasm for wrestling.
It is also one our priority sports, which we have some sort of competitive advantages. The IOC decision is welcomed," Abdullahi said.