BY JOSEPHINE IGBINOVIA
The Proprietress of Lagos-based Starland Private School and Chairman, National Association of Proprietors of Private Schools, Mrs.Elizabeth Olanrewaju Olomofe-Kufeji a.k.a Mummy 2, is a seasoned educationist with over 40 years of experience in the teaching profession, beginning from the Lagos state civil service where she retired as the principal of Okota Grammar School 1986.
Also a passionate philanthropist, in this interview, Elizabeth who is the newly elected Chairman for International Inner Wheel- IIW District 911(an organization comprising wives of Rotarians), speaks on problems bedeviling the educational system which prompted her venturing into private practice, her plans for her tenure as an IIW District Chairman and her distaste for the inability of many young mothers to fulfill their primary roles. Enjoy!
Why did you have to retire so early from the civil service?
I was discontent with the way the system was run, and decided to establish my own school where I could do things properly. I'm glad government is however working towards correcting some of the problems. The stipulated pass mark was nothing to write home about! We were mandated to promote children enmass and even on trial, whether they passed well or not, and the pass mark was placed at 40%.
They failed to realized that the system was indirectly building up problems for those students because at WAEC, 40% will never be the pass mark! Therefore, we started experiencing mass failure in WAEC and other external examinations! The aftermath of that system is still affecting us till date because those who we now refer to as our teachers passed through that system! Hence, we see a lot of half-baked professionals here and there, and graduates with questionable performances. That's why you hear employers say most of them are unemployable!
For how long have you been a member of the International Inner Wheel?
I've been in the Inner Wheel since 1980 because my late husband, Olomofe, was a Rotarian. I lost him in 1993 after a brief illness. I actually joined the organization through the Inner Wheel Club of Onigbongbo where I served in various positions including that of club president, several times. I've also served at the district level, District 911, for several years before I got elected as the 30th District Chairman.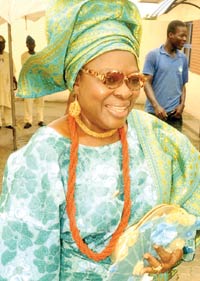 So, what are your plans for your tenure?
My predecessor had series of beneficial projects, and I've decided to continue one of them; a project on sickle cell. She really dealt with hip replacement surgery for sickle cell patients. I'm going to continue with that by sponsoring hip replacement for 10 sickle cell patients. Each costs N1m and we're collaborating with the National Orthopedic Hospital, Igbobi, on this. I am also adding a campaign on awareness because it seems a lot of people do not know why we have sickle cell patients on our hands. We need to curb marriages between men and women that are carriers of sickle cell. Being an educationist, I'm adding adult literacy to my activities, including sensitization seminars for young mothers.
From experiences as a teacher and proprietress, I've realized that our young mothers need to be seriously guided. Due to my passion for children and the aged, I'm also organizing a special outing for the aged, so they could have a nice time. My executives and I are also planning an interactive session with public transport providers. By breaking traffic laws and driving 'one way', many of them have caused a lot of accidents which have wasted lives. We want them to hear from us so they would know that it's not only government that is concerned about this menace. The district will also continue with the maintenance of orphans who are victims of HIV infected parents.
You sure have a long list of projects; what do you think might be the challenge?
The challenge can only be funds. We're hoping that that good-spirited individuals and groups would support us. We hope to raise funds at my official installation ceremony which is coming up in Lagos on the 18th of August, 2013, and to also pay visits to people like the Oba of Lagos who has been our staunch supporter.
You highlighted earlier your intention to organize seminars for young mothers; why is this necessary?
These mothers are failing in heir roles as mothers! It's a big pity that most fathers can no longer bear the responsibilities in the home, but be that as it may, we need to start proffering solutions. Grandmothers need to form a vanguard to help young mothers be able to cope with the current situation. A situation where both the mother and father are struggling to become the CEOs of their different places of work cannot help the children! Now, children spend over 80% of their time with their "aunties" (house helps) or "uncles" (drivers). These are also the people who go to receive report cards on behalf of parents. If you say to the children "Give this letter to daddy when he comes" they will tell say "My daddy does not come home on time; I would have slept before he comes".
Okay, give it to your mummy, and they'll still say "My mummy too doesn't come early, and they leave very early in the morning". Ask them who takes care of them, and you'll hear "It's my "aunty"" Tell me, what morals can house helps give to children? The government has to look into this as well because the effects are taking their toll on our society. A nation that does not have reliable future leaders is heading for doom! There's no need for a mother who has little children to train, to begin to take up demanding jobs, thereby killing the family life; somebody has to be there for these children! Some mothers cannot even stay back home for three months after child delivery! If we're not careful, outrageously immoralities and vices are what we will have to contend with in future.
The closing time for young mothers have to be adjusted to enable them work to support their families and still be able to train their children. The only time these mothers have for their children these days are for timeouts in eateries and saloons where they go to put chemicals and wigs on the hairs of little children! These same young mothers are the ones forming clique to cut corners for children and take their children to secondary school from primary four. We need to start letting them know that what is pushed under the carpet will eventually burst the carpet when it gets too high.
Subscribe for latest Videos