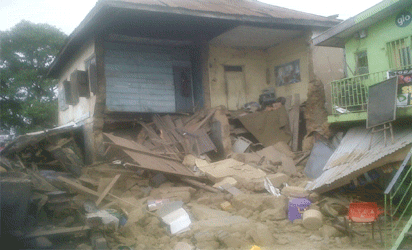 … debris of the building
BY OLASUNKANMI AKONI
AS the spate of building collapse continues in Lagos State, it has become a source of worry not only to the government but also residents.
In the last few months, Lagos has witnessed at least five incidents of collapsed buildings in different parts, leaving over 20 people dead and several others injured. The areas include: Surulere, Oshodi, Ojodu and Ebute- Meta, Lagos.
According to revelations, following various investigations carried out recently by the management of Lagos State Building Control Agency LASBCA, the building culture in the state has to change as soon as possible if there must be a safe and sustainable quality structures for habitation.
Governor Babatunde Fashola of Lagos State last weekend announced plans by his administration to commence redevelopment of distressed Adeniji-Adele Housing Estate in Central Lagos to avoid losses of lives.
According to the governor, many houses in the estate, which was built on reclaimed land more than two decades ago, are noticeably in very bad conditions with many of the ground floors already submerged in water while the walls of most of the buildings are cracked and showing signs of serious structural defects.
Also, in the wake of the collapses, Commissioner for Special Duties, Dr. Wale Ahmed explained that the state will look inwards and query any staff found to have been negligent in his monitoring duty, stressing that henceforth, sanctions will also be applied to all those who break the seal placed on the building and owner of collapsed building.
LASBCA, also conducted tests on some buildings at Ebute-Metta, Yaba Local Council Development Area, LCDA, where about 20 buildings were found be distressed and marked for demolition.
Managing Director of LASBCA, Mrs. Abimbola Animashaun, disclosed that; "Today, we have identified about 20 buildings, apart from the one that we have identified before. Out of these, we have identified five that should be demolished completely because they can cave in any time."
Some of the areas where buildings including residential and commercial, estimated to be over 100, have been marked as distressed are: Lagos Island, Ojo, Agege, Mushin, Ikorodu, Orile-Iganmu, Ejigbo among others as  investigations are still on-ongoing.
Features of distressed buildings
WHEN contacted over what constitutes a distressed building, Managing Director of LASBCA, Mrs. Abimbola Animashaun blamed property owners, developers and site engineers for building collapse. She gave some of the criteria they look for before declaring a building distressed thus;  "When we mark a building as distressed, it means that it is a dilapidated structure that was already full of dis-repairs and structurally not stable.
"When one looks at the scratches on the building, the first assumption was that they are distressed. Until the structural stability test is conducted to know its state, we have to categorise  it as distressed. "When the result shows that the building is stable, we have no option than to allow the building stand.
"A building is regarded stable when all the columns (pillars), slabs and the beams are intact. But with that, when the test result is released, it would be stated that at the time of inspection- meaning the result was based on the last inspection of the building. After that time, new development might have occurred.
"For instance, the building that collapsed in Ojodu Berger axis of the state. It was only one of the pillars  that was faulty initially. But while trying to repair it, the entire building caved-in.
"That was why whenever the test result is released, we also direct our engineers to re-visit the site to see if the entire building is in distress and to ascertain which pillar was bad. And the reason for this was that all the pillars in a building serve important and different purposes.
"We are all using the British standards. But the British whose style we  use never use substandard or poor materials to construct their houses. "The British standard states; 23 by 23 but for me, I will go for the international and the Italian law which sets; 30 by 30 as their preferred standards for columns. When one looks at columns in Nigeria, one will see woods but in other advanced countries nothing like that is seen."
For buildings under construction: Also, expatiating on the monitoring of buildings under construction by LASBCA, Animashaun, a professional architect, with 35 years experience said that; "Monitoring starts from the approval date to commencement of construction.
"Our inspection commence immediately one gets approval to erect a building. That is why we have used all the media to enlighten the public that as soon as they receive their building approval, they should alert the agency.
"This will give us the opportunity to start from soil investigation. With this, we will be able to give the owner the preferred foundation for the building. But owners of structures do not contact us and further erect their building on the entire perimeter of the land and this contravene the Building Control Law. The approval states that there must be 3 meter space away from the foundation.
"Some people when they apply for building approval, they seek for one storey approval but when one visits the place, all you will see is two storey building. But the recommendation and the calculation given for the foundation was one storey.
"That means the foundation cannot withstand the weight of the building. That is what happens in this country. Even when it happens in other advanced countries and when the building control agency visits the site, if it discovers such they order them to remove it and they yield.
"But the owners of the building in Nigeria only invite the agency when the building is completed as against what happens in advanced countries. In those countries, they invite the building control agency at all the stages of construction.
"In Nigeria when we visit and we spot any fault, the next word one hears from the owners of the building was that the construction is already completed. And it wouldn't be appropriate to commence demolition. And they start begging."
Physical signs of distressed building: According to Animashaun, the first sign to look for in such buildings is to look for cracks. To check if the plastering  is still effective and others.
"The building is termed distressed when the cracks are big, that is cracks that are obvious from afar. "That is a structural crack because one can differentiate between mere cracks and structural cracks.
"When one starts noticing cracks all over the building, it means that there is a problem with it. When one sees a tilting building, there is a problem. And when one sees a building with its iron rod already rusting, it shows that the building has some challenge.
"And a lot of landlords in the state after building for over 10 years, they want to add another storey. What we have noticed was that when one is increasing the storeys of an existing building, rather than use light weight materials, they add structure that has higher weight," she said.
Quacks in building  industry is another challenge: "There are times when we ask the owner of the building to carry out repairs, and that they can only embark on it when they have a registered structural engineer on site.
Qualified engineers
"This is one aspect that is still affecting construction in the country. Many build today without having qualified engineers on site.
"And one thing that differentiates the construction process between the country and other advanced countries is that even the bricklayers there have National Vocational Qualification Certificate, NVC. "They all go to school to get certificate. That gives room for discipline because if they failed in their duty, their license can be seized from them. One cannot just approach a construction site without any form of qualification.
"What we intend to do is to introduce NVC training, so that plumber, electrician, bricklayers and others will have that certificate with them to show that they are qualified. One has to apply for demolition permit through the agency. And when it is time to demolish, he has to alert the agency because the building materials are full of hazardous substances.
Our schedule — LASBCA boss
ACCORDING to Animashaun; "We have 22 zones and our staff go round to identify distressed buildings and
enlighten the public on the need to involve the agency in their construction on daily basis.
"At present, we are still collating the number of distressed buildings in the state. But a rough estimate so far will reveal over one hundred distressed buildings across the state. We are also moving fast to prevent any untoward development.  "Lagos state is a metropolis and it will require employing hundreds of thousands of workers to monitor the entire state.
"That was one of the reasons why LASBCA has asked the citizens to assist the agency. In order to enlighten the residents of Lagos, we embarked on road show; we are also using the conventional media. We cannot do this work alone. We need the citizens of the state to send short messages (SMS) or call whenever they discover any building that is in bad state. We will respond immediately. And when we get to the site, we will advise the owners of the building on what to do on the building.
"For the buildings marked in Ebutte Metta, we have called them and we have enlightened them that building don't alert the occupants when it is about to collapse. We advised them to leave the house and either rent another elsewhere or squat with their relatives.
In Agege, we discovered a building and the occupants begged me and I told them that I will not allow them to continue living in the building. We carried out inspection daily and yesterday we were in Oke-Afa in Isolo. And we told them that they have to demolish their buildings. And on the government owned, they have to hasten work on it because they have already demolished four buildings.
Lab testing  requirements
"We also direct owners of buildings to do lab tests at the Lagos State Material Testing Laboratory, Ojodu, but they are not obliged to go there.  "There are other laboratories in the state that conduct structural stability test. The difference with the state Lab is that it has better equipment than others.
"Property owners will have to do the comprehensive test that would be handled by competent engineers. We only recognize registered engineers especially chartered engineers."
LASBCA Challenge
'The major challenge facing the agency is that when we seal a building because it is in distress, people break the seal and continue to occupy the house. That is the case of many houses in the state especially in Lagos Island axis of the state. And when we discovered that, we arrest them. "When we seal, we do not expect occupants to move back into the house. That was why we have decided to always re-visit any house that is sealed.
Appeal
"I want to advise developers to always adhere to doing quality job as against shabby construction by complying with safety, international standard. I also advised them to go for comprehensive training on what to look for as a developer on a building. A novice in civil engineering cannot be a developer because at the end of the day, they would have to employ someone.  "Engineers need to understand that their profession is not about paper work. But they are effective on the field. We are ready to change the mentality in this country.