By Soni Daniel & John Mkom
The  Acting Governor of Taraba State, Alhaji Garba Umar,  lost his first battle to invalidate the dissolution of the State Executive Council by Governor Danbaba Suntai, when he failed to convene a meeting of the members scheduled for Friday morning.
The acting governor had issued a statement reversing the sack of the council and the Chief of Staff to the Governor,  Gavey Yawe and the Secretary to the State Government.
Suntai had on Wednesday named Timothy Gibon Kataps as the new SSG and as the new chief of Staff replacing Yawe while sacking the Exco members.
But on Thursday, Garba asked the people of the stat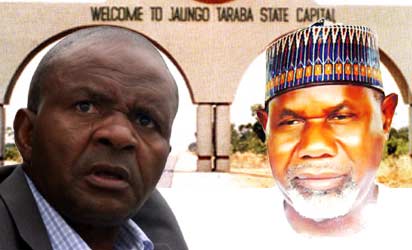 e to ignore the dissolution of the cabinet, alleging that it was masterminded by a cabal bent on hijacking the state and its resources.
Based on the assumption that the members of the dissolved cabinet were with him, Garba summoned a council meeting and reported at Exco Chambers of the Governor's Office at about 10am but did not find any other member to hold the meeting with.
After waiting for about two hours without seeing any other member of the Exco, Garba drove out from the Governor's office, feeling a bit disappointed.
But the former Chief of Staff to Suntai,, Gavey, who reported in the Government House was barred by the governor's loyalists from entering his office.
Gavey had made spirited effort to gain access to his office but the staff and security agents barred him from entering the office, insisting that he had been replaced by Alhaji Aminu Jika on Wednesday by Governor Suntai.
Saturday Vanguard learnt that the aborted meeting was called by Garba to strengthen the security situation in the state before traveling to Abuja for the PDP mini convention.
Tension had been mounting in the state since Suntai returned  from his medical trip on Sunday and proceeded to take over the mantle of leadership from Garba, who has been acting in the last ten months.
Sixteen members of the House of Assembly, led by the Speaker, Haruna Tsokwa are opposed to the resumption of work by Suntai, claiming that he is not fit enough to do so, while the minority, led by the Majority Leader, Joseph Kunini, want him to return to work at once.