BY ADERONKE ADEYERI
The youths of a nation have been described  as the future leaders. Nigeria is a nation struggling to re-define her history. It is easy  to assume that this struggle will only continue,if and only when the youths of Nigeria take on this responsibility.
A growing concern in the minds of socio-political analysts and trend observers however,has been the growing number of Nigerian youths that get attracted to and often times,remain stuck in the pool of hard drugs and substance abuse.
The staggering rise and unbelievable silent acceptance of this trend makes one wonder if the visible effects are only seen as an indication of civilization, or  as a backlash from the many societal problems  which make the youths feel the need to show rebellion  thereby bringing about an acceptance of their own awareness and what they think should be the in -thing.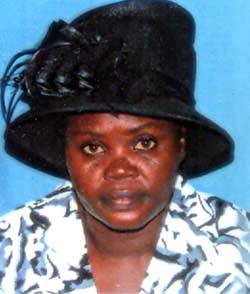 The impact of drug abuse among Nigerian youths is a stigma of a morally bankrupt,decadent and wasted generation that must be revitalized and collectively salvaged together in order to prevent the total loss of our societal values and ideals.
The nation cannot sit on the fence and pretend over the menace of drug abuse in the  society. The various consequences  of drug abuse or drug addiction  are so devastating and very shameful to the extent that both national and international organizations all over the world are also worried about the spread of this scourge among Nigerian youths.
The  question one needs to ask is, who is to be  blamed  for this irresponsiblity  and its implication  among the Nigerian youths?
Speaking on this issue with Saturday Vanguard,  Pastor(Mrs) Taiwo  Enioye, a Pastor  in the Redeemed Christian Church Of God expresses dismay over the scourge, blaming it on many factors.
What are the factors responsible for the increase  in drug addiction among the Nigerian youths?
Drugs and addiction have negative effects on youths. Youths are adolescents whose reasoning is quite different from that of an adult. Nowadays, many youths believe they know even more than adults . There are many factors responsible for drug addiction among our youths .
Negative influence of peer groups. The company some youths keep lacks the fear of God and this can be traced to their background, thereby following the wrong path. Some youths even imitate their friends because they do not want to be referred to as an inferior.
Another factor is emotional imbalance. Presently in Nigeria, we have a large number of broken homes and this affects the child's upbringing.
Some parents are always at loggerhead with each other  thereby neglecting their parental roles. Children from such homes can not share their problems with their parents . Hence, they are open to wrong advice outside their home. In most cases, they shift to taking of alcohol or hard drugs or even the combination of the two.
Again, the spiritual controls the physical. Some youths are under the attack of  forces of darkness in order to divert their purpose in life and their God given talents.
How can drug abuse or addiction be eradicated  among the youths of Nigeria?
Every society is the product of the different families that constitute it. To have a society free from drug addiction, parents  should monitor their children right from their first day on earth and also monitor the friends they keep. Parents should ensure they train their wards in the ways of God and I know when they become youths, they would not depart from God's  purpose for their lives.
How can  religious organizations help in curbing this situation?
Religious organizations should preach against it in every of their activities. They can also counsel  and help parents facing challenges in one way or the other.
Religious organizations can also build rehabilitation centers just like the one established by the Redeemed Christian Church of God called Habitation of Hope. This is a home for drug addicts picked from different destinations and both their physical and spiritual challenges are attended to.
What can be done on the part of the government?
The government has a responsibility to counteract both drug trafficking and drug addiction.
The government should put in place open campaign rallies in public places like motor parks, National youth service corps, NYSC, universities and other institutions of learning because these are where youths populated. Government agencies like the National Drug Law Enforcement Agency,NDLEA,National Agency for Food and Drugs Administration and Control, NAFDAC, should increase the tempo of their effectiveness by investing even more on technological devices that can enhance its ability to detect hard drug traffickers or consumers to frustrate the use of hard drugs in the society.
The government can also introduce the campaign against the use of hard drugs into secondary school curriculum.
Are you saying one can find drug abusers or addicts in secondary school?
Yes, we have some in secondary schools. The youths need to be deeply indoctrinated with  anti-drug messages. Drug addiction is a war the Nigerian society cannot afford to lose.