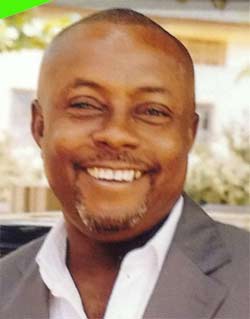 Late Mr. Ogbonnaya Amadi , pioneer ICT journalist
It was with a tone of melancholy but aura of reverence that Rev. Endy Amadi, younger
brother of departed Ogbonna Amadi relieved the life and times of the late Vanguard Entertainment Editor. Endi, who is President, 'Right To Live Organisation' and Project Manager, 'Rural Alert for Integrated Development Foundation', recounts that the loss remains as traumatic as it was a year ago. Pouring encomiums and eulogies on his late brother, the younger Amadi admits it's been a year of pain and sorrow but with consolation in the Lord.
Traumatic year
It has really been a trying year without Ogbonna. Trying in the sense that he was like the pillar in the family. With his demise, the reality of his position dawned on us. His demise has not been easy with our mother. Ogbonna was the apple of her eyes. Every morning, she wakes up, sits by his grave and cries. I also have his wife to consider. The last time she visited me here in Umuahia, it was all tears again. So, throughout this one year, one would have expected that perhaps the wounds would have healed but this was not the case.
It's just like we would turn around one day and see him scolding you and still drawing you close with such tenderness as he used to. Recently someone called me "kid brother" and I broke down in tears as I remembered Ogbonna used to fondly call me that. At that point, it actually dawned on me that it's been one year since he died. We hardly even called him by his name. He was fondly known as 'Don Dusty.' It's one year now and like I said, it has not been easy. It has been a year of pain, and sorrow but we are consoled in the Lord.
Memories
If one begins to list what he misses about Ogbonna, it will take the whole day because he burns hot and then he goes cold. For instance, whenever he called and you were not there to pick the call, be prepared for 10 minutes of tongue-lashing and after the 10 minutes, he would slam the phone and the next minute he'd call back and in his usual tone he'd call me fondly and deliver the message. I particularly miss him calling me kid brother. But at that point he was alive, I never thought he was giving me my dues. Imagine at 48 years of age, he was calling me kid brother, but I am beginning to appreciate it now. It was his own way of giving me a sense of the fact that I was actually his younger brother.
Masterpiece
Above all, I miss some of the disagreements we used to have because after those disagreements, we always came to an agreement, but right now, it does not exist anymore because he is no more. Ogbonna was a masterpiece. He was everything rolled into one. His job, he did very well and his relationship with the family was very cordial. So he was not one that we could just fold our hands after one year of his death and say, 'and so what?' We intend to hold a thanksgiving on his behalf, to thank God for keeping us together, especially his wife and our mother who were most hit by his death. Although August 29 was the day he died, we are really looking forward to October 12. Right now we only intend to have a silent, family thanksgiving in his remembrance on Sunday.
Foundation
We intend setting up a Foundation, one that will showcase and discover young talents no matter how long it takes. However, because I am into the Word of God now, it is going to be rooted in the Gospel. We will then use this avenue to encourage upcoming artistes. Also, whenever we start this, a greater percentage of what we will get will be used to set up a Trust Fund for his children because it has not been easy for his family and at the time he died, his wife was just about starting up a business and although the business is steady now, it still needs support.
It has not been easy coping without my husband — Toyin Amadi
By ANOZIE EGOLE
After one year of his exit, it has notbeen easy coping without my husband. But with God by our side, we have been coping. God has really been faithful to us.
What are the things you have been missing most about him?
Everything thing about him. I mean, I miss everything about him. Like now, when I couldn't sleep, I would start playing most of his favourite songs. I would be dancing all alone just to dance away my sorrow. It has not really been easy. For months, I could not even sleep in our bedroom alone. Most times when I am in the bathroom bathing alone, I would be asking myself, does it mean my hubby will not come again to bath with me? So many things like that.
Just few weeks ago, my children were watching TV, and suddenly, my second son just asked me, is that how daddy will go and never come back again? It took me sometime before I could answer the question. It was like, after one year, these children could not erase the memory of the tragedy.
What are other things you used to do together that you have not been doing now since his demise?
Like I said earlier, he was all around me. We did almost everything together. I could remember when I wanted to start my business newly, he used to tell me, I am trying my best, I don't want you to break down, I don't want you to overstress yourself. But now, I have to do all those things alone. Not only that, I have doubled my struggling.