By Sam Eyoboka and Olayinka Latona
THOUGH the 61st annual convention of the Redeemed Christian Church of God kicked of on Monday with the ordination of over 8,000 deacons and deaconesses, the actual opening ceremony did not take place until late Tuesday evening.
The colourful ceremony saw the children of the church displaying some cultural heritage the African continent had been known for while showcasing the cultural identity and their knowledge of the Word of God, the Holy Bible.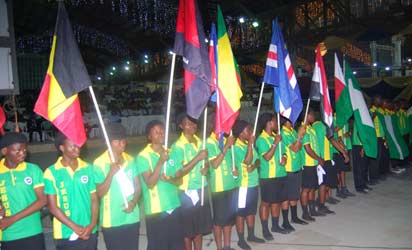 The activities began at about 8.50 p.m. after prayers were offered for the nation by the wife of the General Overseer, Pastor (Mrs.) Folu Adeboye as the Children of RCCG ushered in colourful march past as the Redeemers' Orchestra played subtle music to pave the way for a guard of honour.
The display of different national flags and two sessions of attempting to find the place of Jesus from Genesis to Revelation was an opportunity for the children to explain who Jesus is in line with the theme of this year's convention. They also reminded the elderly ones in the audience about how the different professionals see the Prince of Peace.
There was a callistelic display which ushered in the guard of honour made up of six young men carrying an enlarged golden crown symbolising the triumphal entry of Jesus into Jerusalem. They marched slowly and steadily unto the upraised platform, decorated in national colours, where they dully and diligenly placed the crown to the admiration of the crowded auditorium. It was a spectacle.
That was to be followed by a short play let depicting the varoius miracles performed by Jesus Christ while on earth in the different Nigerian languages for the benefit of those who still doubt the power in the name of Jesus.
It was after that display which was profusely commended by the chief celebrant of the convention, Pastor Adeboye, that he again warned participants to be serious with their commitment to the things of God, saying "those of you who are already here but know that they are not going to be pray, praise and study the word of God whole heartedly, should go back first thing tomorrow morning."
According to him, this year's convention is not a period for joke.