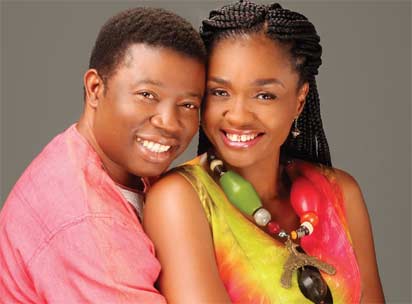 Isaac & Nneka Moses
By – Jemi Ekunkunbor
Nneka and Isaac Moses are the celebrity couple whose faces you see presenting the culture show 'Goge Africa'. This passion of theirs, which made its debut on Independence Day in 1999, has seen the couple traversing the continent of Africa, digging out the rich traditions, festivals, dances and music of Africans and showing it to the world in order to change the often negative perception of our cultures and traditions by outsiders.
Isaac, an Insurance graduate and former radio presenter, and his wife, Nneka, an English Language graduate of the University of Lagos, both natives of Anambra State are quite an item as far as couples are concerned. The Allure crew spent an afternoon with them and it is so amazing to discover how almost in an uncanny way, they say things almost the same way when asked separately. Isaac, the man with the amazing, baritone voice, and Nneka, the pretty down-to-earth designer, opened up on their work, sundry trips and marriage. 
Where did the love of culture start for you?
It started when I ventured into programming. I was doing a radio show on Rhythm FM. I was a music presenter and I wanted to play African music but my producer would not allow me. I felt that if I was the one producing the show, I would play African music and give the listeners a chance to judge whether they want it or not. So, I decided to do 'Goge Africa'. I thought about the things that happen in our contemporary African society: burial ceremonies, traditional weddings, fesrtivals etc. I thought that if these events are properly packaged and properly narrated, people would understand what is going on and actually enjoy it.
REPORTAGE
I thought that if we did this, people would stop seeing Africa as the Dark Continent because people are quick to assume that African culture is fetish. The truth is, before the advent of Christianity, Africans worshipped and prayed to God. They believe in the superiority of God. They believe that God is too awesome for you to go directly to him so they have mediums, the deities.
However, we need to package what we do so that others can understand why we do what we do. Nobody can tell your story for you objectively. So, we want to show that other side of Africa that the rest of the world does not see so that Africans in the Diaspora would be proud to associate with Africa. Some of them have this phobia for Africa because of the things they've heard and seen about Africa. So, 'Goge Africa' came to the rescue to fill that gap.
What was your first production about?
'Goge Africa' made its debut on 1st October, 1999. Since it was Independence Day, we generally x-rayed Nigerian musicians and played music of yester-years: Onyeka Onwenu and the rest of them.
Share with us one of the most memorable events of your many trips across the world?
That would have to be our trip to Ethiopia. We were invited sometime ago to Ethiopia, by an individual who felt he's been watching 'Goge Africa' for a while but Ethiopia was not featured. We told him we would love to come but that it is expensive and we can't come without some form of collaboration and some logistics taken care of. He asked us what we needed and we told him: flight ticket, hotel accommodation, feeding for our crew, etc. The guy went to work and within a short time, he called us back that we should go to Ethiopian airlines for our tickets. So, he started making noise that we are coming because people didn't believe.
We got to Ethiopia and we were offered this strange food, raw meat, which is a special delicacy there. They did that out of love for us. I couldn't bring myself to eat raw meat spiced up. But Nneka said, this people went through so much stress to prepare this, why can't you eat? I said if you can eat, go ahead. Once you have eaten, I have eaten. I couldn't bring myself to eat it. They were so hospitable that they went through so much to take care of us.
In Nigeria, if you are a celebrity, they make you pay more for services. I am used to paying more but in Ethiopia, I was getting things for free. Young girls selling water offered us water for free by just recognising us and these people are poor. I felt very touched. We were invited by a community that had to contribute money to buy us soft drinks!
The people themselves couldn't believe that we would agree to come to their community. It was so moving. Then, when we went to Cape Town, the sheer beauty of Cape Town, the topography, mountains, you can't beat that. If I tell you Africans are hospitable people, you'd say it's because it's 'Goge Africa'. But by and large, Africans are nice people.
In South Africa, they call it Obuntu. There is no English word for it. They explained it this way: that it is that act of you leaving your bedroom for your visitor because a visitor is like a messenger from God. So, you have to give the best of what you have. You don't have this in the West. I have never seen a country where somebody is sick and he needs N10m and he goes on TV and Nigerians just donate the money for him. It only happens here. Nigerians are good people. So, all the places we've been to are very unique in their own ways and hold their own fond memories.
But what is the perception of Nigerians outside?
The truth is people don't like Nigerians in most places we go. The only place where I have seen Nigerians being treated well is in the Gambia and that is because you have Nigerians there who teach in their secondary schools and university. A Nigerian was their chief judge and their people get military training in Nigeria so the treatment is different. In places where there is civil unrest in Africa, Nigeria sends peace-keeping force. In the ECOWAS sub-region, most of them depend on Nigeria for assistance. When Ghana had problems during the John Kufuor administration, Nigeria was like a big brother.
There is a road in Ghana named 'Olusegun Obasanjo Way' and that is because of the magnanimity of Nigerians towards them, supporting them without conditions. Nigeria would send peacekeeping force to Liberia, Sierra Leone, Mali, etc. Nigeria is like a big brother to them in Africa. During the apartheid regime, you saw how hard Nigeria fought to see that apartheid came to an end. When other people talk about Nigeria, there is no respect. They use the few Nigerians showing bad example to judge the generality of Nigerians which is very painful. I know differently; that is why I feel bad when they talk down on us. Nigeria is too big to be talked down on.
What do you think we can do to change this negative perception of Nigeria?
The first time we were in South Africa to interview some of their best acts, Lucky Dube, Yvonne Chaka Chaka, Brenda Fasi, they didn't believe us neither could they believe that that was all we wanted. Even those who were supposed to help us with the musical rights to use the videos were reluctant until an on-air personality we knew helped us by putting in a word for us. Our leaders need to launder the image of Nigeria by supporting the programmes that launder our image like 'Goge Africa', for example but they would not.
It's not easy taking a crew to export the tourism potentials of Nigeria. It's expensive so, we need to collaborate with government. You send proposals; they would sit on them and would not have the courtesy to even reply. The USA has been using their movies to do that for long. Nigeria needs to apportion money for the media for image laundering. They need to grow other areas of income generation for the country. Government should do a lot towards changing the perception of Nigeria. For example, if a Nigerian is kidnapped, government shouldn't wait for the family to do something. If you kidnap an American, it is the government that takes responsibility, not the family. That is why the country is seen as 'God's own country'.
Who says so? The sin they commit there is more than what you see here. On the dollar bill, you see written 'In God we trust'. I'm not sure they are the most religious people in the world. So our government should do something. But we should learn not to talk bad about our country. But again, you can't blame Nigerians when they see government sit down and do nothing. They express their frustration to their friends and foreigners. That is why people steal here and its okay but when they go abroad, they get jailed and punished. So, we should not institutionalize corruption.
How has the journey been so far?
It's not easy. All kinds of people come to you for help because they see you smile on TV. We do a lot of research to get our facts right so there are so many hands involved and it costs so much. We need help. FCMB came for a quarter which was great. We wish more hands would come on board so that we can employ more people. If 'Goge Africa' goes down, it will affect families who work here.
Where did the name 'Goge' come from?
It is a Hausa word for a stringed musical instrument. I didn't want a name that was too obvious. I wanted something that you would go and find out about.
How have you been able to keep up this culture appearance?
I have been lucky courtesy of 'Goge Africa'. We have designers who clothe us. I have a Ghanaian designer called Nalem. There is Jijigba, Today's Fashion… Even Nike Arts Gallery has made something for us in the past. There are several others like that. That way, we are able to get clothes without paying for them. I believe strongly in Nigerian and African fashion. Unfortunately, they are not getting enough mention in the international media so, they are ranked low beside Gucci, Calvin Klein etc. I believe that when we celebrate them, the equity in their brands will grow and we would be helping to grow the economy.
What is it like working with your wife?
I don't like to take credit for what I didn't do. I don't have the recipe. I think it is the grace of God. During office hours, she is my partner and, after office hours, she is my wife. At work, we argue and come back to agree. If she brings an idea, I am not so proud to accept a better idea when I see one. The thing about people not being able to work together is when you allow ego to come in; when you have issues. You should allow objectivity to guide you. It works. And, women have stronger intuition than men. Each time she acts on intuition, she's always spot on.
Would you recommend this relationship for others?
Well, I'd say do what works for you. I know a friend who says to me: "Living with my husband is enough stress, I don't know what will happen if we have to work together." So, that is why I said it is the grace of God.
You have an amazing voice. What good thing has come your way using this voice?
The most beautiful thing that happened to me was not knowing that I could make money with this voice! Knowing that my voice could earn extra income is another wahala. It was people who actually helped me know that I had a good voice and I was awed by the realization. When I was selling insurance policies, I got a lot of presence as a result of my voice. Several times, people would say to me, if I knew you were an insurance man, I wouldn't let you in. Sometimes, I go for auditions that are almost concluded and they hear my voice and go hmnn!
I was at a radio station in New York sometime ago and Evander Holyfield had to wait for me to come down to see who the person with this voice is. It's the grace of God. So many things have happened with this voice. I can't tell them all. 
NNEKA Moses 
How did you meet your husband? Did you set outto look for an Anambra man?
When I met him, I didn't know he was an Igbo man. I had dated him for three months before I knew he was an Igbo man. When I met him, I wasn't interested in anything but him because he was fun to be with.
What gave him a second chance?
I just loved to listen to him talk because he says things that are interesting and he has the voice to carry it. So, he gives you a reason to want to listen to him and I was sure I was going to laugh all day.
What was life together like at the beginning?
When I met him, he was living one kind of life that I didn't really like – staying in a hotel. I decided that I was not going to follow him to that hotel again even though that hotel was like home to him. He started saving money with me to get a place. I opened a book where I was recording every amount he deposited with me. The girls working with me then know. When he comes and I'm not there, they collect the money and record it in that book. After a while, we raised enough money to get a one-bedroom apartment. That was our first place together; with one small kitchen such that when I'm there, part of my body will be outside.
What is it like being married to him?
Being married to him is like a life time holiday. And this holiday has lasted 15 years. If we left work late and there is no soup in the house, he is ready to eat anything or make do with what is available just to make it easy on me. He will not stress me. So, for that reason, there are times, I go out of my way to do what will make him happy even if I don't want that thing. There are husbands who would not allow their wives to go out with them. My husband pays me to escort him to do voiceovers! Sometimes, we negotiate, if he says I'll give you 10%, I can ask for 20% and as soon as he is done and they pay him, he gives me my share. That is the kind of man he is.
Not many couples could work together like you and your husband. What is secret of your success?
I don't know about any secret. I just think what has really worked for us is mutual respect for each other. We respect each other. I respect his opinion. I see him as a very intelligent man. So when he says things, before I can counter them, I really have to look for good reasons. But the thing is that he listens to me and gives me opportunity to express myself and in doing that, I don't undermine him or feel bigger than I really am. Again, we talk a lot to each other. I don't really know how we are able to respect each other that much and do all these things. I would like to attribute it to the grace of God.
How was the beginning like, building the brand 'Goge Africa'?
Let me not deceive you. At the beginning, we didn't know we were building a brand. When we started, it was just the excitement that we were going to be travelling that kept us going. It was quite difficult because we didn't have money to do what we wanted to do. I was the cameraman. I would carry the camera and he would direct and do the voiceover. The only thing we couldn't do was edit. As a designer, I had a small shop in Aguda (Surulere, Lagos) which doubled as our office. Whatever I made from the shop and that which he made from acting and doing voice over, we would plough it into the business.
From that little beginning, you have combed the African continent. What country did you find most interesting?
It would be our trip to Ethiopia. I got to a country where they had just one station, ETV, and they show 'Goge Africa' on Sundays; when they come back from church. Before we went to Ethiopia, we were in South Africa, where we met this woman from ETV. She bought our programme for their TV there. So, they were always showing Goge in Ethiopia. It was one of the viewers who said to us, you call this 'Goge Africa' but you show things from Nigeria and West Africa. Why don't you feature Ethiopia?
This is a country that was never colonized. He gave us reasons why we should go to Ethiopia. He asked us what it would cost to go and I said if you can fly us there and provide accommodation, we would be glad to be there. He spoke to Ethiopian Airlines and they provided tickets. We flew into Ethiopia at a time they were having the feast of Epiphany. The crowd was unbelievable. But the most remarkable thing was the hungry-looking children who offered us the pure water they were selling. Of course, the government was taking care of us but this gesture was remarkable. And they kept begging us to come to their home. It was a slum community but I promised the children I would come.
We went the next day. They steered us into their community from where the car that brought us could reach. Their parents were shocked that we actually came. And guess what, they cooked for us and brought two bottles of Fanta! I will never forget. After that time, I have been to Ethiopia about four times. But this one, I will never forget. It makes me feel that what I am doing is worthwhile. When we came to your community in Warri (Jemi's), it was during the Ijaw, Urhobo and Itsekiri crises. Even though we came to cover an Itsekiri festival, they all promised to protect us and they did. They told us 'Goge Africa' is for everybody. When we left, the man we stayed in his house was shot dead.  So, they just waited for us to finish and leave. So if 'Goge Africa' can become a tool for peace, if my presence in a place can bring about peace, then I feel I am doing something worthwhile and important.
How are you received in the different communities that you visit, bearing in mind that cultures differ from place to place?
We don't go to places where we are not invited or welcome. We write to the heads of communities or chairmen of organizing committee of festivals and make sure that we are being expected. The food is always different, the dressing different. You go to the Urhobos, where they are dancing, throwing cutlass up and catching it; you go to the riverine areas where they dance on water; or South Africa, where they dance without their bras on and they want you to be naked like them; or Uganda, where you are taken to Bujagani Falls; or Kenya, where they give you opportunity to feed a giraffe. You go to BeninRepublic, where they have a temple with so many pythons and they make you carry a python around your neck… All sorts of things: the good, the bad and the ugly. It's all culture and they are all good. I like to see culture from the perspective of those who own it.
Of all the countries you've been to, in which one do you find interesting fashion?
If you go to Kenya, those Massai beads drive me crazy. South Africans have some of that but a bit different. Nigerians are good dressers. We borrow from here and there and look contemporary. But the traditional African costumes are unique in their own ways. The Kenyans are very colourful; so are the South Africans. In West Africa, you see something that is deep, almost spiritual, like the mud cloth from Mali. It's so ethnic. You wear it and you feel like a priest or is it the aso-oke or the akwocha that you wear and feel like royalty itself? The fashion is so diverse and beautiful.
How have all these affected the way you dress and your style?
What it has done is that I don't have a style. When I'm on TV, different designers from different countries dress me up. So, my style is not really my style  anymore. There is no way you'll have all these things in your wardrobe and still be yourself. I don't like a lot  of make-up. But the colours from the costumes are consistent with me.
What destination do you look forward to?
I'd like to explore North Africa. It's very much on my mind. I've been to Egypt. I'm thinking of Morocco and Algeria now because I currently have an Algerian collection. I am attracted to the unknown. Another place on my mind now is Trinidad and Tobago. I'm actually supposed to be going there today but we couldn't go because we have a culture festival to cover for MTN; a few other festivals like the Osun Osogbo are around the corner and we can't leave all these and travel. I've been to Barbados. I need to explore the other CaribbeanIslands because they are also Africansl.
What counsel would you give to a couple working together?
Don't always see yourself as too big to apologise. I see nothing wrong in kneeling down and begging. Even when I know he is wrong, I go out of my way to calm him down and once he has accepted my apology, then I trigger my own. You can't be both mad at the same time. Somebody has to step down at every point in time and he never feels too big or ashamed to say I'm sorry. You don't get that easily from a Nigerian or African man. Men should stop looking at us as their equals. They should treat us as children and speak nicely to us when we go wrong. Don't talk down to your wife or husband in public. We should give mutual respect.