By Jacob Ajom
•Says their coach only playing mind game
•Thinks Maigari deserves second term
Chief Mike Umeh is the First Vice President of the Nigeria Football Federation. In this chat, he speaks on NFF's plan for Super Eagles participation in the 2014 African Nations Championship,CHAN, the achievements of the Aminu Maigari-led board and other sundry issues. Excerpts:
After securing the CHAN 2014 ticket for the first time, what next is on the NFF agenda regarding the championship?
We will ensure the Super Eagles are well prepared for the tournament. We have always prepared our national teams very well before all the tournaments they have qualified for. This will not be different. The technical department will work closely with the technical crew of the team to ensure all the weak points noticed in the team during the qualifiers are taken care of. We do not believe all members of the team that qualified us for CHAN can make it to South Africa.
There will be a long period of camping, there will friendly matches along the way and every player will come under scrutiny to ensure we get the best for the tournament. As you know, we are always well prepared for tournaments.
Our teams have always won continental tournaments in South Africa, would you conclude that the home-based Eagles will win CHAN come January 2014?
Going back to South Africa is like a blessing to our teams. It will give us a psychological boost. However, after our girls won the AWC there, they failed to defend it in Equatorial Guinea. That is past. But fortune has always smiled at us in South Africa.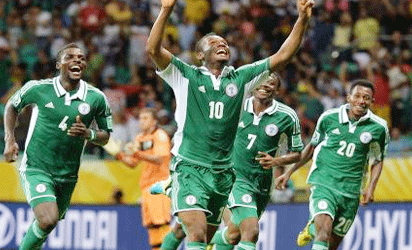 Would you say Coach Stephen Keshi has delivered?
Keshi …He is doing his best. But I must add that we are not there yet. So far, we are in the right direction. We will get there someday. Once we qualify for the 2014 World Cup, I will then tell you that we have arrived.
In Kaduna the other day, youths were carrying placards that read: Maigari for second term. If you were asked to assess the present board of the NFF, which you are a member, would you say you have performed?
Yes, we have performed creditably. If Maigari is seeking a second term, he deserves it. We did not only qualify for the Africa Cup of Nations, we won it for the first time in 19 years. We are about to qualify for the 2014 World Cup without the usual tension; no panic – no task force. We have qualified for CHAN for the first time. In fact under Maigari, Nigeria qualified for all the FIFA organised tournaments – U-17, U-20 and senior competitions. Obuh just returned from Turkey. If the fans are rooting for Maigari, they are right. He is a lucky man.
Back home, Rangers had their appeal on their disqualification from the Confederation Cup overturned by the Confederation of African Football, CAF. How can the NFF assist Rangers, particularly now that they have taken the case to the Court of Arbitration for Sports(CAS)?
When a matter is before any judicial inquiry it won't be healthy to make comments on such a matter. Anything said now could be misconstrued as the stance of the NFF. Rangers, as an entity have every right to seek redress. In sports, CAS is like our god. Let them go so we can see how it goes. I won't say anything than that.
Recently, there was an embarrassing incident in the domestic game that tended to stain the name of the country. Four amateur clubs involved in match fixing where the teams recorded scandalous scorelines. You headed the panel that investigated and passed judgment. Critics say, it was wrong for your panel not to have extended punishment to club owners.
We made sure only those who were physically involved were punished. We could not find the club owners culpable. It was those who were on the pitches – the players, referees, coaches, the match officials including the match commissioners. We did not go beyond what we had as evidence.
But there are fears that even these players and officials punished could return to playing without being noticed?
It won't be easy for any of them to beat the long arm of the law. They are in the Nationwide League. They are all registered and licensed players. We have their pictures and every data on them. The media department will publish their pictures in national dailies and that will also be sent to all the security agencies. If you change your name, you cannot change your face.
Why have they not been published?
Well, that is a question that can only be answered by the media department. Mine was to spell out the punishment and how to go about it. The media department is in charge of publishing their pictures.
The Super Eagles will be meeting Malawi in Calabar in September. Malawi team coach, Tom Saintfiet met with other coaches to plot the fall of the Eagles. What do you have to say to this?
That is mind games. What they are doing is propaganda. We are playing on our soil and remember, we have never lost a match in Calabar. The least result Eagles require is a draw and they will qualify for the final round. We will ensure we get the right result.
Saintfiet was almost employed by the NFF and the entire process collapsed in the last minute. It is said the man volunteered to steer Malawi against Nigeria as his own way of punishing the country that denied him a job.
Saintfiet is only a coach. He cannot think that way. It does not mean that we cannot employ him tomorrow. Keshi was interviewed once and did not get the job, but today he is in charge of the Eagles. Saintfiet is only the coach, he can only pass instructions and will not do the playing.
But we have nothing to fear. We are African champions. If they could not beat us in their home, is it in Calabar that we will lose to them? That won't be possible.